Paying with your EBT card on Amazon is a convenient way to access a wide range of eligible groceries and enjoy benefits such as discounted Prime memberships.
In this step-by-step guide, I'll walk you through the process of how to pay with EBT on Amazon, so you can take advantage of this valuable resource and make the most of your shopping experience.
FTC disclosure: As an Amazon Associate I earn from qualifying purchases.
Easy Step-by-Step Process to Pay With EBT card on Amazon
Step 1: Click Here to go directly to Amazon's EBT add card pages. Next, Click or tab on the yellowish button text called "Add your Snap EBT card". (See image for reference.)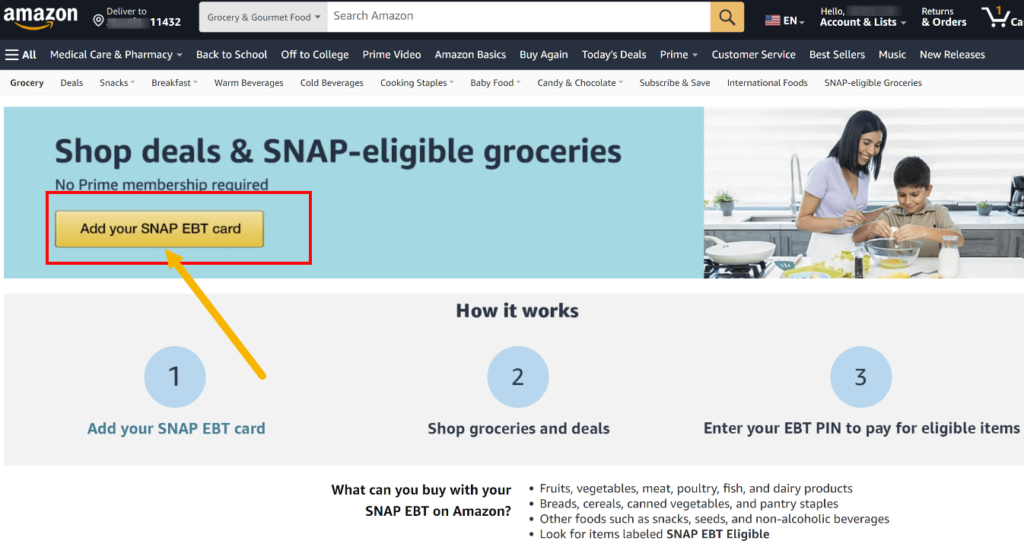 Steps 2 and 3: Add your EBT card number and continue.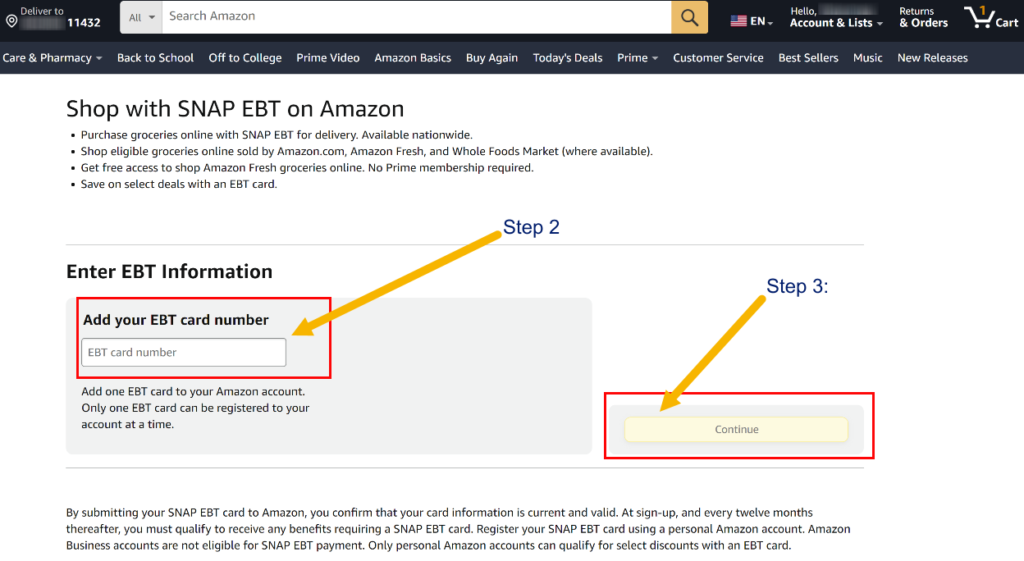 Step 4: Add snap eligible items to the cart, go to the checkout page, and select the EBT payment option on the second step of the checkout process. (see image for details.)
That's all. Happy shopping using EBT on Amazon!
To learn more about EBT accepted stores: Stores that Accept EBT Online Grocery Delivery or Pickup
Why won't Amazon let me pay with EBT?
Amazon does allow customers to pay with EBT for eligible items, but there could be several reasons why you are encountering issues when trying to pay with your EBT card.
One possible reason is that your order may include non-SNAP items, shipping fees, or gift wrap charges, which cannot be paid for with EBT. In such cases, Amazon will ask you to add an additional payment method to cover these costs.
To avoid this issue, ensure that all items in your cart are SNAP EBT eligible and that you have met the minimum order amount for free shipping.
You can look for items labeled "SNAP EBT Eligible" while shopping on Amazon.
If you continue to face issues, consider contacting Amazon customer support for further assistance.
Why does Amazon say SNAP EBT eligible?
Amazon labels certain items as SNAP EBT eligible to indicate that they can be purchased using the Supplemental Nutrition Assistance Program (SNAP) Electronic Benefits Transfer (EBT) card. This helps customers who receive SNAP benefits easily identify which products can be bought using their EBT card. 
SNAP benefits can be used to buy a variety of food items, including fruits, vegetables, meat, poultry, fish, dairy products, breads, cereals, canned vegetables, pantry staples, snacks, seeds, and non-alcoholic beverages.
By labeling items as SNAP EBT eligible, Amazon makes it more convenient for customers to shop for eligible products and use their benefits effectively.
Can I use my EBT card to pay for groceries on Amazon?
As SNAP EBT card users, you can use your SNAP funds on Amazon. No Prime membership is required. Customers can shop for SNAP-eligible groceries from Amazon, Amazon Fresh, and Whole Foods Market.
Can I tip Amazon Fresh delivery drivers when I pay with EBT?
When you pay for your Amazon Fresh order with EBT, you cannot add a tip through the online platform. This limitation is due to the fact that EBT funds come directly from the government and are intended for food purchases only.
However, if you would like to tip your Amazon Fresh delivery driver, you can do so with cash when they deliver your order.
Keep in mind that not all customers may have cash on hand, and some may prefer to avoid in-person interactions due to various reasons, such as the ongoing pandemic or personal preferences.
Can I use my EBT card to pay for Amazon Prime Video and other non-food services?
No, your EBT card cannot be used to pay for Amazon Prime Video or other non-food services. Government-provided EBT funds are only for using to buy food.
While Amazon does offer a discounted Prime membership for EBT cardholders, which includes access to Prime Video, you cannot use your EBT card to pay for the membership fees.
Instead, you will need to use another form of payment, such as a credit or debit card, to cover the cost of the Prime membership.