Giveaways are a powerful tool in the world of marketing and sales. With a conversion rate of almost 34%, they outperform many other content strategies. 
Additionally, when landing pages incorporate contest giveaways, they see a whopping 700% increase in email leads. Let me share the most important giveaway statistics and contest marketing implications you should be aware of right away. 📊🚀
Importance of Contest & Giveaway Statistics: The Key Data
Giveaways have a conversion rate of nearly 34%, which is higher than other types of content.
An average of over 34% of new customers are acquired through contests.
Landing pages running a contest giveaway increased email leads by 700%.
45% of digital marketers agree that social media contests give them a good return on investment (ROI).
62% of businesses use giveaways to increase brand awareness.
Instagram accounts that host giveaways grow 70% faster than those that do not.
32.5% of brands host one monthly giveaway, and 16.1% host two or three.
55.8% of brands run giveaways on multiple social media platforms, mostly Facebook and Instagram.
28.6% of brands run multiple contests per year but less than one giveaway per month.
Sources: (Easypromosapp, Agility PR Solutions, The UPS Store, Prweb,Outgrow, Game Marketing Genie)
32.5% Brands Opt for Single Monthly Giveaway, 16.1% Prefer 2-3
Important takeaway:
| | |
| --- | --- |
| Brands need to increase giveaway frequency | More than half of the brands host only one giveaway monthly, potentially limiting customer engagement. |
| Adoption of 2-3 monthly giveaways could differentiate | Only 16.1% of brands host two or three giveaways, creating an opportunity for competition outmaneuvering. |
| Analyzing the impact of giveaways is vital | The large disparity in giveaway frequency between brands suggests differing efficacy perceptions. |
Source: Easypromosapp
Dual Platform Strategy: 55.8% Brands Run Giveaways on Facebook, Instagram
Important takeaway:
| | |
| --- | --- |
| Multi-platform strategy is essential for giveaways | Over half of brands utilize multiple social media platforms, indicating the significance of reaching diverse audiences. |
| Facebook and Instagram are key platforms | These platforms are predominantly used for giveaways, underscoring their potential for high engagement. |
| Brands must explore other social media platforms | The predominance of Facebook and Instagram implies potential untapped markets on less-used platforms. |
Source: Agility PR Solutions
Giveaways Achieve 34% Conversion Rate, Outperforming Other Content
Important takeaway:
| | |
| --- | --- |
| Prioritize giveaways in content strategy | They possess a high conversion rate, outperforming other content |
| Regularly host giveaways | Higher conversion rates mean higher chances of gaining customers |
| Analyze giveaways' effectiveness | To ensure they maintain or improve this conversion rate |
The data suggest that giveaways are a significant component in a successful marketing strategy, boasting a conversion rate of 34%, higher than other types of content. As such, marketers should prioritize giveaways and continually assess their effectiveness.
Source: The UPS Store
28.6% Brands Execute Multiple Contests Annually, Sparse Monthly Giveaways
Important takeaway:
| | |
| --- | --- |
| Brands may benefit from frequent contests | Nearly one third of brands run multiple contests yearly, suggesting contests may hold significant value. |
| Giveaway frequency needs revisiting | The less than monthly giveaway rate among these brands indicates a potential underutilization of giveaways. |
| Striking a balance between contests and giveaways | The data implies the need to balance the number of contests and giveaways to optimize engagement. |
Source: Prweb
Men Dominate Contest Participation, Lead Women 53% to 47%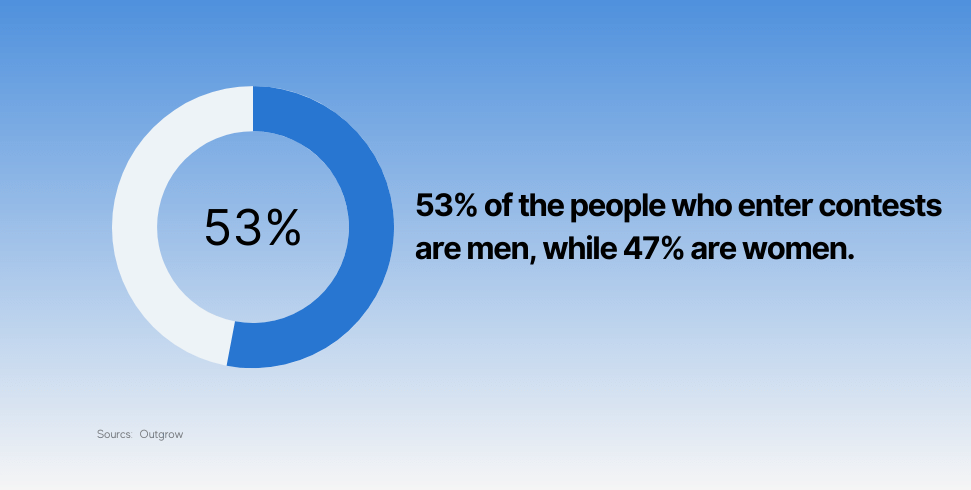 Important takeaway:
| | |
| --- | --- |
| Gender split in contest participation | A slightly higher percentage of men partake in contests compared to women. |
| Men more inclined towards competitive events | This could indicate a higher tendency for men to engage in competitive activities. |
| Women also represent a significant portion | Women constitute nearly half of contest participants, showing their interest as well. |
The data reveals a slight gender disparity in contest participation, with men showing marginally more inclination towards these competitive events. However, women also form a significant proportion, demonstrating broad interest across gender lines in such activities.
62.13% Game Giveaway Entrants Promote to Friends
Important takeaway:
| | |
| --- | --- |
| Leverage game giveaways | Majority of participants tend to share the promotion |
| Enhance word-of-mouth marketing | Participants discussing promotions increase brand awareness |
| Foster community building | Shared promotions foster a sense of community and engagement |
The statistics indicate that game giveaways are a powerful promotion tool, with over 62% of participants spreading the news of the promotion to their friends. This not only strengthens word-of-mouth marketing but also aids in the establishment of a community around the brand.
Source: Game Marketing Genie
45% Digital Marketers Validate Social Contests' ROI
Important takeaway:
| | |
| --- | --- |
| Prioritize social media contests | Recognized by 45% of digital marketers as providing a good ROI |
| Invest in social engagement | Social media contests can improve customer interaction and loyalty |
| Monitor ROI from various sources | To optimize marketing strategies based on successful techniques |
The statistics suggest that social media contests have become a vital tool in digital marketing strategies. A considerable proportion of marketers (45%) acknowledge their effectiveness in yielding good ROI, demonstrating the potential value of this engagement strategy.
Source: Game Marketing Genie