Let me share the most crucial reason to use YouTube for ecommerce and marketing with statistics and facts you should be aware of right away.
Why Use YouTube for eCommerce: Here are 6 Statistics and Facts
68% of YouTube users watched YouTube to help make a purchase decision.
Over 40% of shoppers around the world who were surveyed said they bought something they saw on YouTube.
More than 33% of shoppers say they have bought something they saw on YouTube.
80% of shoppers who watched a YouTube video about a product they were planning to buy did so at the beginning of the shopping process.
50% of internet users looked for videos about a product or service before going to a store.
More than 50% of consumers claim to watch online video while making in-store purchases.
Sources: (Think With Google)
Table of Contents
68% of YouTube Users Leverage Platform for Purchase Decisions
Important takeaway:
| | |
| --- | --- |
| YouTube is a crucial tool for influencing purchase decisions. | The platform's broad reach implies significant power over consumer behavior. |
| Businesses should prioritize marketing on YouTube. | This can effectively influence 68% of users who rely on it for purchase decisions. |
| Crafting informative and persuasive content is essential. | Users actively seek guidance from YouTube before making purchases. |
The data indicates that YouTube plays a significant role in shaping consumer choices, underscoring the platform's value for businesses. Leveraging this platform can be an effective strategy, as users turn to YouTube for guidance during their purchasing journey.
Source: Think With Google
40% of Global Shoppers Confess to Buying Products Seen on YouTube
Important takeaway:
| | |
| --- | --- |
| Prioritize YouTube for product showcasing | With a significant share of global shoppers making purchases influenced by YouTube, it's crucial to showcase products on this platform. |
| Implement YouTube ads for conversions | Given the purchasing influence of YouTube, ad campaigns on the platform can lead to substantial conversions. |
| Collaborate with influencers on YouTube | Influencer partnerships on YouTube can capitalize on the platform's power in swaying purchasing decisions. |
| Leverage YouTube for global reach | YouTube's global influence underlines its potential as a tool for reaching international customers. |
Source: Think With Google
YouTube Influences Over 33% of Shoppers to Buy Products
Important takeaway:
| | |
| --- | --- |
| Prioritize product exposure on YouTube | Given that a significant fraction of shoppers make purchases based on YouTube exposure, ensuring product visibility on the platform is essential. |
| Leverage influencer marketing | The influence of YouTube content on purchases suggests the potential impact of collaborations with influencers. |
| Optimize YouTube ad campaigns | With many shoppers purchasing items they've seen on YouTube, optimized ad campaigns can enhance conversion rates. |
| Develop engaging product demonstrations | Engaging product demos on YouTube could drive more purchases, given its role in influencing shopping decisions. |
Source: Think With Google
80% of Shoppers Consult YouTube Early in the Buying Process
Important takeaway:
| | |
| --- | --- |
| YouTube videos significantly impact the early stages of the buying process. | Most users who plan to buy, utilize YouTube as a starting point. |
| Brands should utilize YouTube for product introductions and overviews. | Potential buyers primarily engage with YouTube at the onset of shopping. |
| Early brand exposure on YouTube can influence buying decisions. | Initial stages of shopping process are greatly shaped by YouTube content. |
The statistics suggest that YouTube significantly impacts shopping decisions at the very beginning of the buyer's journey. Therefore, early brand exposure and effective product presentations on YouTube are vital strategies to influence potential customers and guide their purchasing decisions.
Source: Think With Google
50% of Internet Users Seek Product Videos Pre-Store Visit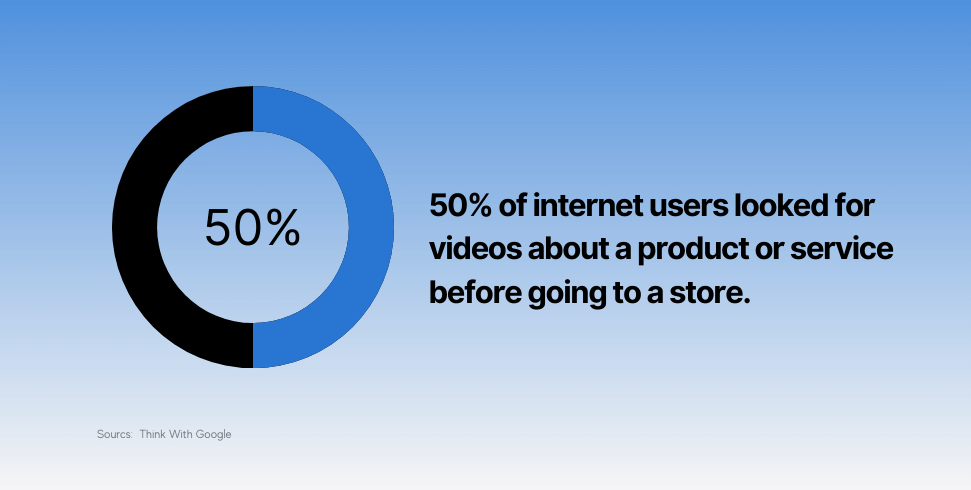 Important takeaway:
| | |
| --- | --- |
| Create product/service demonstration videos | A significant portion of internet users research products via videos before shopping, emphasizing the need for clear and informative demonstrations. |
| Prioritize video marketing | Given the high usage of pre-shopping videos, prioritizing video content in marketing strategies is crucial. |
| Optimize videos for search | As many users look for product videos, optimizing video content for search engines is key to increasing visibility. |
| Leverage platforms like YouTube | The data suggests the necessity of leveraging platforms like YouTube, which are frequently used for pre-shopping research. |
Source: Think With Google
Over 50% Consumers Watch Online Videos during In-Store Purchases
Important takeaway:
| | |
| --- | --- |
| Develop in-store companion videos | Given the high rate of in-store online video usage, developing companion videos for in-store products can aid purchases. |
| Implement QR codes for video access | The use of QR codes in-store can provide instant access to online videos, supporting in-store purchase decisions. |
| Provide Wi-Fi in retail locations | Offering Wi-Fi can facilitate in-store online video watching, enhancing the shopping experience and influencing buying decisions. |
| Encourage real-time product reviews | The data underscores the opportunity for real-time video reviews to influence others' in-store purchases. |
Source: Think With Google