Let me start with some insightful Try before you buy trends and statistics
Key Findings: Try before you buy Trends
37% of online shoppers preferred "try before you buy" over traditional payment methods.
69% of shoppers were "moderately, very, or completely" likely to buy more items from online merchants offering it.
71% of shoppers said they would choose a retailer that offered a "try before you buy" option over one that did not.
74% of consumers said trying on a product before buying it would eliminate a major drawback of online shopping.
79% of adult shoppers who purchase clothing in-store try on the items before purchasing.
47% of consumers do not like shopping online because they can't interact with and try products
Sources: (Klarna, RetailDive, Shopify, The NPD Group, Statista)
37% of Online Shoppers Favor 'Try Before You Buy' Over Traditional Payments
Important takeaway:
| | |
| --- | --- |
| Offer "Try Before You Buy" | Consumers appreciate this risk-reducing model. |
| Optimize Payment Flexibility | Varying payment options cater to shopper preferences. |
| Promote Clear Return Policies | Transparency can alleviate purchase anxieties. |
The data suggests that a notable proportion of online shoppers prefer "try before you buy" over traditional payment methods. To cater to these preferences, businesses should offer such models, provide flexible payment options, and maintain transparent return policies.
Source: Klarna
69% Likely to Shop More with 'Try Before You Buy' Options, Says Survey
Important takeaway:
| | |
| --- | --- |
| Encourage Upselling Techniques | More options lead to increased purchasing likelihood. |
| Offer Diverse Product Range | Variety seems to encourage more shopping activity. |
| Implement Customized Suggestions | Personalized recommendations drive consumer interest. |
This data suggests that shoppers are more likely to increase their purchases from online retailers offering a broad array of items. To capitalize on this, businesses should use upselling techniques, offer a diverse product range, and customize suggestions based on shopper's preferences.
Source: RetailDive
71% Choose Retailers Offering 'Try Before You Buy' Option, Study Reveals
Important takeaway:
| | |
| --- | --- |
| Implement "Try Before Buy" | Majority (71%) of shoppers are likely to prefer retailers offering a trial option, bolstering customer acquisition. |
| Revise Business Strategy | Businesses must adapt to this consumer inclination to ensure competitive advantage and growth. |
| Focus on Customer Experience | Tailoring shopping experiences to meet consumers' desire for trials can enhance brand loyalty. |
Source: RetailDive
74% of Consumers Say Trying Products Eliminates Drawback of Online Shopping
Important takeaway:
| | |
| --- | --- |
| Implementation of Virtual Try-Ons | 74% consumers demand try-before-buy experiences, significantly improving online shopping satisfaction. |
| Enhance Returns Policy | Given high demand for product trials, streamlined return processes could reduce shopping apprehensions. |
| Invest in Augmented Reality | AR technologies enabling virtual product experiences can cater to 74% consumers' stated preferences. |
Source: Shopify
In-Store Clothing Trials Precede Purchase for 79% of Adult Shoppers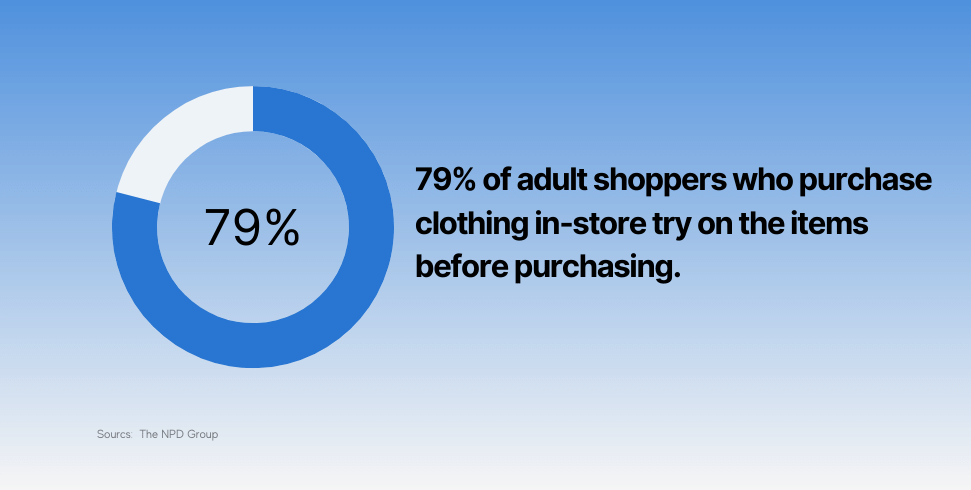 Important takeaway:
| | |
| --- | --- |
| Implement Virtual Fitting | The act of trying is crucial for clothing buyers. |
| Provide Detailed Size Guides | Accurate sizing information eases in-store habits. |
| Strengthen Return Policies | Shoppers may fear the risk of ill-fitting items. |
The data indicates a strong preference among adult shoppers to try clothing items before purchase. Online platforms could implement virtual fitting rooms, detailed size guides, and robust return policies to simulate the in-store experience and reduce purchasing hesitations.
Source: The NPD Group
47% of Consumers Resist Online Shopping Due to Lack of Product Interaction
Important takeaway:
| | |
| --- | --- |
| Enhance Virtual Experience | Consumers crave the interactive and tactile experience. |
| Strengthen Return Policies | The fear of wrong choice hampers online purchases. |
| Use Augmented Reality Tools | These can simulate in-person shopping, boosting comfort. |
This statistic suggests a significant segment of consumers still prefers traditional shopping due to the lack of physical interaction with products. Incorporating virtual experiences, robust return policies, and augmented reality can bridge this gap.
Source: Statista