Starbucks illustrates the success of customer loyalty with a 15% year-on-year increase in active membership in the United States in 2023, totaling nearly 31 million active members.
These loyalty members account for 41% of Starbucks' sales in the United States.
To provide you with a clearer perspective, let me share the most crucial Starbucks loyalty program statistics you should be aware of right away. ☕📊
Starbucks Customer Loyalty Statistics: The Key Data
Starbucks loyalty members spend 3X more than non-members and visit more often.
41% of Starbucks's U.S. sales are contributed by its loyalty members.
Starbucks Rewards has nearly 31 million active members.
In 2023, active membership in the United States increased by 15% year on year.
Starbucks' loyalty program has averaged a 16% year-over-year growth.
Starbucks rewards members are 5.6 times more likely to visit a Starbucks every day.
Starbucks received a 78 on the American Customer Satisfaction Index (ACSI) in 2022.
21% of Starbucks customers returned within three days, with 10% returning within one day.
71% of Starbucks app users went to a store at least once a week.
Starbucks has a higher customer retention rate of 44% than the industry average of 25%.
Sources: (Usa Today, Skift, Pymnts, Smile, Alchemer, Statista, Page Fly, Harvard, Mjv Innovation.)
Starbucks Loyalty Members Outspend Non-Members by 3X, Frequenting More Often
Important takeaway:
| | |
| --- | --- |
| Insight from Data | Rationale |
| Loyalty membership significantly amplifies consumer spend | A tripling in spending by loyalty members in comparison to non-members illustrates the immense financial impact of Starbucks' loyalty program. |
| Loyalty schemes drive both increased frequency and spending | The mention of "visit more often" coupled with the spending data indicates that loyalty programs enhance both visit frequency and the average spend per visit. |
| Starbucks sets a benchmark for loyalty program effectiveness | Their success with loyalty members can serve as an industry model, showcasing the potential returns from well-structured and appealing loyalty schemes. |
Source: Usa Today
A Staggering 41% of Starbucks's U.S. Revenue Comes from Loyalty Affiliates
Important takeaway:
| | |
| --- | --- |
| Insight from Data | Rationale |
| Loyalty members are a major revenue source for Starbucks | The data suggests that almost half of Starbucks's U.S. sales are driven by its loyalty members, highlighting their economic importance. |
| Loyalty programs yield high returns on investment | Achieving 41% of total sales from members indicates that the resources Starbucks invests in its loyalty program are met with substantial returns. |
| Prioritizing loyalty can be a cornerstone of financial success | This significant contribution underscores that for businesses like Starbucks, building and maintaining a robust loyalty program can be integral to financial growth and stability. |
Source: Skift
Starbucks Rewards Touts a Robust 31 Million Active Membership
Important takeaway:
| | |
| --- | --- |
| Insight from Data | Rationale |
| Starbucks Rewards enjoys vast membership | The sheer number—nearly 31 million active members—signifies the program's massive popularity and the brand's ability to attract and retain customers. |
| Loyalty program scale can mirror brand success | The size of the membership base reflects not just the program's effectiveness, but also Starbucks's overall brand strength and market position. |
| Massive member numbers present ongoing opportunities | With such a large member base, Starbucks has continuous opportunities for targeted marketing, product launches, and feedback collection to further enhance its offerings. |
Source: Pymnts
2023 Sees Starbucks's U.S. Active Membership Surge by 15%
Important takeaway:
| | |
| --- | --- |
| Insight from Data | Rationale |
| Significant surge in active memberships. | A 15% increase year on year is a substantial growth, indicating an upward trend in active membership in the U.S. |
| Membership-based services or platforms are gaining popularity. | Such an increase suggests that more people are finding value in joining or continuing memberships, possibly due to better offerings or benefits. |
| Potential economic growth or stability in sectors reliant on memberships. | A surge in active memberships can be an indicator of a booming economy or a stabilized one where people are willing to invest in memberships. |
Source: Pymnts
Year-Over-Year, Starbucks Loyalty Program Celebrates a 16% Growth Trend
Important takeaway:
| | |
| --- | --- |
| Insight from Data | Rationale |
| Consistent Growth in Loyalty Program | The 16% year-over-year growth indicates a steady rise, suggesting that the program remains appealing to customers year after year. |
| Enhanced Customer Engagement | Such growth figures often correlate with improved customer retention and frequent interactions, hinting at strong brand loyalty. |
| Potential Boost in Revenue and Profitability | A growing loyalty program typically signifies increased repeat purchases, which can lead to higher revenue and profits. |
Source: Smile
Daily Starbucks Craving? Reward Members are 5.6 Times More Likely to Succumb
Important takeaway:
| | |
| --- | --- |
| Insight from Data | Rationale |
| Significant daily visitation by members. | The high likelihood ratio suggests that rewards members are not only casual visitors but consistent daily patrons. |
| Rewards program may drive loyalty. | Such a substantial difference in visitation frequency indicates the rewards program might be a powerful tool for fostering customer loyalty. |
| Targeting non-members could boost revenue. | Given the vast difference in visit frequency between members and non-members, there's a potential for increased revenue if non-members were converted to members. |
Source: Alchemer
On 2022's ACSI, Starbucks Clinches a Noteworthy 78 Score
Important takeaway:
| | |
| --- | --- |
| Insight from Data | Rationale |
| Starbucks scores below industry average | If the industry average is higher than 78, Starbucks is lagging behind some of its competitors in customer satisfaction. |
| Opportunity for service improvement | A score of 78 out of 100 indicates there's room for Starbucks to enhance its service and meet customer expectations better. |
| Strong foundation for brand loyalty | While there's room for improvement, a score of 78 suggests a significant number of customers are satisfied, which can be the basis for strong brand loyalty. |
Source: Statista
Rapid Returns: 21% Starbucks Patrons Return in Three Days, 10% in Just One
Important takeaway:
| | |
| --- | --- |
| Insight from Data | Rationale |
| Rapid return rate within a day | 10% of Starbucks customers come back in just 24 hours, indicating strong customer loyalty or daily routines. |
| Majority return in the short-term | 21% come back within three days, suggesting a significant portion views Starbucks as a frequent destination. |
| Notable portion not returning quickly | The fact that 79% don't return within three days implies there may be occasional customers or room for improved retention. |
Source: Page Fly
71% of Starbucks App Enthusiasts Drop by Weekly, Showcasing Brand Appeal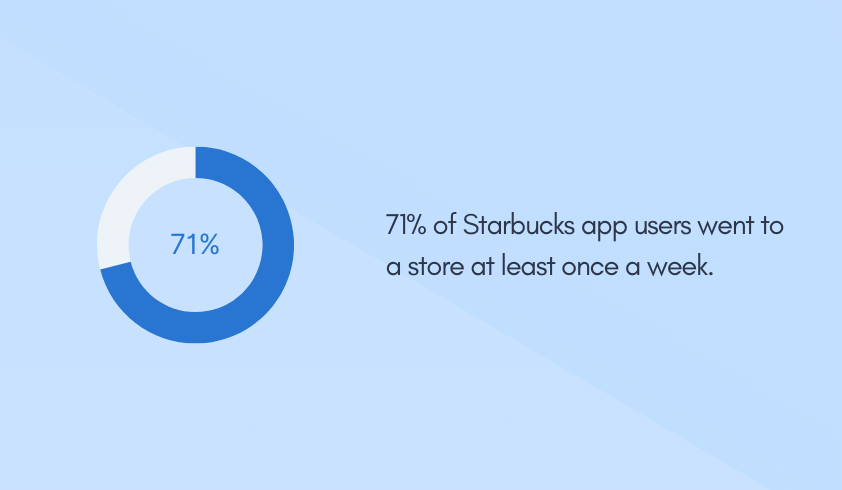 Important takeaway:
| | |
| --- | --- |
| Insight from Data | Rationale |
| High weekly in-store engagement | 71% of app users visit a Starbucks store weekly, indicating that the app might be driving regular store visits or catering to already loyal customers. |
| App users potentially core customers | This frequency suggests that app users are not just casual Starbucks customers but possibly core patrons with established routines. |
| Opportunity to target the remaining 29% | With 29% not visiting weekly, there's potential for engagement strategies to increase their in-store visits. |
Source: Harvard
Starbucks Touts an Impressive 44% Retention, Besting 25% Industry Average
Important takeaway:
| | |
| --- | --- |
| Insight from Data | Rationale |
| Starbucks leads in retention | At 44%, Starbucks' retention rate significantly surpasses the industry average, underscoring its exceptional customer loyalty. |
| Potential industry benchmark | This differential indicates that Starbucks could serve as a model for best practices in customer retention within the industry. |
| Opportunity to further bridge the gap | While leading, there's still room to target the 56% of customers not retained and further distance Starbucks from industry norms. |
Source: Mjv Innovation
More Data: https://www.onlinedasher.com/loyalty-program-statistics/