Let me share the most crucial reason to use Snapchat for ecommerce and marketing with statistics and data you should be aware of right away.
Why Use Snapchat for eCommerce: Here are 6 Statistics and Facts
Over 250 million Snapchat users have used AR shopping lenses over 5 billion times.
Snapchat users are 60% more likely to make impulse purchases.
92% of Gen Z want to use AR for shopping.
65% of Snapchat users who buy something post about it on their story.
When shopping, Snapchat users use it 46% more than Instagram.
19% of Snapchat users use the app while shopping.
Sources: (Snapchat Business, Business of Apps, Retail Dive, Social Samosa, The Social Shepherd)
Table of Contents
Over 250M Snapchat Users Engage with AR Shopping Lenses 5B Times
Important takeaway:
| | |
| --- | --- |
| Snapchat AR shopping lenses are highly popular. | Massive use implies wide acceptance and potential consumer engagement. |
| AR is a promising medium for retail marketing. | Given the high usage, brands should explore AR strategies on Snapchat. |
| Snapchat could be a powerful tool for driving eCommerce. | Users' interest in AR shopping lenses indicates potential for eCommerce growth. |
The data reveals that Snapchat's AR shopping lenses are a significant tool in driving user engagement and potentially influencing purchase decisions. This highlights the importance of incorporating AR strategies in retail marketing and recognizing Snapchat as a potential avenue for eCommerce growth.
Source: Snapchat Business
Snapchat Users 60% More Likely to Make Impulse Purchases
Important takeaway:
| | |
| --- | --- |
| Tailor content for impulse buying | Snapchat users' tendency towards impulse purchases necessitates content designed to encourage such behavior. |
| Offer exclusive, time-sensitive deals | Offering exclusive and limited-time deals could effectively capitalize on Snapchat users' impulse buying tendencies. |
| Utilize strong call-to-action phrases | Given the impulse-driven nature of Snapchat users, strong calls-to-action can stimulate immediate purchase decisions. |
| Focus on visually appealing content | Appealing visuals can trigger impulse buys, emphasizing the need for high-quality visual content on Snapchat. |
Source: Business of Apps
92% of Gen Z Keen on Adopting AR Shopping
Important takeaway:
| | |
| --- | --- |
| Implement AR technology in e-commerce platforms | It addresses Gen Z's clear preference, improving user experience and potentially increasing sales. |
| Integrate AR into marketing strategies | Reaching out to Gen Z using their favored technologies may enhance brand relevance and engagement. |
| Allocate R&D funds for AR applications | To meet Gen Z's needs, innovating with AR can create a competitive advantage. |
The statistics suggest a profound shift in consumer behavior amongst Gen Z, with a strong preference for AR in shopping. Businesses should proactively adapt, investing in AR integration to maintain relevance and competitiveness.
Source: Retail Dive
65% of Snapchat Buyers Share Purchases on Their Story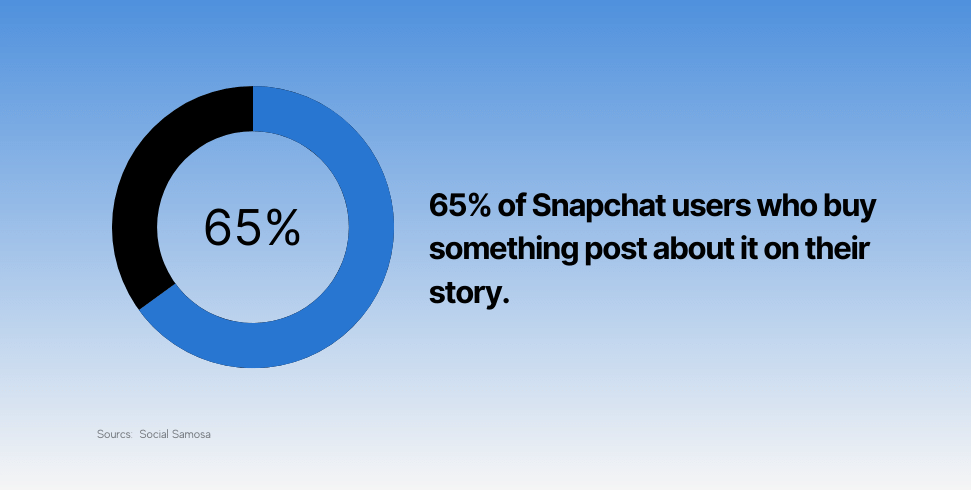 Important takeaway:
| | |
| --- | --- |
| Encourage customer sharing post-purchase | Utilize this trend to gain organic reach and increase brand visibility. |
| Develop post-purchase incentives for sharing | Motivate more users to post about their purchases, potentially creating a viral effect. |
| Integrate user-generated content in marketing | Leverage these posts for authentic, relatable advertising materials. |
The data suggests that a large proportion of Snapchat users share their purchases on the platform. Brands should leverage this user behavior to extend organic reach, incentivize further sharing, and incorporate user-generated content into their marketing strategies for authentic engagement.
Source: Social Samosa
Snapchat Outranks Instagram by 46% for Shopping Use
Important takeaway:
| | |
| --- | --- |
| Prioritize marketing efforts on Snapchat | The platform holds higher engagement for shopping activities, maximizing advertising return. |
| Develop Snapchat-exclusive offers | Higher user engagement can translate into improved conversion rates. |
| Consider Snapchat for new product launches | With greater shopping usage, product exposure to potential customers is heightened. |
The data indicates Snapchat's substantial edge over Instagram for shopping engagement. Brands should reallocate resources to exploit this preference, maximizing marketing impact through targeted campaigns, exclusive offers, and strategic product launches.
Source: Social Samosa
19% of Snapchat Users Utilize App During Shopping
Important takeaway:
| | |
| --- | --- |
| Incorporate real-time deals on Snapchat | Users are actively shopping on the platform, making it an opportune moment to engage. |
| Develop shopping-oriented Snapchat content | Creating relevant, in-context content could enhance user engagement and conversion. |
| Partner with Snapchat for location-based ads | Users on shopping trips can be effectively targeted, enhancing the relevancy of ads. |
The statistics reveal that a significant percentage of Snapchat users engage with the app while shopping. This presents an opportunity for brands to create timely, relevant content and offers, and leverage location-based advertising to maximize engagement and conversions.
Source: The Social Shepherd