Are there really free sign up bonus apps that give you money for signing up? Is it possible to get these free sign-up credits if I simply try the app?
Yes, as of today, I know many apps and websites that offer sign up bonuses to encourage new users to try out the apps and what they have to offer.
Let me share some of the best sign up bonus apps that you might want to sign up for and get free bonus money.
Best Sign Up Bonus Apps
Here is the list apps with sign up bonus
#1. Swagbucks
Swagbucks is an innovative digital rewards and cashback platform that lets you earn money online by doing many different things. You can make money by taking surveys, playing fun games, watching entertaining videos, and shopping at your favorite online stores.
Swagbucks operates on a points system known as SB. By completing the available activities, you accumulate these points. These accumulated SB points can later be redeemed for exciting gift cards from popular retailers like Amazon and Walmart, or even cashed out via PayPal.
Swagbucks' user-friendly sign-up process can be done through either the website or the app, requiring just about a minute to create an account. After verifying your email and completing your profile, you're set to start earning points!
Additionally, Swagbucks allows users to earn cash rewards by trying out new products and services, acquiring freebies, or experimenting with new apps. Among the varied ways of earning money, one can also make money by downloading and registering for specific apps like the Acorns app.
Key features of Swagbucks include:
Users can earn SB by participating in a variety of activities like taking surveys, playing games, watching videos, and shopping online.
Points can be redeemed for gift cards from major retailers or cashed out through PayPal.
It offers a mobile app that allows users to complete activities and earn points.
Users can earn cash rewards by trying new products and services.
It provides opportunities for obtaining freebies or trying out new apps.
There is an option to earn money by downloading and registering for certain apps, like the Acorns app.
The sign-up process is quick and easy, taking around 45-60 seconds.
Swagbucks offers a multitude of ways to earn money online, providing an excellent option for those looking to supplement their income in their spare time.
#2. Cash App
Cash App is a comprehensive financial services platform that simplifies how you manage your finances. With the Cash App, sending and receiving money is seamless and straightforward. It also presents an opportunity to spend, save, and invest your funds with ease.
To get the Cash App sign up bonus, make sure to use the Cash App referral code "GD3ZT2H" to earn a $5 bonus once you send $5 to any Cash App members.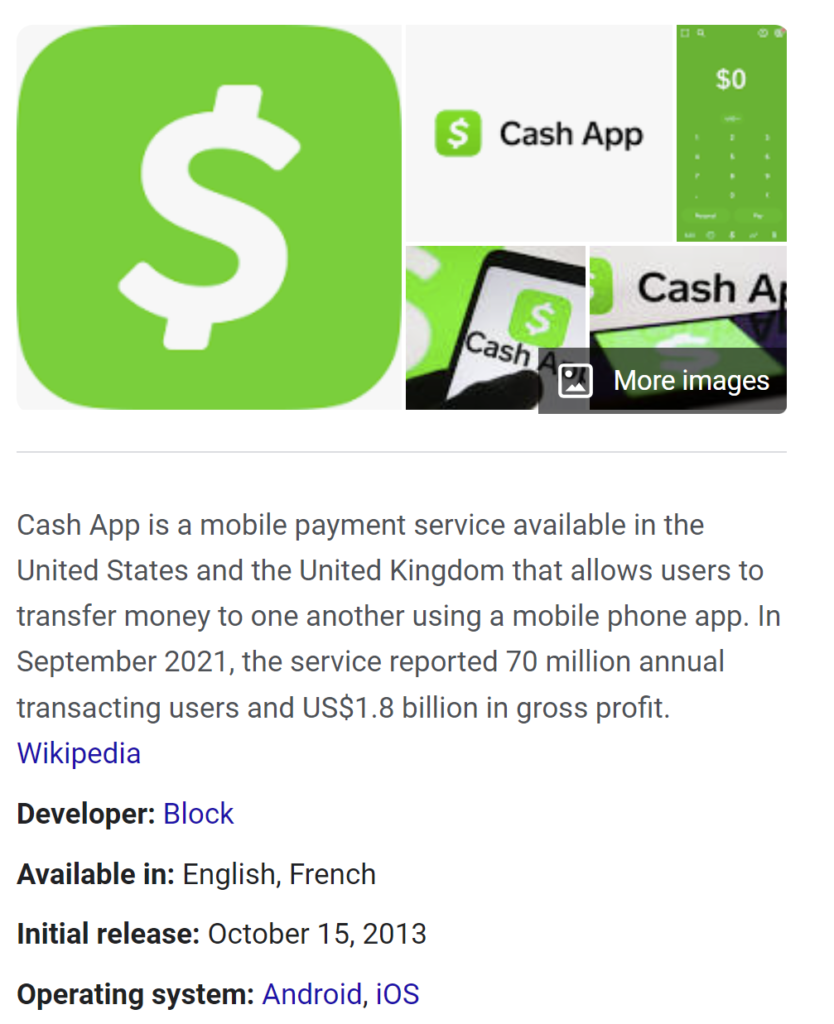 Cash App provides a linked debit card, known as Cash Card, that can be used for purchases or cash withdrawals. Another amazing feature is Boosts, which offers discounts or cash back rewards on purchases made using your Cash Card.
Cash App not only handles direct deposits, allowing your paycheck to be deposited directly into your account, but also allows you to buy and sell stocks, even Bitcoin, within the app.
Furthermore, you can track loyalty rewards from Square merchants through the Cash App. All these features are available to U.S. residents aged 18 and older.
Key features of the Cash App include:
Cash Card: A debit card linked to your Cash App account for purchases and cash withdrawals.
Boosts: Offers discounts or cash back rewards on purchases made with your Cash Card.
Direct Deposit: Allows paychecks or other regular payments to be directly deposited into your Cash App account.
Stock and Bitcoin Investing: Provides the facility to buy and sell stocks and Bitcoin within the app.
Loyalty Rewards: The app lets users track rewards from Square merchants' loyalty programs through the app.
Remember, Cash App isn't a bank, but it does offer banking services via its partner bank(s).
#3. Ibotta
Ibotta is a wonderful cashback app that provides an opportunity for you to earn money back on your everyday purchases. As simple as adding offers for items you intend to buy and saving them to your list, you're on your way to start earning back!
The shopping process with Ibotta can either be done online or in-store, and once the purchase is made, you can submit your receipt or link your account to withdraw your cashback. To keep you constantly in the loop, Ibotta has a handy browser extension that sends notifications about cashback offers while you shop online.
For those ready to get started with Ibotta, it's as easy as downloading the app, creating an account, and adding offers to your list. Plus, you get a welcome bonus for joining!
Ibotta's key features include:
Cashback: Offers cashback on grocery and everyday items, as well as online purchases.
Browser Extension: Notifies users of cashback offers when shopping online.
Loyalty Card Linking: Users can link their loyalty cards to Ibotta to automatically earn cashback on purchases.
Bonuses: Provides bonuses for completing certain tasks or achieving specific milestones.
Money Saving: Helps users save money on every purchase through cashback offers and bonuses.
Overall, Ibotta makes saving money and earning cashback on purchases an exciting and easy process.