Let me start with some important online vs in-store shopping statistics and facts.
Key Findings: Shopping Online vs in Store Statistics
40% of consumers make an in-store purchase at least once a week, compared to 27% who make an online purchase at least once a week.
67% of millennials prefer online shopping to in-store shopping compared to 72% seniors prefer in store shopping.
Currently, about 20% of all retail sales happen online compared to 80% in physical stores.
52% of Gen Z in the US prefer to shop online, while 48% prefer to shop in-store.
81% of retail shoppers conduct online research before buying.
Physical stores are growing at a rate of 18.5%, while e-commerce is growing at a rate of 14.2%.
42% of holiday shoppers will research and buy online, while 23% will shop in-store.
Sources: (PWC, Statista, Tidio, GWI, General Electric, Census, Bigcommerce)
In-Store Shopping Still Dominates Weekly Purchases: 40% to 27%
Important takeaway:
| | |
| --- | --- |
| Brick-and-mortar stores remain vital | Consumers frequently visiting physical stores indicate ongoing relevance and consumer preference. |
| Balancing in-store and online presence is crucial | The significant percentage of weekly online shoppers highlights the importance of a robust digital strategy. |
| Opportunities exist for increased online conversion | The gap between online and in-store shoppers suggests room for growth in e-commerce initiatives. |
| Regular customer engagement is necessary | Frequent shopping behaviors emphasize the need for sustained marketing efforts. |
Source: PWC
Online Shopping Favoured by 67% Millennials, Seniors Stick to Stores at 72%
Important takeaway:
| | |
| --- | --- |
| Generational preferences affect shopping mode | Millennials tend towards online, while seniors lean towards in-store experiences. |
| Digital strategies should target younger demographics | High online preference among millennials underlines their digital affinity. |
| In-store experiences should cater to senior shoppers | Seniors' preference for physical shopping calls for age-friendly store services. |
| Tailored marketing for distinct age groups is key | Divergent preferences indicate the need for age-specific marketing strategies. |
Source: Statista
Physical Stores Hold Strong with 80% of Total Retail Sales
Important takeaway:
| | |
| --- | --- |
| Traditional retail remains the dominant sales platform | The majority of sales happening in-store signify the vitality of physical retail. |
| Online retail retains a significant market segment | A sizeable fraction of sales online denotes the impact of e-commerce. |
| Opportunity exists to expand online sales | The current ratio suggests potential for increased online retail growth. |
| Dual presence in-store and online is essential | The division of sales demonstrates the necessity for an omni-channel approach. |
Source: Tidio
52% of Gen Z Prefers Online Shopping, 48% Stays In-Store
Important takeaway:
| | |
| --- | --- |
| Gen Z shows balanced online and in-store preferences | This split indicates Gen Z's comfort with both physical and digital shopping. |
| Flexible retail strategies are crucial for Gen Z | The close percentages highlight the need for a seamless omni-channel experience. |
| Online shopping is slightly more preferred by Gen Z | The slight edge towards online should inform targeted digital initiatives. |
| In-store experiences matter to Gen Z | The significant in-store preference points to the importance of effective brick-and-mortar operations. |
Source: GWI
81% of Shoppers Research Online Before Making Purchase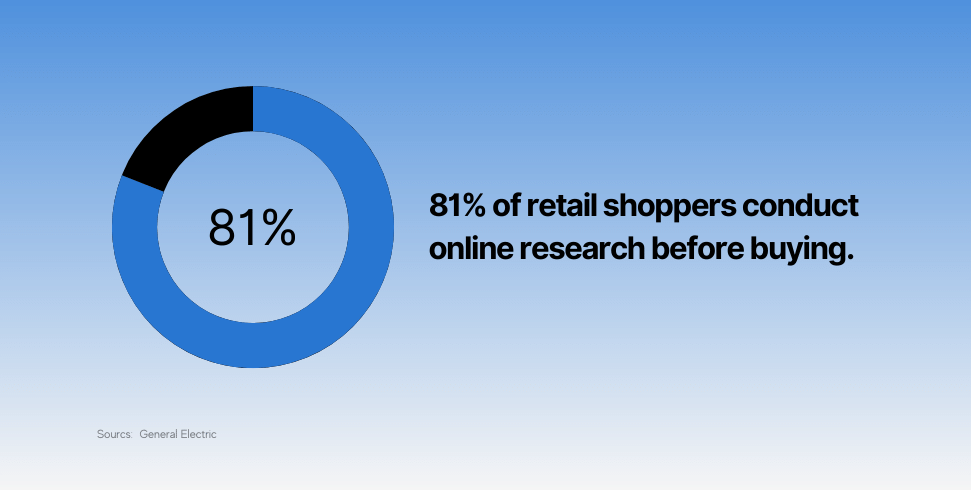 Important takeaway:
| | |
| --- | --- |
| Shoppers increasingly rely on digital information | Majority researching online before buying signifies the digital shift in consumer habits. |
| Importance of a strong online presence | High online research prevalence underscores the need for retailers to maintain comprehensive digital platforms. |
| Influence of online content on purchase decisions | This trend highlights the persuasive power of online content on consumer decisions. |
| Need for accurate, engaging online product information | The data suggests that effective product presentation online can drive in-store sales. |
Source: General Electric
Brick-and-Mortar Stores Grow 18.5%, Outpacing E-Commerce at 14.2%
Important takeaway:
| | |
| --- | --- |
| Physical retail is not only relevant, but growing | The growth rate indicates that brick-and-mortar stores retain significant appeal. |
| E-commerce continues to expand | Despite slower growth, e-commerce is still on an upward trajectory. |
| Balancing physical and online presence remains key | Growth in both areas underscores the importance of a dual retail strategy. |
| Need to understand factors driving physical store growth | The higher growth rate for physical stores suggests room for analysis and understanding. |
Source: Census
42% Holiday Shoppers Opt for Online Research and Purchase
Important takeaway:
| | |
| --- | --- |
| Online shopping dominates holiday purchases | The high percentage of online shoppers underscores digital retail's role during peak seasons. |
| In-store experiences still matter during holidays | Despite lower percentage, a significant number still prefer in-store holiday shopping. |
| Importance of a strong e-commerce strategy for holidays | High online shopper numbers demand robust digital marketing campaigns. |
| Tailored strategies for holiday seasons are necessary | Differences in shopping behaviors during holidays point to the need for season-specific retail plans. |
Source: Bigcommerce