Shoplifting has become a rising concern for retail stores across America. In just the first five months of 2023 alone, Target has been a sharp 120% surge in such incidents.
This uptick isn't new; over the past five years, retail theft has shot up by 94%. With these trends, the problem has now reached a massive scale, turning into a $100 billion problem. 
Let me share the most crucial shoplifting statistics and trends you should be aware of right away, shedding light on the gravity of the situation. 🚫🛍️📊
Shoplifting Statistics: The Key Data
In the first five months of 2023, Target stores have seen a nearly 120% increase in retail theft incidents. 
In the last five years, retail theft in America has increased by 94%. 
Shoplifting accounts for 2% to 3% of total sales for retailers.
Retail theft in America has grown into a $100 billion problem, as per latest data. 
9.09% of Americans shoplift.
Only about 1 in every 48 shoplifting cases results in an arrest.
New York City shoplifting has risen by 77% over the past five years to $330 million.
About 25% of shoplifters are underage.
A total of 66.6 percent of all shoplifters reported were under 30 years of age; 6.2 percent were under 12 years of age; 26.7 percent were between 12 and 17 years of age; and 33.7 percent were between 18 and 29 years of age.
Sources: (Capital One Shopping, CNN, HG, Office of Justice Programs, The Center Square, CNN, Northeast Mississippi Daily Journal)
Shoplifting Rampant Among 9.09% of Americans
Important takeaway:
| | |
| --- | --- |
| Increased preventive measures | High rate implies a need for more robust anti-shoplifting strategies in retail outlets. |
| Strengthen legal penalties | A deterrent could be harsher punishments, deterring potential shoplifters. |
| Enhance public education | Raise awareness about legal and ethical implications of shoplifting. |
| Focus on social support systems | Address root causes like poverty or addiction, potentially reducing this percentage. |
Source: Capital One Shopping
Shoplifting Eats Up to 3% of Retailers' Total Sales
Important takeaway:
| | |
| --- | --- |
| Financial impact on retailers | Shoplifting greatly affects profitability, warranting investment in prevention measures. |
| Price inflation for consumers | Retailers might increase prices to offset losses, impacting honest customers. |
| Enhanced security measures | The need for more advanced anti-theft technologies is evident. |
| Support for stricter law enforcement | Encouraging law enforcement to prioritize shoplifting could mitigate losses. |
Source: CNN
One in Four Shoplifters are Minors, Reports Indicate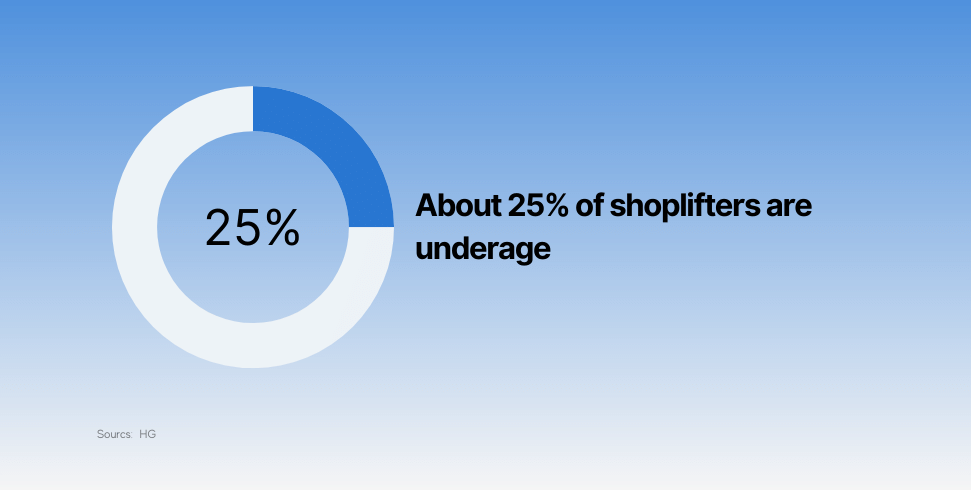 Important takeaway:
| | |
| --- | --- |
| Youth-focused prevention programs | High rate of underage shoplifting calls for targeted educational initiatives. |
| Strengthen school counseling | Schools can play a key role in identifying and mitigating this behavior. |
| Increase parent involvement | Parents should be more engaged to deter such activities at an early stage. |
| Policy changes towards minors | Law enforcement and judicial systems might need to adjust approach to underage offenders. |
Source: HG
Two-Thirds of Shoplifters are Below 30 Years Old
Important takeaway:
| | |
| --- | --- |
| Age-specific prevention strategies | Given the age distribution, prevention efforts should cater to specific age groups. |
| School and college initiatives | Institutions should integrate anti-shoplifting programs in their curricula. |
| Family and community involvement | Engagement at a familial and community level can deter potential offenders. |
| Review of juvenile justice policies | Data underscores need to revisit policies dealing with young shoplifters. |
Source: Office of Justice Programs
Only One in 48 Shoplifting Cases Results in Arrest
Important takeaway:
| | |
| --- | --- |
| Improve detection methods | Current rate suggests better theft detection strategies are needed in stores. |
| Strengthen law enforcement | Low arrest rates point towards a need for enhanced police involvement. |
| Boost security staff training | Training for security personnel can lead to more effective interventions. |
| Advocate for stricter legal ramifications | If penalties increase, it may deter potential shoplifters. |
Source: The Center Square
Retailers' Losses from Shoplifting Hit $94B in 2021
Important takeaway:
| | |
| --- | --- |
| Implement advanced security | With rising losses, it's crucial to invest in state-of-the-art security systems. |
| Lobby for policy changes | The growing economic impact should prompt action at the legislative level. |
| Enhance staff vigilance | Employee training on theft detection should be prioritized. |
| Explore loss prevention solutions | Technologies like AI can offer innovative ways to curb this increase. |
Source: CNBC
Cosmetics Top the List of Most Frequently Shoplifted Items
Important takeaway:
| | |
| --- | --- |
| Increase Security Measures | High theft rates of cosmetics indicate a need for enhanced store security. |
| Revamp Display Strategies | The prominence of cosmetics in theft suggests reconsidering their placement. |
| Invest in Anti-Shoplifting Technologies | Persistent theft underlines the necessity of technologies like electronic tags. |
| Enhance Staff Training | Theft prevalence emphasizes staff's role in surveillance and theft prevention. |
The above data suggests that shoplifting is a significant issue in cosmetic retailing, underscoring the urgency for robust security measures, rethinking product display strategies, implementing anti-theft technologies, and comprehensive staff training.
Source: Northeast Mississippi Daily Journal
Men and Women Shoplift at Nearly Identical Rates
Important takeaway:
| | |
| --- | --- |
| Gender-neutral prevention strategies | Programs must equally target both genders, reflecting the equal prevalence. |
| Review stereotypes in security training | Security personnel should not favor one gender over another in surveillance. |
| Targeted awareness campaigns | Messaging should be balanced to address both male and female audiences. |
| Research into gender-specific motivators | Further studies could help develop more nuanced prevention strategies. |