Scams have become a concerning reality for many people, especially in the digital age. In the United States, there are about 26 million adults who fall for fraud or scams each year.
Moreover, when considering online shopping, the numbers are even more daunting, with 71.6 percent of people losing money because of online shopping scams.
Let me start with some scary scam statistics and, importantly, how many people get scammed a year that you should be aware of right away. 😟💸🚫
Scam Statistics: The Key Data
1 in 10 adults in the United States falls victim to a scam or fraud each year.
According to the most recent data, over 2.4 million consumers were scammed and reported to the FTC in 2022. 
According to a report by AARP, $28.3 billion is stolen annually from U.S. adults over 60.
Nearly $8.8 billion was lost to scams in 2022, an increase of more than 30% from last year that was reported to FTC. 
From 2021 to 2022, the average number of complaints received by the Internet Crime Complaint Center increased by 18.08%.
71.6 percent of people who lost money because of online shopping scams.
The median loss from fraud was $650 in 2022, up from $500 in 2021.
Each year, more than 2.4 million Americans are targeted by imposters claiming to be from the IRS.
77% of scams are now happening on social media, online marketplaces, and dating apps.
The average amount lost in an investment scam was $18,700.
Sources: (FBI, Statista, BBC, USAToday, CNBC, FTC)
$10.3 Billion Lost to Internet Scams Last Year: Consumer Report
Important takeaway:
| | |
| --- | --- |
| Implement More Robust Cybersecurity Measures | The high monetary loss indicates a need for improved cybersecurity infrastructure, and more advanced anti-scam tools. |
| Enhance Public Awareness and Education | As victims continue to multiply, there's a clear requirement for comprehensive public scam awareness campaigns. |
| Stricter Legislation and Regulation | Given the scale of losses, firmer laws and better enforced regulations are essential to deter and penalize fraudsters. |
| Develop Better Reporting and Tracking Systems | To prevent future losses, enhanced systems for tracking scams and reporting incidents are urgently required. |
Source: FBI
Daily IC3 Complaints Surpass 2,000 Amid Rising Online Scams
Important takeaway:
| | |
| --- | --- |
| Increase in Scam Reporting Infrastructure | The volume of complaints suggests that IC3 requires expanded infrastructure to handle and process these reports effectively. |
| Improve Timely Responses to Complaints | With daily complaints in thousands, it's vital to ensure timely response and resolution to minimize harm. |
| Stronger Law Enforcement Collaboration | The high number of daily complaints emphasizes the need for tighter collaboration with law enforcement agencies. |
| Greater Investment in Cybercrime Analysis | Such a high volume of reports requires significant resources for data analysis, to discern patterns and trends for proactive measures. |
Source: FBI
71.6% of Consumers Victimized by Online Shopping Scams
Important takeaway:
| | |
| --- | --- |
| Strengthen E-commerce Security Measures | Given the high proportion of losses, stronger e-commerce security is a must to protect consumers. |
| Increase Public Education on Online Scams | The data underlines a dire need for educating the public about online shopping scams to prevent losses. |
| Enhance Vendor Authentication Mechanisms | A robust vendor verification process is critical to ensure only legitimate businesses operate on platforms. |
| Implement Stricter E-commerce Regulations | The high percentage points to a necessity for tighter e-commerce regulations to safeguard consumer interests. |
Source: Statista
77% of Scams Now Occur on Social Media, Marketplaces, Dating Apps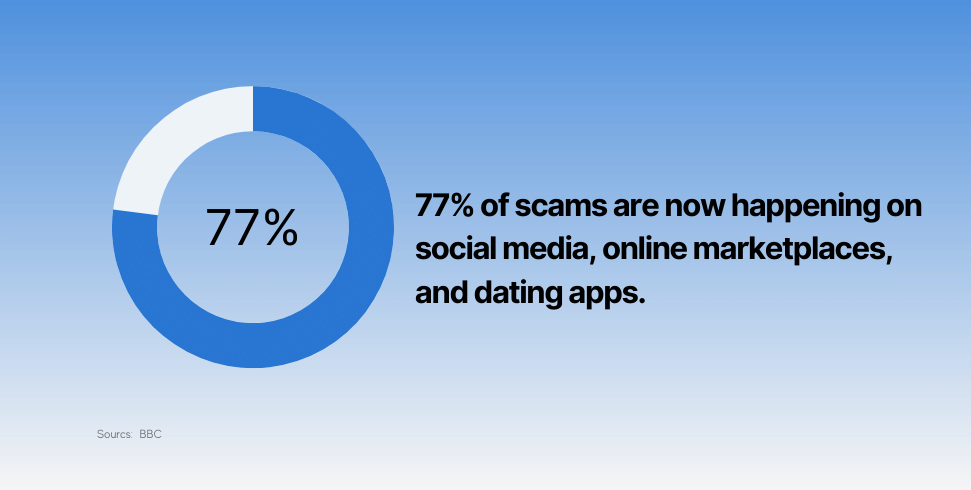 Important takeaway:
| | |
| --- | --- |
| Enhance Security Features on Social Platforms | High prevalence of scams on these platforms demands stronger built-in security measures. |
| Public Education on Digital Platform Scams | With scams common on these platforms, users need better awareness about avoiding such threats. |
| Strengthen Policy and Regulations | The data highlights a critical need for more stringent policies and regulations governing these platforms. |
| Improve Monitoring and Reporting Mechanisms | Given the scam prevalence, platforms should improve their scam detection and user reporting systems. |
Source: BBC
Median Fraud Losses Jump to $650 in 2022, a $150 Increase
Important takeaway:
| | |
| --- | --- |
| Implement Stronger Anti-fraud Measures | The rising median loss suggests fraudsters are becoming more effective, necessitating improved countermeasures. |
| Improve Fraud Detection Capabilities | The increase in median loss implies the need for better early detection systems to prevent higher losses. |
| Increase Public Education on Fraud Prevention | With losses increasing, enhanced public education can help individuals prevent falling victim to fraud. |
| Strengthen Financial Regulations | The uptick in median loss indicates a need for stricter financial regulations to deter fraudsters. |
Source: USAToday
2.4 Million Americans Annually Targeted by IRS Impersonators
Important takeaway:
| | |
| --- | --- |
| Strengthen Identity Verification Protocols | Given the scale of IRS-impersonation scams, more robust identity verification is needed. |
| Public Education on IRS Scams | The vast number of targeted Americans points to an urgent need for public education about IRS scams. |
| Improve IRS Scam Reporting Mechanisms | With millions targeted annually, an enhanced, user-friendly reporting system is necessary. |
| Enhance Collaboration with Law Enforcement | The sheer volume of such scams necessitates better collaboration with law enforcement to trace and apprehend scammers. |
Source: CNBC
Imposter and Online Shopping Scams Lead 2.8M Fraud Reports to FTC
Important takeaway:
| | |
| --- | --- |
| Implement Stronger Countermeasures against Imposter Scams | Given the prevalence of imposter scams, there's a need for more effective strategies to combat them. |
| Enhance Security on Online Shopping Platforms | With online shopping scams prevalent, stronger e-commerce security measures are crucial. |
| Improve FTC Fraud Reporting and Resolution | The high number of reported cases indicates the necessity for an improved FTC reporting and resolution system. |
| Increase Public Education on Prevailing Scams | Given the top fraud categories, targeted public awareness programs can help prevent these prevalent scams. |
Source: FTC