Package theft has become a pressing concern in recent times. In 2022 alone, instances of package theft rose by 23.81%.
Such thefts have a considerable economic impact, with a whopping $19.5 billion lost annually. To put it into perspective, in just the past year, 49 million Americans experienced the frustration of having at least one of their packages stolen.
Let me share the most crucial package theft statistics and trends you should be aware of right away. 📦📉.
Package Theft Statistics: The Key Data
Package theft increased by 23.81% in 2022, according to the most recent data we calculated.
On average, 235 million package thefts occur each year, according to our calculation from multiple reports.
The average value of a stolen package is around $50.
49 million Americans have had at least one package stolen in the past 12 months.
35% of Americans have experienced delivery or package theft. 
The annual amount lost to package theft is estimated at $19.5 billion. 
Only 17% of people whose packages or deliveries were stolen told police in 2022.
90,000 packages are stolen in New York City every day.
$19.5 billion is lost to package theft each year, as estimated by a Safewise survey.
Sources: (Valuepenguin, Package Theft Annual Report by Security.org, CeFaan Kim, Safewise)
Package Theft Plagues 35% of Americans, Reports Indicate
Important takeaway:
| | |
| --- | --- |
| Enhance delivery security measures | A high percentage of package theft necessitates improved safeguards. |
| Offer insurance or guarantees for deliveries | This can increase consumer trust and mitigate potential losses. |
| Explore secure delivery options | Investigating alternatives like locker pickups could reduce theft incidents. |
| Communicate about safety measures to customers | Transparency can reassure consumers and enhance brand reputation. |
Source: Valuepenguin
A Mere 17% of Theft Victims Reported Package Stealing to Police in 2022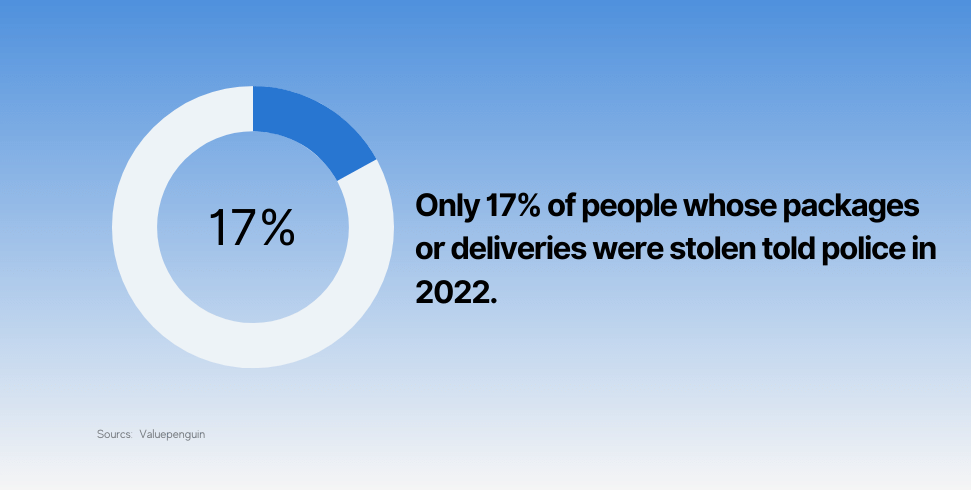 Important takeaway:
| | |
| --- | --- |
| Encourage reporting of package thefts | Active reporting can lead to better tracking and preventative measures. |
| Provide clear guidelines on dealing with theft | Customer guidance can ensure appropriate steps are followed post-theft. |
| Enhance customer support for theft incidents | Responsive service can minimize negative impact and retain consumer trust. |
| Investigate self-monitoring options for deliveries | Technologies like tracking or image capture could aid theft prevention. |
Source: Valuepenguin
Shocking Annual Statistic: 235 Million Packages Stolen, Multiple Reports Suggest
Important takeaway:
| | |
| --- | --- |
| Package theft is a widespread problem | The high number of thefts annually signifies a common and significant issue. |
| Strong need for improved anti-theft solutions | Current methods are insufficient given the large volume of incidents. |
| E-commerce businesses should enhance delivery security | Businesses must take responsibility to mitigate this high-risk factor. |
The estimated 235 million package thefts per year, calculated from multiple reports, underscores the prevalence and severity of this issue. This statistic highlights the need for enhanced anti-theft solutions, urging e-commerce businesses to increase delivery security measures.
Average Value of Stolen Goods Stands at $50, Theft Data Reveals
Important takeaway:
| | |
| --- | --- |
| Consider insurance options for packages | Given the average value, insurance can safeguard both businesses and consumers. |
| Review packaging to minimize theft attractiveness | Non-descript packaging may reduce package theft incidents. |
| Implement delivery verification procedures | Confirmation of receipt can help track and manage theft cases. |
| Explore cost-effective theft prevention measures | Measures commensurate with average loss value could yield cost benefits. |
Source: Package Theft Annual Report by Security.org
NYC in Thieves' Crosshairs: 90,000 Packages Stolen Daily
Important takeaway:
| | |
| --- | --- |
| Implement robust security measures in high-risk areas | The high theft rate in NYC calls for targeted strategies. |
| Partner with secure delivery services in NYC | Specialized services can help mitigate the risk in this specific location. |
| Promote use of secure delivery locations in NYC | Encouraging alternatives like lockers can help protect consumer packages. |
| Educate NYC customers on theft prevention | Awareness can play a key role in reducing package theft incidence. |
Source: CeFaan Kim
Nearly 49 Million Americans Fell Victim to Package Theft Last Year
Important takeaway:
| | |
| --- | --- |
| Intensify package theft prevention efforts | High number of theft victims indicates a widespread issue. |
| Ensure customer service handles theft incidents effectively | Adequate support can minimize negative impact on customer relationships. |
| Invest in advanced tracking and delivery systems | Technology can play a significant role in mitigating theft occurrences. |
| Advocate for stricter theft laws and penalties | Policy changes may deter potential thieves and reduce incidents. |
Source: Package Theft Annual Report by Security.org
Package Theft Epidemic: A Staggering $19.5 Billion Lost Annually, Says Safewise
Important takeaway:
| | |
| --- | --- |
| Significant financial loss due to package theft | The considerable sum lost indicates package theft is a major issue. |
| Need for enhanced security measures | Such high losses imply that current security measures may be insufficient. |
| Potential business opportunities in security sector | This situation may present prospects for businesses offering anti-theft solutions. |
The Safewise survey's estimate that $19.5 billion is lost annually to package theft highlights the urgent need for improved security measures. The current financial impact indicates a substantial issue that could provide opportunities for businesses specializing in anti-theft solutions.
Source: Safewise