The digital age has seen a shift in how consumers gather information and make purchase decisions. Videos have emerged as a pivotal tool in influencing these choices.
A remarkable 85% of consumers worldwide depend on videos while shopping online. Additionally, when it comes to learning about a product or service, 73% of shoppers lean towards watching a short video.
Let me start with some insightful statistics that show the importance of video marketing. 🎥📈🛍️
Statistics That Show Importance of Video Marketing
More than 60% of shoppers say online video has given them ideas or inspiration for their purchase.
85% of consumers worldwide rely on video when shopping online.
70% of online shoppers claim that videos help them better understand products.
73% of shoppers prefer to learn about a product or service by watching a short video.
48% of consumers say video boosts their confidence to shop online.
71% of global consumers say video with interactive features like links to purchase is essential when buying online.
36% of global shoppers find video most helpful for discovering new products online as they shop online.
Sources: (Google/Ipsos, Internet Retailing, Brightcove, Wyzowl)
Over 60% Shoppers Gain Purchase Inspiration from Online Videos
Important takeaway:
| | |
| --- | --- |
| Leverage Online Video Marketing | Over 60% of shoppers are influenced by online video, indicating its power in driving purchase decisions. |
| Develop Engaging Video Content | Businesses should focus on creating inspiring video content to capitalize on this consumer behavior. |
| Incorporate Video in eCommerce | Given the data, integrating video demos or tutorials into eCommerce platforms could boost sales. |
Source: Google/Ipsos
85% Global Consumers Depend on Videos for Online Shopping
Important takeaway:
| | |
| --- | --- |
| Prioritize video content | Video influences consumer behavior globally, necessitating a robust video strategy. |
| Invest in product video creation | Given their reliance, detailed videos can effectively showcase products. |
| Use video for online marketing | The high reliance indicates video could boost marketing efforts significantly. |
Source: Internet Retailing
70% of Online Shoppers Assert Videos Enhance Product Understanding
Important takeaway:
| | |
| --- | --- |
| Enhance product descriptions with videos | Videos enhance understanding, proving crucial for effective product presentation. |
| Focus on explanatory videos | These aid comprehension, increasing potential for consumer satisfaction and sales. |
| Implement video FAQs or demos | This could address shopper queries, enhancing product understanding. |
Source: Brightcove
73% Consumers Opt for Short Videos for Product Learning
Important takeaway:
| | |
| --- | --- |
| Short videos are preferred for product learning | 73% of shoppers opt for short videos to learn about products or services, highlighting their effectiveness |
| Need for businesses to create informative short videos | This figure emphasizes the importance for businesses to invest in short, informative videos about their products or services |
| The rise of video as a primary information source | The data indicates a major shift towards video content as the primary source of product or service information |
This data highlights the increasing consumer preference for short videos as a means to learn about products or services. As such, businesses should leverage this trend by producing and promoting succinct, informative videos to cater to the educational needs of the modern shopper.
Source: Wyzowl
Video Boosts Online Shopping Confidence for 48% Consumers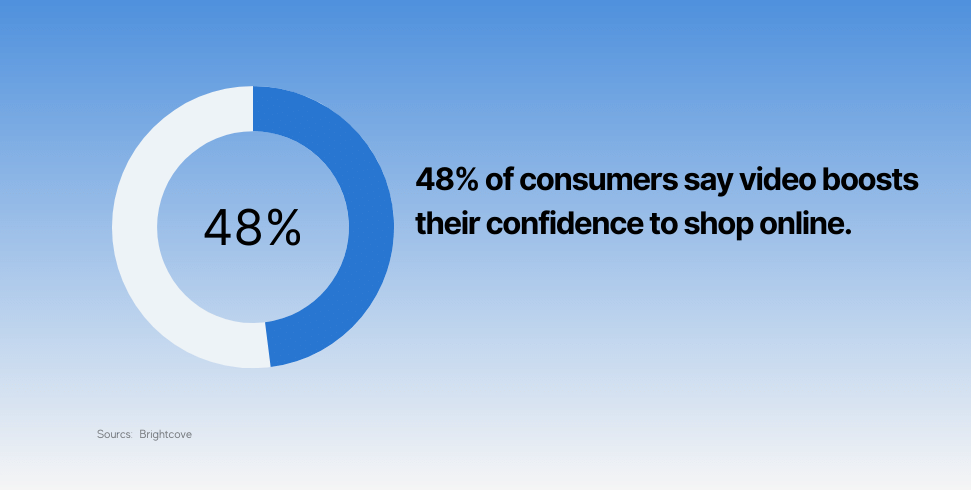 Important takeaway:
| | |
| --- | --- |
| Employ video to instill buying confidence | Video usage can boost online shopping confidence, promoting purchases. |
| Integrate testimonial videos | Positive reviews through video can heighten shopper trust. |
| Use video for product validation | Videos offer authenticity, increasing consumer confidence in online buying. |
Source: Brightcove
71% Buyers Insist on Interactive Features in Online Shopping Videos
Important takeaway:
| | |
| --- | --- |
| Demand for interactive video content is high | 71% of global consumers want purchase links in online videos, making it essential for e-commerce businesses |
| Enhanced consumer engagement through video | Interactive features in video content can help engage consumers better and simplify the buying process |
| A shift in online shopping behavior | The data suggests a significant change in consumer behavior, reflecting a preference for more interactive, video-based online shopping |
This data suggests a clear consumer demand for interactive video content in the e-commerce industry. In order to stay competitive and meet customer needs, businesses should integrate such features into their online platforms, enhancing customer engagement and facilitating the purchasing process.
Source: Brightcove
36% Shoppers Discover New Products via Online Videos
Important takeaway:
| | |
| --- | --- |
| Video content is a powerful discovery tool | 36% of global shoppers use videos to find new products, showing video's effectiveness as a discovery tool |
| Businesses should invest in product videos | This data underscores the need for businesses to create and promote product videos to aid customer discovery |
| The evolving nature of online shopping | Online shoppers are increasingly relying on videos for product discovery, indicating a shift in shopping behavior |
The data implies that video content plays a pivotal role in product discovery for online shoppers, with over a third of global consumers utilizing it for this purpose. For businesses, this highlights the necessity of incorporating product videos into their digital strategy to facilitate discovery and meet changing consumer behaviors.
Source: Brightcove