Shopping for groceries online is becoming a need for many. If you use EBT, you might be wondering which stores accept it for online orders.
Luckily, several grocery stores allow you to use your EBT card for either delivery or pickup, making the shopping experience smoother.
Are you curious about which ones do? I'm here to share this crucial information with you.
List of Grocery Stores that Accept EBT Online Delivery or Pickup
As of 2023, here is a list of online grocery stores that accept EBT for delivery and pickup.
#1. Amazon Fresh
Delivery Fees: As of February 28, 2023, Orders over $150 still qualify for free delivery.
Return/Refund Policy: Damaged, spoiled, or unusable items can be returned for a full refund within 30 days of delivery.
Delivery Time: Amazon Fresh delivery is available from 6AM to midnight daily, with 1-hour and 2-hour delivery windows.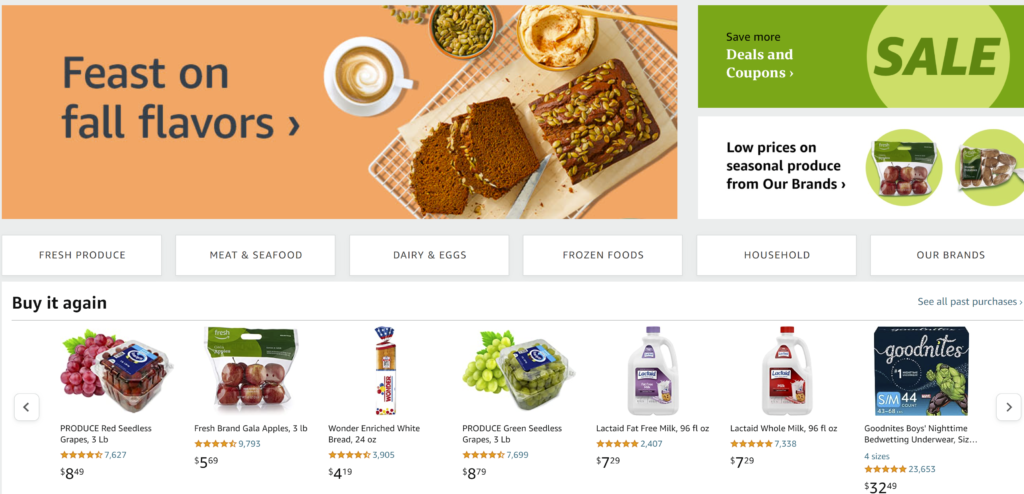 AmazonFresh accepts EBT as a form of payment for eligible items. To use EBT on Amazon, you need to add your EBT card as a form of payment on the Amazon website. Amazon, Amazon Fresh, and Whole Foods Market allow SNAP EBT card users to shop for eligible groceries without requiring a Prime membership.
Benefits of using EBT on Amazon include:
Access to a wide variety of SNAP-eligible groceries from Amazon, Amazon Fresh, and Whole Foods Market.
Free access to Amazon Fresh selections without a Prime membership is available for customers using a valid SNAP EBT card in a participating state.
50% off Amazon Prime membership for EBT cardholders, which provides additional benefits such as access to Prime Video, Prime Music, and free shipping on eligible items.
However, it's important to note that customers using EBT cannot tip their delivery drivers through the Amazon platform. If you want to tip your driver, you'll need to do so with cash or use a separate credit or debit card for the non-EBT portion of your order.
To pay using EBT on Amazon, I recommend you check out this post.
Learn more: 16 Surprising Things You Can Buy With EBT SNAP Card
#2. Whole Foods
Delivery Fees: Whole Foods delivery through Amazon has a $9.95 service fee for all orders.
Return/Refund Policy: Whole Foods allows returns with receipt within 90 days of purchase
Delivery Time: Most Whole Foods locations in Arizona are open daily from 7am-10pm.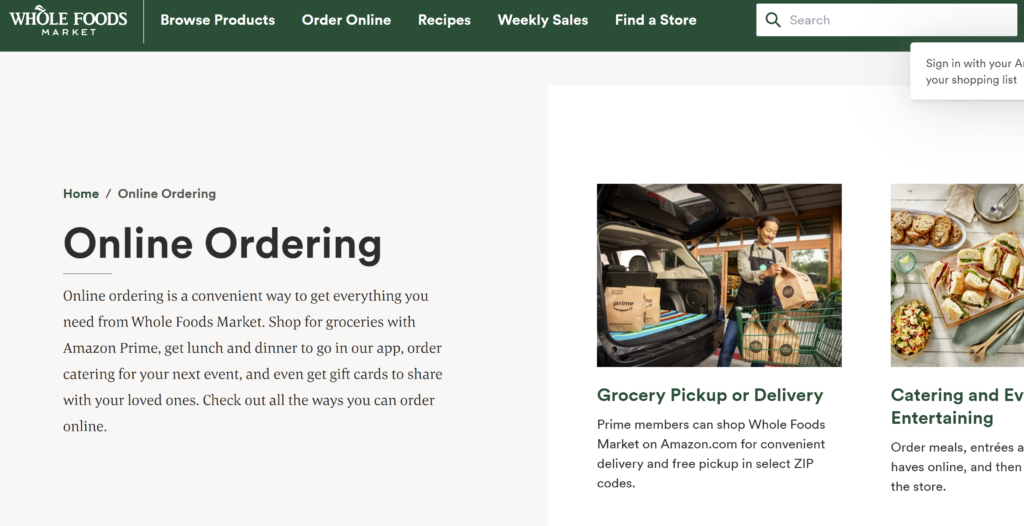 Whole Foods is a grocery store chain that focuses on offering organic and natural products, including a wide range of USDA-certified organic foods. They accept EBT (Electronic Benefits Transfer) as a form of payment for eligible items.
When using EBT at Whole Foods, you can purchase most food items, except for restricted items such as alcohol, pet food, and whole body supplements. Cold prepared foods like sushi, sandwiches, and cold soups are generally eligible for purchase with EBT. However, hot prepared foods are not eligible.
#3. Walmart
Delivery Fees: For Walmart+ members: No delivery fee for orders $35+. Orders under $35 have a $5.99 delivery fee.
Return/Refund Policy: Most items can be returned within 90 days of purchase.
Delivery Time: Regular delivery: Same day if order is placed before 3 PM, otherwise next day. Express delivery: within 2 hours of ordering.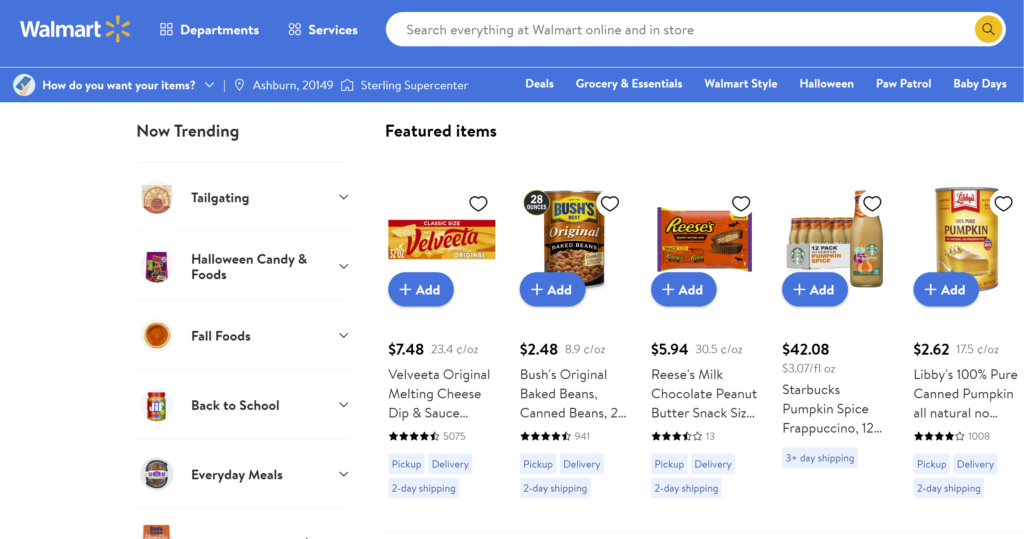 Walmart is a multinational retail corporation that operates a chain of hypermarkets, discount department stores, and grocery stores. It is one of the largest retailers in the world, offering a wide range of products, including groceries, clothing, electronics, and more.
EBT (Electronic Benefits Transfer) works with Walmart for online pickup or delivery orders. However, EBT does not work with Walmart Pay at the registers. To use EBT at Walmart, you will need to have the physical card with you or opt for pickup or delivery services.
#4. Aldi
Aldi offers online grocery delivery through its partnership with Instacart.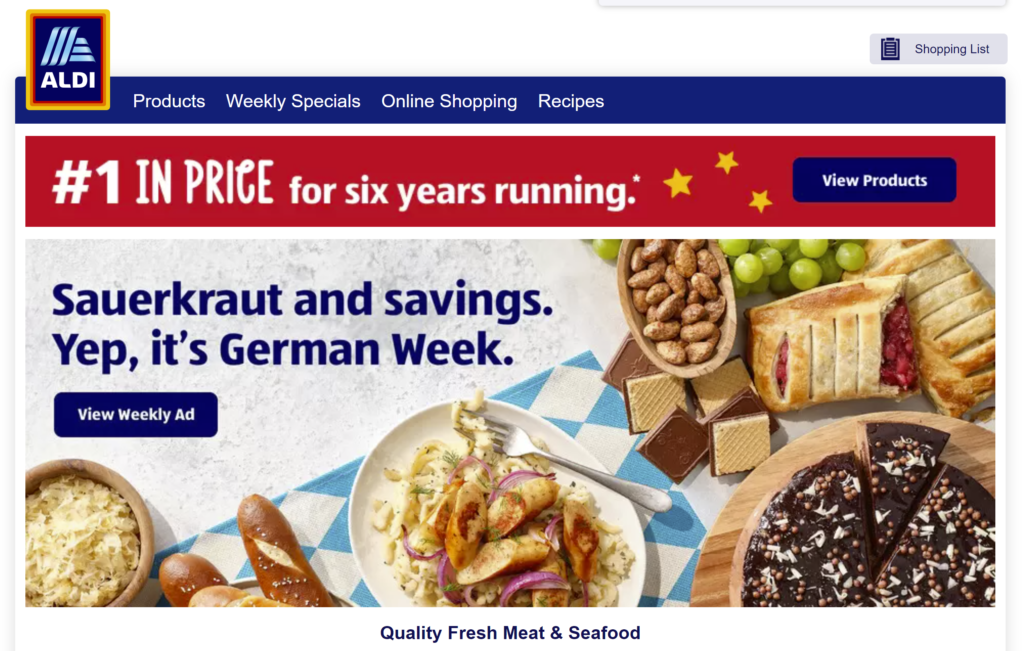 Product Categories: Aldi offers a wide range of products, including fresh produce, meat, dairy, bakery, pantry items, frozen foods, and beverages. You can browse and search for Aldi products on their website or the Instacart app.
Inventory Reliability: Your personal shopper will carefully select the items you've chosen for your order and will notify you if an item is out of stock. However, product availability may vary online compared to in-store.
Delivery Fees: Aldi partners with Instacart for grocery delivery. Delivery fees start at $3.99 for 2-hour delivery and $5.99 for 1-hour delivery on orders over $35. Instacart also offers a subscription called Instacart Express, which costs $99/year or $9.99/month and waives delivery fees on orders of $35 or more.
Return/Refund Policy: Aldi offers a "Twice as Nice Guarantee" – if dissatisfied with a product's quality, Aldi will refund your money and replace the item.
Delivery Time: Aldi delivery can be as fast as 1 hour, or you can choose a drop-off time for later in the day or week to fit your schedule.
Delivery Areas: Aldi partners with Instacart to deliver groceries nationwide. Nearly 98% of their 2,200 stores deliver to over 10,000 ZIP codes nationwide. Visit new.aldi.us and enter your ZIP code to see if your store delivers.
#5. Target
Target online grocery delivery is a service that allows customers to order a variety of food and household items through Target's website or app and have them delivered directly to their doorsteps, offering convenience and time-saving options for shoppers.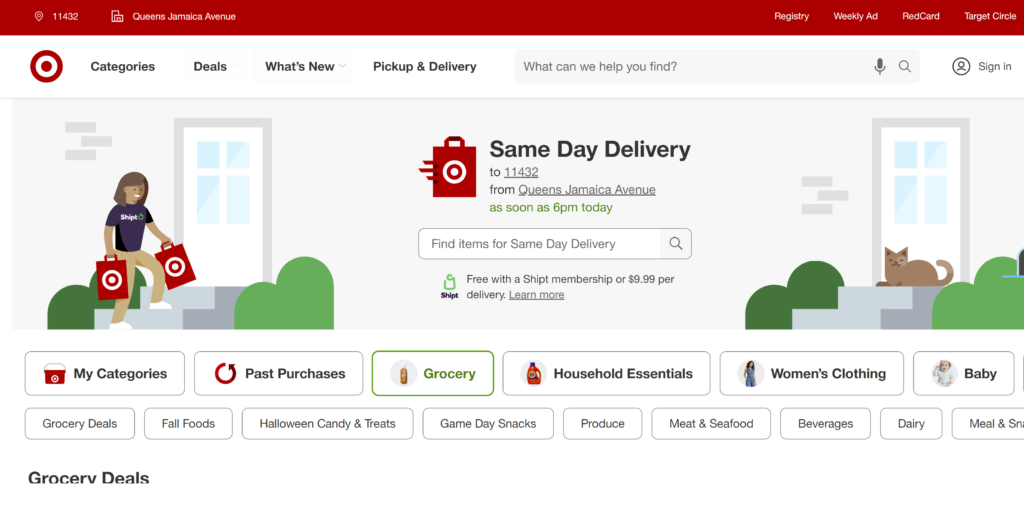 Product Categories: Target offers a wide range of grocery products, including produce, meat, seafood, dairy, frozen foods, snacks, and more.
Inventory Reliability: Target's Shipt personal shoppers aim to fix the "out of stock" issue by alerting customers if their favorite items are unavailable and suggesting alternatives.
Delivery Fees: Delivery is free for Shipt members with a minimum $35 order. Non-members can choose to pay a $9.99 delivery fee for each eligible order.
Delivery Time: Target offers same-day delivery for groceries through its Shipt service. Standard shipping for non-grocery items is expected to be delivered within 3-5 business days after the items have been shipped and picked up by the delivery carrier.
Delivery Areas: Target's same-day delivery service is available in various locations. You can check the availability of the service in your area through the Target app or website.
Return/Refund Policy: Target lets you return or exchange exclusive and owned brand items for a year. For other items, you can check the return policy on the product detail page or in your cart. If you have any issues with your order, you can contact Target's customer service for assistance.