Online shopping in the US is on the rise, having increased by 17% in just five years. More and more people are turning to the internet to begin their shopping experience, with 63% of shopping journeys kicking off online.
It's not just a few folks either – a whopping 80% of Americans have made a purchase online. To shed more light on this trend,
I have compiled a list of the most important online shopping trends statistics to help you better understand the state of the ecommerce industry today. 📊🖥️
Online Shopping Statistics: The Key Data
The number of online shoppers in the United States has increased by 17% in the last five years.
As of 2023, there were 2.64 billion online shoppers worldwide.
In 2022, there were 274.72 million US online shoppers, and by 2027, the number is projected to increase to almost 289.91 million.
Approximately 80% of Americans have shopped online.
Since 2010, global eCommerce sales have increased by nearly 800%.
As of 2022, 21% of global retail sales are online, with the goal of reaching 27% by 2026.
By 2023, global retail ecommerce sales will total $6.169 trillion and account for 22.3% of total retail sales, up from $3.351 trillion and 13.8% in 2019.
63 percent of shopping occasions begin online.
Approximately 50% of shoppers shop more on mobile than in-store. 
The average person spent $5,381 online in 2023.
Sources: (Oberlo, Statista, Insider intelligence, Thinkwithgoogle, 2018, Ibotta, 2018, Yahoo, Morgan Stanley, Insider Intelligence)
Global Online Shoppers Skyrocket to 2.64 Billion in 2023
Important takeaway:
| | |
| --- | --- |
| E-commerce is mandatory. | The vast online shoppers' population mandates businesses to create a strong online presence. |
| Invest in user experience. | With billions online, improved user interface design can significantly boost conversion rates. |
| Prioritize mobile platform. | The ubiquity of smartphones necessitates optimizing e-commerce platforms for mobile. |
Source: Oberlo
US Online Shoppers to Soar from 268 Million to 285 Million by 2025
Important takeaway:
| | |
| --- | --- |
| Tailor strategies for US market. | The continuous growth of US online shoppers demands localized business strategies. |
| Prepare for increased demand. | Rising shopper numbers indicate a need for scalable e-commerce solutions. |
| Anticipate higher competition. | Growing customer base is likely to attract more businesses, intensifying competition. |
Source: Statista
Digital Revolution: 80% of Americans Now Shop Online
Important takeaway:
| | |
| --- | --- |
| E-commerce dominates in the US. | The high percentage suggests online shopping is an integral part of American consumer culture. |
| Digital marketing is vital. | With most Americans shopping online, effective digital marketing strategies are indispensable. |
Global Retail E-commerce to Hit $6.169 Trillion in 2023, Making 22.3% of Total Sales
Important takeaway:
| | |
| --- | --- |
| E-commerce growth is accelerating | The nearly twofold increase in global retail e-commerce sales from 2019 to 2023 indicates a strong upward trend. |
| Traditional retail is losing market share | The rising percentage of total retail sales attributed to e-commerce implies a shrinking scope for traditional retail. |
| Urgency for businesses to go digital | Given the growth trajectory, businesses without a strong online presence are likely to fall behind. |
Source: insider intelligence
63% of Shopping Begins Online, Changing Retail Landscape
Important takeaway:
| | |
| --- | --- |
| Prioritize E-commerce Strategy | Online platforms initiate most shopping journeys, necessitating robust digital presence. |
| Improve Online User Experience | High percentage of online initiations implies users' convenience preference. |
| Intensify Digital Marketing Efforts | The data underscores the need to capture customer attention online first. |
Source: Thinkwithgoogle, 2018
Mobile Takes Over: 50% of Shoppers Prefer Mobile to In-Store
Important takeaway:
| | |
| --- | --- |
| Mobile platforms should be optimized | High mobile shopping usage implies the need for seamless, user-friendly interfaces |
| Invest in mobile app development | Half of the consumer base uses mobile, suggesting potential growth in app usage |
| Enhance mobile security measures | Increased mobile shopping necessitates robust security to protect user data |
| Implement effective mobile marketing strategies | The prevalence of mobile shopping emphasizes the importance of targeted mobile advertising |
Source: Ibotta, 2018
Digital Habits: 32% of Gen Z Consumers Shop Online Daily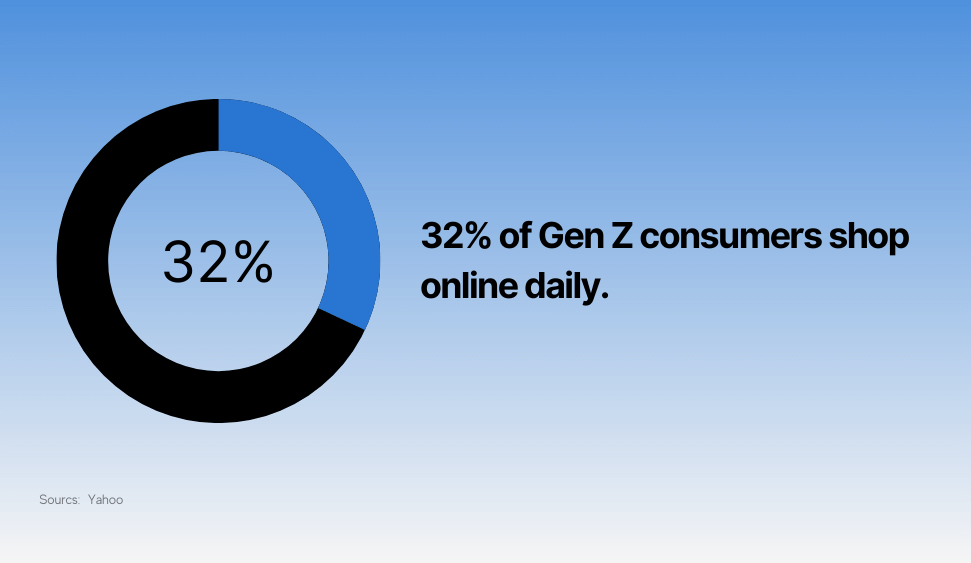 Important takeaway:
| | |
| --- | --- |
| Prioritize e-commerce platforms | High daily online shopping by Gen Z signifies a shift towards digital purchases |
| Implement targeted marketing for Gen Z | Their frequent online shopping implies Gen Z's responsiveness to e-marketing strategies |
| Personalize the online shopping experience | Gen Z's daily engagement emphasizes the need for tailored shopping experiences |
| Enhance customer service online | Gen Z's online shopping frequency necessitates strong digital customer support |
Source: Yahoo
Online Retail Captures 21% of Global Sales in 2022, Aiming for 27% by 2026
Important takeaway:
| | |
| --- | --- |
| Emphasize on e-commerce growth | The upward trend in online retail sales demands a strategic focus on digital platforms |
| Enhance online user experience | The predicted growth suggests the need for an improved online shopping experience |
| Invest in global e-commerce marketing | Growing global sales indicate the importance of broadening market reach |
| Develop efficient online delivery systems | The increasing online retail sales percentage underscores the need for robust logistics |
Source: morganstanley
Average Person Splurges $5,381 Online in 2023: A New Shopping Norm
Important takeaway:
| | |
| --- | --- |
| Implement pricing strategies | High average spend indicates the need for competitive online pricing |
| Focus on high-quality products | The substantial spend per person suggests customers value quality purchases |
| Enhance online customer experience | The considerable online spend highlights the importance of user-friendly interfaces |
| Offer personalized product recommendations | High individual spend signals the potential of personalized marketing |
Source: Insider Intelligence
Frequently Asked Questions