In recent years, online shopping has become an integral part of our everyday lives, particularly when it comes to buying clothes. A notable 62% of shoppers have turned to the Internet to purchase clothes and accessories.
Further emphasizing its significance, online apparel purchases make up an impressive 23.0% of total U.S. online retail sales.
Let me share the most crucial online clothing shopping statistics and data you should be aware of right away. 👗🛍️💡
Online Clothing Shopping Statistics: The Key Data
62% of shoppers purchased clothes and accessories online.
Online apparel purchases accounted for 23.0% of total U.S. online retail sales.
By 2027, online fashion retail could account for more than $300 billion in sales.
53.9% of people who buy clothes online do not buy from online stores that do not offer free shipping.
71% of shoppers said they would choose a retailer that offered a "try before you buy" option over one that did not.
"Try before you buy" convinces 35% of consumers to buy online products they had not thought about before.
47% of consumers do not like shopping online because they can't interact with and try products
71% of shoppers said they would choose a retailer that offered a "try before you buy" option over one that did not.
Sources: (Bizrate Insights, eMarketer, RetailMenot, U.S. Department of Commerce, Statista)
Table of Contents
Online Clothing and Accessories Engage 60% of Shoppers, Study Finds
Important takeaway:
| | |
| --- | --- |
| E-commerce is crucial for the fashion industry | A majority (60%) of purchases are being made online, suggesting that digital platforms are a preferred shopping method |
| Improve online shopping experience | Since most people are buying clothes online, it is crucial to ensure a seamless, intuitive digital shopping experience |
| Develop robust e-commerce marketing strategies | High online purchasing rates underline the need for targeted online marketing and advertising campaigns |
This statistic clearly indicates that online platforms dominate the fashion market. Given this, businesses must focus on enhancing digital shopping experiences, and crafting effective e-commerce marketing strategies to ensure competitive advantage.
Source: Bizrate Insights
53.9% of Online Shoppers Demand Free Shipping, Survey Shows
Important takeaway:
| | |
| --- | --- |
| Free shipping is a key decision factor | More than half of online shoppers are influenced by shipping costs, indicating free shipping is a competitive necessity |
| Enhance shopping policies | Given the high rate of shipping cost sensitivity, retailers should review their policies to increase customer attraction |
| Shipping costs can impact brand loyalty | If retailers don't offer free shipping, they risk losing over half their potential customers, impacting their long-term profitability |
The statistic reveals that free shipping is not just an added perk, but a key decision-making factor for online clothing shoppers. Retailers should address this by offering free shipping and thus maximize customer acquisition and retention.
Source: eMarketer
'Try Before You Buy' Sways 35% of Customers to New Online Purchases
Important takeaway:
| | |
| --- | --- |
| Implement "try before you buy" | Given its effectiveness, offering a "try before you buy" option could drive sales. |
| Promote the risk-free nature | Highlighting the risk-free aspect of this approach could encourage more purchases. |
| Apply this to a wider product range | Expanding the "try before you buy" option to more products could broaden its impact. |
| Evaluate success of this approach | Continuous assessment of this strategy's effectiveness would aid in refining marketing efforts. |
Source: RetailMenot
Online Apparel Sales Jumped to 46% of Total U.S. Market in 2020
Important takeaway:
| | |
| --- | --- |
| Expand online apparel presence | The growing dominance of online apparel sales demands a strong ecommerce strategy. |
| Improve online shopping experience | To capitalize on this trend, offer a seamless, enjoyable online shopping journey. |
| Invest in virtual fitting tools | Implementing tools like virtual fitting rooms could enhance the online apparel shopping experience. |
| Strengthen supply chain for online sales | To meet the rising demand, a robust and efficient supply chain for online sales is crucial. |
Source: U.S. Department of Commerce
U.S. Online Fashion Sales Projected to Surpass $207B in 2023
Important takeaway:
| | |
| --- | --- |
| Steady growth of e-commerce in fashion | The expected increase in revenue signals a robust growth trajectory for online fashion retail |
| High investment potential | The forecasted growth suggests ample opportunities for investment and business expansion |
| Rising demand for online fashion | The projected figures underline the growing consumer preference for online shopping of fashion items |
The figures reveal a strong upward trend in U.S. retail e-commerce for fashion items. This steady growth not only offers lucrative opportunities for investment and expansion, but also signifies the rising demand for online fashion shopping.
Source: Statista
Annual E-Commerce Apparel Sales Rise by 13%, Data Reveals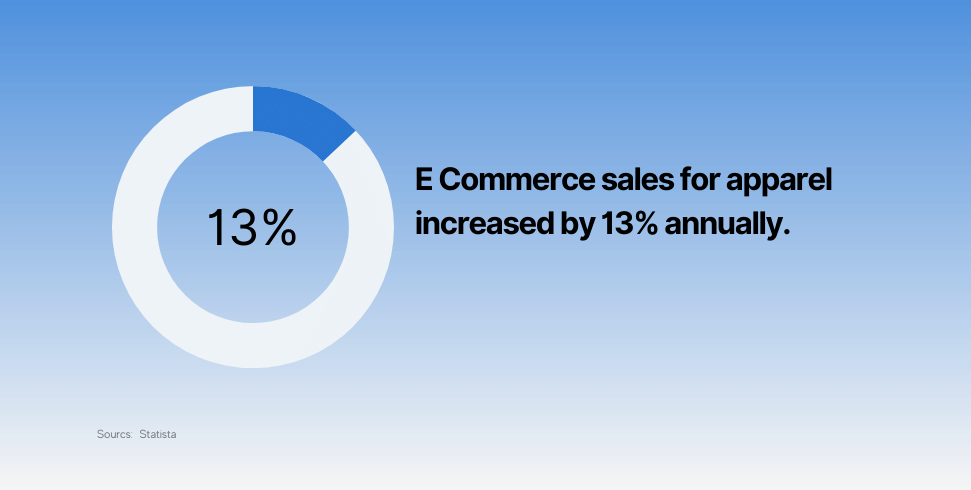 Important takeaway:
| | |
| --- | --- |
| Continual growth in e-commerce for apparel | The annual increase signifies a stable and consistent growth trend in the sector |
| Need for robust online strategies | Given the growth rate, businesses should focus on enhancing their online presence and offerings |
| High market potential | The continual increase indicates a thriving market with ample potential for profitability |
This statistic indicates a steady annual growth in e-commerce sales for apparel. Businesses should leverage this momentum by strengthening their online strategies, tapping into this high-potential market for improved profitability.
Source: Statista