Millennials, often regarded as the generation born between the early 1980s and the mid-1990s to early 2000s, play a significant role in the e-commerce landscape. With an annual spending power of $2.5 trillion, they are a force to be reckoned with in the retail sector.
Over the years, their online shopping habits have evolved, as reflected in the increase from 60% in 2019 to 80% today of millennials doing most of their shopping online. Furthermore, 73% of this group intends to maintain or even enhance their online spending patterns.
Let me begin with some interesting millennial online shopping statistics and spending habits, such as shopping, spending power, and where they shop. 📱💸
Millennial Online Shopping Statistics: The Key Data
80% of millennials now do most shopping online, up from 60% in 2019, and 56% use their phones, up from 36%.
Approximately, 57.79 million millennials shop online, according to our calculation from the latest data.
According to the most recent data, millennials have a $2.5 trillion annual spending power.
In the US, millennials' spending accounted for 30% of total retail sales in 2020.
73% of millennials plan to spend the same or more online.
27% of millennials intend to spend significantly more online and less in physical retail stores.
91% of millennials prefer to shop online, with only 9% preferring to shop in-store only.
Millennials spend $208.77 per day on average, more than any other generation.
40% of millennials read online reviews before making a purchase.
59% of millennials polled say they buy clothing and shoes online.
Sources: (CouponFollow, ESW, BusinessWire, JungleScout)
Table of Contents
Millennials Shift Online: 80% Now Shop Digitally, Up from 60% in 2019
Important takeaway:
| | |
| --- | --- |
| Prioritize e-commerce strategies | The significant jump in online shopping among millennials calls for a stronger emphasis on e-commerce solutions. |
| Develop mobile-friendly platforms | The increasing use of phones for shopping necessitates that businesses optimize their platforms for mobile use. |
| Continually evaluate trends | Regular analysis of consumer behavior will allow businesses to adapt and meet evolving shopping preferences. |
This data highlights the importance of optimizing online and mobile shopping platforms to meet the rapidly changing behaviors of millennials. Regularly evaluating these trends can help businesses stay competitive in the evolving market.
Source: CouponFollow
Mobile Shopping Trend: 56% Millennials Shop Via Phones, a 20% Rise from 2019
Important takeaway:
| | |
| --- | --- |
| Focus marketing strategies on online platforms | The presence of 57.79 million millennials shopping online suggests a significant customer base. |
| Improve the e-commerce shopping experience | The sheer volume of millennials shopping online indicates a need for user-friendly interfaces. |
| Utilize social media for brand promotion | Given the digital savviness of millennials, exploiting social platforms is potentially fruitful. |
| Invest in cybersecurity measures | The large online customer base mandates robust data protection efforts. |
A Surge to 57.79M: Millennial Online Shoppers Multiply According to Latest Data
Important takeaway:
| | |
| --- | --- |
| Prioritize digital retail strategies | With 60% of millennials' purchases made online, e-commerce is crucial. |
| Implement innovative online marketing techniques | Given the online purchase habits, engaging marketing is necessary. |
| Ensure online shopping platforms are optimized | A seamless online buying experience can boost millennials' online shopping. |
| Develop mobile-friendly shopping platforms | The prevalence of online purchases suggests many millennials may shop on mobile. |
Source: CouponFollow
Digital Spending Intent: 27% Millennials Set to Increase Online Expenditure This Year
Important takeaway:
| | |
| --- | --- |
| Expand online sales platforms | Over 27% of millennials planning to increase online spending shows e-commerce growth. |
| Reinforce digital marketing efforts | Given the spending intent, aggressive digital marketing can help capture this increase. |
| Rethink physical store strategy | With less in-store spending, it may be beneficial to allocate resources elsewhere. |
| Anticipate consistent or growing online demand | With 73% spending the same or more online, maintaining e-commerce quality is key. |
Source: ESW
Health, Beauty Spend: Millennials Outpace Gen Z, Gen X, Boomers by Up to 50%
Important takeaway:
| | |
| --- | --- |
| Invest in online health/beauty marketing for millennials | Millennials spending considerably more online on these products implies an opportunity to target this group with specific marketing. |
| Tailor product offerings for millennials | Given their spending habits, businesses can optimize profit by customizing health and beauty products for millennials. |
| Consider diversifying strategies for other generations | The lower online spending by Gen Z, Gen X, and Baby Boomers suggests the need for varied marketing strategies. |
The data suggest a strong online market in health and beauty products among millennials. Tailoring products and marketing for this demographic can lead to increased profits, while diversifying strategies for other generations is also crucial.
Source: BusinessWire
Millennial Monetary Might: Annual Spending Power Reaches a Staggering $2.5 Trillion
Important takeaway:
| | |
| --- | --- |
| Prioritize products and services appealing to millennials | Their $2.5 trillion spending power shows significant market potential. |
| Invest in millennial-focused marketing strategies | Targeting millennials can lead to substantial revenue gains. |
| Adapt business models to millennial preferences | To tap into this spending power, aligning with their tastes is crucial. |
| Foster brand loyalty among millennials | Given their financial capacity, retaining millennial customers is highly beneficial. |
Source: CouponFollow
In-Store vs Online: A Massive 91% Millennials Opt for the Latter, Leaving 9% In-Store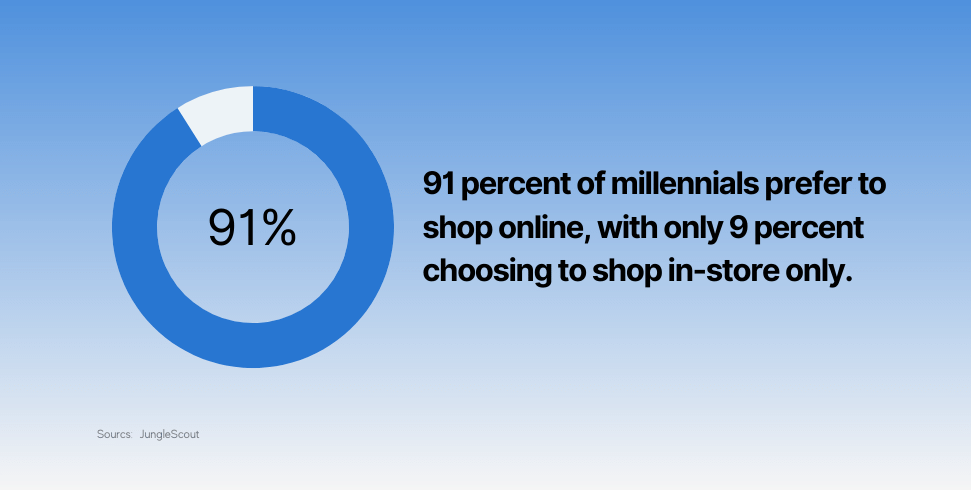 Important takeaway:
| | |
| --- | --- |
| Enhance online shopping platforms | With 91% of millennials favoring online shopping, an optimized online presence is vital. |
| Rethink physical store investments | The preference for online shopping suggests a reduced need for physical stores. |
| Utilize e-commerce personalization strategies | Catering to individual online shopping preferences can increase engagement. |
| Develop robust online customer service | As most millennials shop online, effective virtual support is crucial. |
Source: JungleScout