Let me start with some insightful male vs female shopping statistics and trends.
Key Findings: Male VS Female Shopping Statistics
Men spend 47% more on purchases than women, and 75% more in-store.
Men shop online more frequently than women. 24% of men shop online at least daily, compared to 17% of women.
70% of men shop online weekly, compared to 57% of women.
60% of respondents who identified themselves as primary shoppers in their household were women, while 50% were men.
Men spend 75% more on goods bought in-store than women.
61.3% of shoppers are women, and 38.7% are men.
Sources: (Charged Retail, Sage Seller, Forbes, Jungle Scout, Performance Marketing World, Zippa)
Men Outspend Women by 47%, Display 75% Higher In-store Purchases
Important takeaway:
| | |
| --- | --- |
| Men have higher expenditure | Men, on average, spend 47% more on purchases, indicating they may prioritize bigger-ticket items. |
| In-store shopping is preferred by men | The data shows men spend 75% more in-store, suggesting a preference for physical shopping experiences. |
These statistics infer that while women might be more engaged in shopping activities, men tend to spend more on their purchases. Additionally, men appear to favor in-store shopping experiences over other channels.
Source: Charged Retail
24% of Men Shop Online Daily, Outdoing Women by 7%
Important takeaway:
| | |
| --- | --- |
| Prioritize men in eCommerce strategies | Men shop online more frequently, indicating higher potential for consumer engagement |
| Offer daily deals or promotions | Frequent online shopping suggests daily incentives may increase purchases |
| Increase targeted marketing for women | Lower percentage of women shopping daily indicates untapped market potential |
This data suggests that businesses should prioritize men in their e-commerce strategies due to their more frequent online shopping. However, the lower frequency of women shopping daily shows an untapped potential for targeted marketing initiatives.
Source: Sage Seller
Weekly Online Shopping: Men Lead at 70%, Women Trail at 57%
Important takeaway:
| | |
| --- | --- |
| Men shop online more regularly on a weekly basis. | Weekly promotions or deals could be tailored to cater to male shoppers. |
| Women shop online less frequently each week. | Efforts to engage women in weekly shopping should be intensified. |
| There is a gender disparity in weekly online shopping habits. | Understanding the preferences of both genders can help in creating a balanced strategy. |
| Men have a high level of online shopping engagement. | Regular updates and new product releases may attract this active customer base. |
Source: Forbes
60% of Primary Household Shoppers are Women, 50% Men
Important takeaway:
| | |
| --- | --- |
| Women are the primary shoppers | A majority, 60%, self-identify as the primary shoppers, implying greater involvement in household shopping decisions. |
| There is near parity among genders | Despite women leading, a significant 50% of men are also primary shoppers, pointing to evolving gender dynamics in household tasks. |
This data indicates a shift in traditional gender roles within households, where both men and women actively participate in shopping tasks, promoting more balanced domestic responsibilities.
Source: Jungle Scout
In-store Shopping: Men Outshine Women, Spending 75% More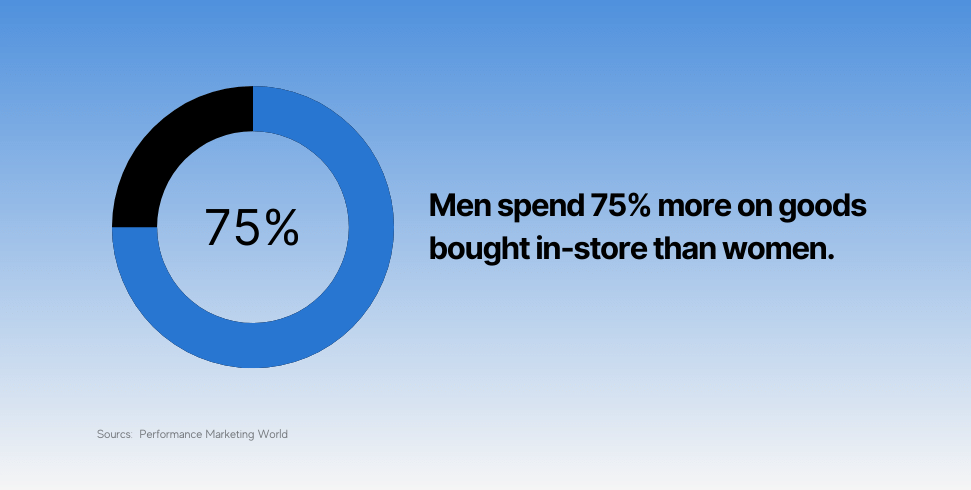 Important takeaway:
| | |
| --- | --- |
| Men are significant spenders in in-store purchases. | Retail strategies should prioritize men for maximizing sales. |
| Women spend considerably less in-store. | Marketing strategies may need to be adjusted to attract female in-store shoppers. |
| Men's in-store spending dominance is evident. | Store layout and promotions should cater more towards men's preferences. |
| Significant gender-based spending differences exist. | In-depth understanding of gender shopping habits can drive profit growth. |
Source: Performance Marketing World
Women Dominate Shopping Demographics, Representing 61.3% of Shoppers
Important takeaway:
| | |
| --- | --- |
| Women dominate shopping activities | With 61.3% involvement, women are significantly more engaged in shopping than men. |
| Men's shopping engagement is noteworthy | Although lesser, the 38.7% indicates a substantial involvement of men in shopping activities. |
These statistics highlight a notable, yet not absolute, gender divide in shopping activities. While women are the dominant participants, a considerable proportion of men also partake, reflecting changing societal norms.
Source: Zippa