In 2023, local shopping has become more significant than ever, with shoppers anticipated to spend a whopping $6.04 trillion in local stores. 
This surge in local shopping comes as no surprise, given that 97% of consumers now turn to the internet to search for a nearby business. Furthermore, more than half, specifically 54.81% of Americans, make it a point to support their local stores at least once a month. 
Let me share the most crucial local shopping statistics you should be aware of right away. 📊🛍️📍
Shopping Local Statistics: The Key Data
54.81% of Americans shop locally at least once a month.
In 2023, shoppers are expected to spend $6.04 trillion in local stores.
Small businesses generate $68 in local economic return for every $100 spent with them.
The average person shops locally 213 times per year, or once every 1.7 days.
82% of shoppers are willing to pay more to support small businesses.
Dollars spent at independent businesses can recirculate 6 to 15 times in the local economy.
Small businesses give 250% more to community causes than large businesses.
70% of consumers shop locally to boost the economy.
57% of Americans say they shop locally to keep money in their community. 
97% of consumers search online for a local business.
Sources: (Redegg Marketing, Intuit, Business Journal Daily, Facebook, LinkedIn, United States Chamber of Commerce, Search Engine Journal, Smallbiztrends)
82% Shoppers Willing to Pay More to Support Small Businesses
Important takeaway:
| | |
| --- | --- |
| Consumers value small businesses | High willingness to pay more denotes shopper appreciation for smaller enterprises. |
| Potential pricing advantage for small businesses | The data implies small businesses may command premium pricing for their offerings. |
| Marketing should highlight small business status | Emphasizing 'small business' identity can strengthen customer loyalty and support. |
| Increased support for local economies | The trend suggests a consumer shift towards supporting local and small-scale economies. |
Source: Redegg Marketing
Local Loyalty: 57% Americans Shop Locally for Community Impact
Important takeaway:
| | |
| --- | --- |
| Local shopping serves as a community support mechanism | The majority shopping locally implies a conscious choice to boost local economy. |
| Marketing strategies should emphasize local impact | Stressing the local benefits can tap into this community-oriented consumer sentiment. |
| American consumers appreciate local businesses | The data suggests a widespread trend of local economic loyalty among Americans. |
| Opportunity for growth exists for local retailers | The high percentage indicates potential market share for community-centered businesses. |
Source: Intuit
Local Economy Boosted by 70% Consumers Shopping Locally
Important takeaway:
| | |
| --- | --- |
| Stimulate local economy through local shopping | A large majority of consumers, 70%, intentionally support local businesses to enhance their community's economy. |
| Promote awareness about local shopping benefits | With high consumer motivation to improve local economies, there's a clear need for educating about the impact of local spending. |
| Encourage development of local businesses | As 70% consumers shop locally, policy makers and investors should emphasize on strengthening local businesses for economic growth. |
Source: Business Journal Daily
Every $100 Spent at Small Businesses Generates $68 Local Return
Important takeaway:
| | |
| --- | --- |
| Bolster local economies by promoting small businesses | Every $100 spent at small businesses creates a significant $68 local economic return, demonstrating their importance to local economies. |
| Advocate for shopping at small businesses | Given their significant contribution, consumers should be encouraged to prioritize spending at small businesses. |
| Create policies to support small businesses | The high local economic return from small businesses suggests the need for focused government policies for their growth and sustainability. |
Source: Facebook
Online Local Business Search Essential for 97% Consumers
Important takeaway:
| | |
| --- | --- |
| Emphasize online presence for local businesses | With 97% of consumers searching online for local services, having an active, visible online presence is essential. |
| Invest in local digital marketing | Given the high rate of online searches, marketing efforts for local businesses should prioritize digital channels. |
| Develop strategies for online search optimization | The prevalent use of online searches for local businesses indicates the necessity for efficient search engine optimization strategies. |
Source: LinkedIn
Pandemic Era Sees 93% Shoppers Prioritizing Small Businesses
Important takeaway:
| | |
| --- | --- |
| Amplify awareness campaigns for small business support | As 93% of consumers view supporting small businesses as vital due to the pandemic, the need for awareness campaigns is clear. |
| Prioritize pandemic relief for small businesses | Given the heightened consumer sentiment, policy makers should focus on relief efforts for small businesses. |
| Boost shopper engagement with small businesses | Given the importance attached to small businesses, initiatives should aim at increasing customer interactions with them. |
Source: United States Chamber of Commerce
Websites Influence 22% Consumers When Deciding Local Businesses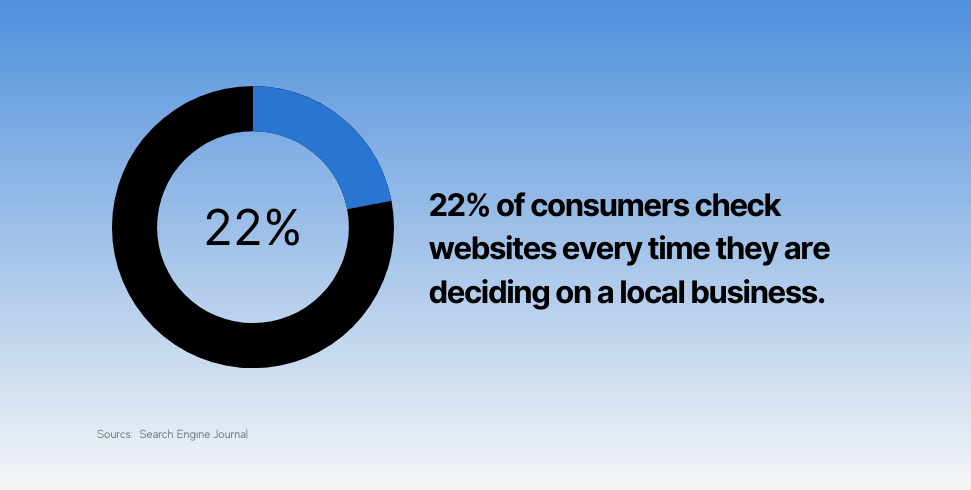 Important takeaway:
| | |
| --- | --- |
| Invest in intuitive, user-friendly websites | With 22% of consumers consistently using websites to decide on local businesses, ensuring a quality online presence is vital. |
| Incorporate customer reviews on websites | As consumers refer to websites for decision making, including customer reviews might influence their choices positively. |
| Use websites for detailed business information | The data indicates the need to use websites to provide comprehensive information about products, services, and business operations. |
Source: Search Engine Journal
Over Half of Americans, 54.81%, Shop Locally Monthly
Important takeaway:
| | |
| --- | --- |
| Local businesses are vital | Majority of Americans rely on them monthly. |
| Brick-and-mortar isn't dead | Consumers still value physical shopping experiences. |
| Demand for localized goods | Indicates preference for items specific to local stores. |
Source: Smallbiztrends