Instagram has rapidly transformed into a key platform for online shopping. Every month, 130 million people interact with shoppable posts on the platform.
It's noteworthy that 44% of active users find themselves shopping on Instagram weekly. This has resulted in a noticeable 42% jump in sales for businesses that utilize Instagram's shopping features.
Let me share the most crucial Instagram commerce statistics and shopping insight data that you should be aware of right away. 📸🛍️💡
Instagram Commerce Statistics: The Key Data
130 million people engage with shoppable Instagram posts monthly.
Instagram shoppable posts increased website traffic by as much as 1,416%.
42% increase in sales from Instagram after using the shopping feature.
90% of Instagram users follow at least one brand or company.
100% increase in revenue from Instagram after using the shopping features.
72% of users say they made a purchase based on something they saw on Instagram.
35% of Instagram users will make a purchase on the platform in 2023.
44% of active users shop on Instagram on a weekly basis.
70% of Instagram users open the app in order to shop.
81% of Instagram users research new products and services on the platform.
Sources: (Instagram Business, Retail Touchpoints, Hootsuite, CapitalOneShopping, Retail Dive)
130 Million Users Engage with Shopping Posts Monthly
Important takeaway:
| | |
| --- | --- |
| Social commerce is rising | Millions of users are interacting with shopping posts. |
| Demand for online shopping | Consistent interaction indicates users' interest in e-commerce. |
| Potent advertising platform | High user engagement suggests effective promotional strategy. |
Source: Instagram Business
72% Users Cite Instagram as Key to Purchase Decisions
Important takeaway:
| | |
| --- | --- |
| Instagram influences purchasing decisions | Most users buy items they've seen on the platform. |
| Marketing on Instagram is effective | Its visual nature aids consumers' buying choices. |
| Necessity to focus on Instagram content | High user influence justifies brand presence. |
Source: Retail Touchpoints
35% Instagram Users Predicted to Shop on Platform in 2023
Important takeaway:
| | |
| --- | --- |
| Prioritize eCommerce integration on Instagram | With 35% of users ready to buy, an integrated buying experience can significantly boost sales. |
| Invest in Instagram advertisements | User purchase intent shows Instagram is an effective platform for product promotion. |
| Optimize product visual presentation | On Instagram, a visually-driven platform, appealing product images could improve sales. |
Source: Hootsuite
70% 'Shopping Enthusiasts' Discover New Products on Instagram
Important takeaway:
| | |
| --- | --- |
| Leverage Instagram for product discovery | A majority of "shopping enthusiasts" use Instagram for product discovery, promising substantial visibility. |
| Create engaging, innovative content | Novel and appealing posts can attract these enthusiasts looking for new products. |
| Collaborate with influencers | Influencers can introduce your products to their followers, many of whom could be "shopping enthusiasts". |
Source: Instagram Business
44% Active Users Shop on Instagram Weekly
Important takeaway:
| | |
| --- | --- |
| Maintain regular product updates | With 44% of users shopping weekly, frequent updates can increase sales. |
| Create consistent engagement strategies | Regular interaction can cater to the weekly shopping habits of active users. |
| Offer weekly promotions or deals | This strategy could incentivize these frequent shoppers, potentially driving increased purchases. |
Source: Instagram Business
90% Instagram Accounts Follow a Brand or Business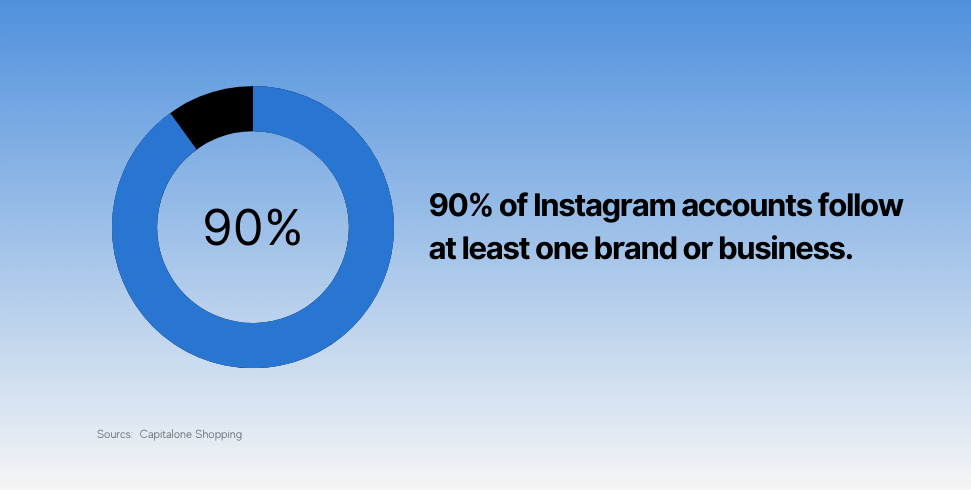 Important takeaway:
| | |
| --- | --- |
| Develop a strong brand presence | High brand following implies Instagram as a valuable platform for brand exposure. |
| Interact frequently with followers | Regular interaction can foster customer relationships and brand loyalty. |
| Use Instagram for customer retention | With most users following brands, it's a powerful tool for keeping customers engaged. |
Source: Capital One Shopping
Instagram Holiday Shopping a Trend Among 87% of Gen Z
Important takeaway:
| | |
| --- | --- |
| Target Generation Z in holiday campaigns | Most of Generation Z uses Instagram for holiday shopping, indicating high potential returns. |
| Offer holiday-specific promotions | Gen Z users could be more inclined to buy with exclusive holiday deals. |
| Utilize seasonal and festive content | Festive visuals and posts could appeal to Gen Z's holiday shopping habits. |
Source: Retail Dive