The holiday season is always a bustling time for retailers, and 2023 is no exception. This year, global retail spending is expected to go up by 4.5%, reaching a total of $1.3 trillion.
What's more, AI technology will play a big role, contributing to $194 billion in online holiday sales.
To give a better overview of this season's shopping trends, I have compiled some of the most insightful holiday shopping statistics to help you understand the true state of holiday shopping numbers. 🎁📊🛍️
2023 Holiday Shopping Predictions
In 2023, global online holiday sales will be around $1.2 trillion.
US holiday sales will grow 1% YoY to $273 billion.
AI will drive $194 billion in online holiday sales.
Overall global retail spending will rise 4.5% to $1.3 trillion for the 2023 holiday season.
Holiday shopping can account for up to 30 percent of a retailer's annual sales.
Source: (Martech, Salesforce, Salesforce, eMarketer)
2022 Holiday Shopping Statistics
Consumers spent $211.7 billion online over the 2022 holiday season , an increase of 3.5% year over year.
According to a 2022 survey, 57% of U.S. consumers planned to shop online during the holiday season.
In the last decade, holiday retail sales have increased by 4.9% on average year over year.
In 2022, the average discount rate for holiday shopping in the U.S. was 23%, up 10% from the previous year.
Holiday shopping can account for up to 30 percent of a retailer's annual sales.
The NRF says that holiday sales in 2022 went up by 5.3% to $936,3 billion.
49% of holiday shoppers will do more online shipping so they can ship directly to family and friends in 2021.
Shoppers spent 8.4% more on Thanksgiving, 6.9% more on Black Friday and Cyber Week, and 6.5% more on Christmas.
Overall, consumers plan to spend an average of $1,430 on gifts, travel and entertainment this year.
74% of consumers plan to spend the same or more on holiday gifts this year compared to last year.
47% of consumers cited free shipping as something that would influence where they shop for holiday gifts in 2021.
Sources: ( Statista, Retail Drive, NRF, The NPD Group / Annual Holiday Study 2021, NRF, MentalFloss, PWC, PWC, NPD 2021)
Holiday Shopping Statistics 2021
Global Holiday sales reached $886.7 billion in 2021.
The 2021 holiday season saw a 16.1% increase in US retail sales.
Shoppers spent $579 on holiday-related items in 2021, up from $457 in 2020
U.S. consumers spent a record $204 billion online this holiday season.
In 2021, consumers spent $33.9 billion between Thanksgiving and Cyber Monday, a 1.4% decrease year on year.
Source: (NRF, eMarketer, Business Wire, Adobe, Deloitte)
49% of Holiday Shoppers Prioritize Online Shopping for Direct Family Shipments
Important takeaway:
| | |
| --- | --- |
| Greater emphasis on online retail | With 49% of consumers choosing online shopping for holiday purchases, businesses must prioritize enhancing their e-commerce strategies. |
| Need for efficient shipping solutions | The shift towards direct shipping implies businesses should invest in logistics for timely and accurate delivery. |
| Building online shopping experiences | Companies should design user-friendly websites and mobile apps to cater to the increased online shopper base. |
| Importance of personalized gifting | Businesses can capitalize on this trend by offering personalized gifts and packaging services for family and friends. |
Source: The NPD Group / Annual Holiday Study 2021
Thanksgiving Sees 8.4%, Black Friday 6.9%, and Christmas 6.5% Shopping Surge
Important takeaway:
| | |
| --- | --- |
| Expanding holiday marketing strategies | Increase in spending on key holiday events suggests retailers should enhance promotional campaigns during these periods. |
| Diversification of sales events | The varied growth across events indicates businesses should not limit sales to a single occasion but diversify. |
| Need for dynamic pricing strategies | Businesses should consider dynamic pricing to maximize profits during these high-spend periods. |
| Enhanced inventory management | To accommodate the increased demand, retailers should optimize inventory management for these specific holidays. |
Source: NRF
Retailers Eyeing Holiday Shopping as It Yields 30% Annual Sales
Important takeaway:
| | |
| --- | --- |
| Importance of holiday season for retail | With 30% of annual sales during holidays, businesses should prioritize seasonal marketing and sales strategies. |
| Staffing and operation adjustments | Importance of the holiday season for retail |
| Focus on inventory preparation | Retailers need to ensure sufficient stock availability to cater to the holiday shopping surge. |
| Enhanced customer service | High sales volume demands exceptional customer service to retain and attract holiday shoppers. |
Source: MentalFloss
Average Consumer Spend for 2023 Holidays Hits $1,430
Important takeaway:
| | |
| --- | --- |
| Opportunities in diverse sectors | The average spend covers gifts, travel, and entertainment, suggesting businesses in these areas should optimize offerings. |
| Creation of bundled offers | Businesses could create attractive packages combining these elements to entice consumers. |
| Importance of value proposition | Retailers need to provide value for money to justify the high average spend of consumers. |
| Enhanced marketing strategies | Highlighting premium products in these sectors could lead to higher consumer spending. |
Source: PWC
74% of Consumers Unfazed by Previous Expenditure, Vow the Same or More Holiday Spend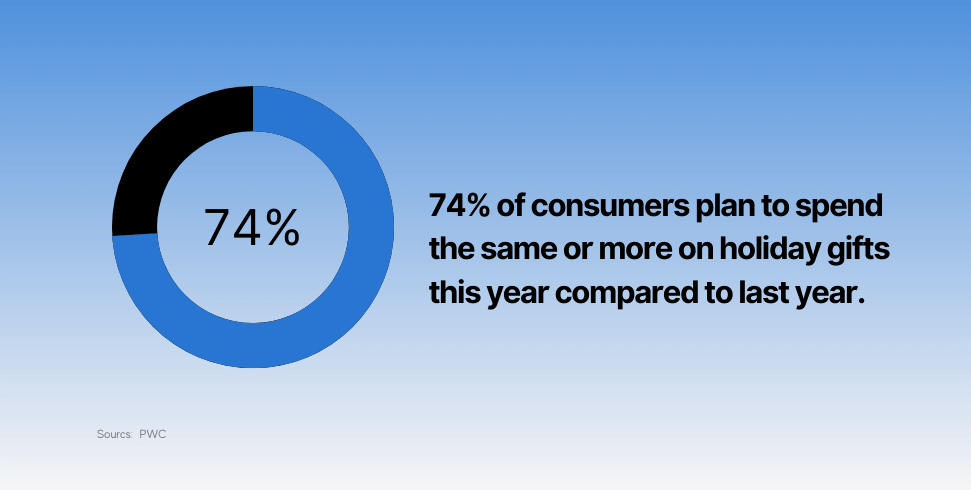 Important takeaway:
| | |
| --- | --- |
| Stable or growing holiday market | Given 74% of consumers maintain or increase spending, retailers should expect consistent or better holiday sales. |
| Need for innovative gift options | Businesses must continually refresh their offerings to attract these consistent spenders. |
| Focus on customer retention | Retailers should aim to retain these customers through loyalty programs or personalized promotions. |
| Opportunities for upselling and cross-selling | With potential increased spending, businesses have opportunities for upselling and cross-selling. |
Source: PWC
Free Shipping Sways 47% of Consumers' Holiday Shopping Destinations
Important takeaway:
| | |
| --- | --- |
| Importance of free shipping | Nearly half of consumers consider free shipping crucial, indicating businesses should incorporate this in their offerings. |
| Competitive advantage through shipping | Offering free shipping can differentiate a business from competitors and attract more shoppers. |
| Adjusting pricing strategies | Retailers may need to adjust pricing or margins to absorb shipping costs while staying profitable. |
| Improving supply chain efficiency | To offer free shipping without hurting margins, businesses must seek ways to optimize their supply chain. |
Source: NPD 2021