Holiday spending is a significant component of annual retail sales, with expectations for the 2023 holiday season projecting a 4.5% increase in overall retail spending.
Additionally, online holiday sales are anticipated to see substantial growth, reaching a global total of $1.19 trillion by 2023.
To provide a snapshot of consumer behavior during this festive period, I'd like to share the most important holiday spending statistics that are crucial to note immediately. 🎁💳
To find specific year statistics and facts: 2023, 2022, 2021, 2020.
2023 Holiday Spending Predictions
For the 2023 holiday season, overall retail spending will rise 4.5%.
Global online holiday sales are expected to reach $1.19 trillion in 2023.
According to Numerator's research, consumers plan to spend $100 or more during the holiday season.
This holiday season, 67% of retailers expect customers to look for deals.
17% of shoppers say they have already used generative AI to get ideas for purchases.
88% of retailers say they will tighten their return policies in preparation for the holidays, which poses a risk.
2022 Holiday Spending Statistics
In 2022, holiday spending increased by nearly 7% annually.
In 2022, holiday retail sales in the United States were $936,3 billion, a 5.3% increase from 2021.
In 2022, the typical American holiday shopper spent $1,455 dollars.
During the 2022 holiday season, consumers spent $211.7 billion online.
63.1% of U.S. consumers have holiday spending budgets for 2022.
The majority of retailers provided double-digit discounts of up to 34%.
2021 Holiday Spending Statistics
In 2021, holiday spending grew by approximately 13.5% annually.
In 2021, holiday retail sales in the United States reached an all-time high of $889.30 billion.
The average holiday shopper in the United States spent $1,463 in 2021.
In 2021, the cost of Christmas shopping averaged $998 per person in the United States.
In 2021, consumers spent $33.9 billion from Thanksgiving to Cyber Monday.
2020 Holiday Spending Statistics
In 2020, November-December holiday season retail sales increased an unexpectedly high 8.3 percent over 2019.
40% of adults in the United States will spend less during the holiday season this year.
Americans spent $777.35 billion on holiday-related items in 2020.
In 2020, average holiday expenditures decreased to $1,387.
The total amount spent on holiday shopping online in the US in 2020 was $188.2 billion, up 32.2% from 2019.
Sources: (Insider Intelligence, Sales Force, Numerator, Retail Dive, NRF, Brand Innovators.)
2023 Holiday Forecast: Retail Spending to Climb 4.5%.
Important takeaway:
| | |
| --- | --- |
| Insight from Data | Rationale |
| Optimistic outlook for the 2023 holiday retail market | A projected rise of 4.5% underscores a positive economic sentiment and indicates consumers' willingness to spend more during the festive season. |
| Retailers should ramp up preparations | With expectations set for an uptick in spending, retailers should strategize to maximize their share of the increased consumer expenditure. |
| Opportunity for innovative campaigns and promotions | The predicted growth allows for brands to be creative and aggressive in their marketing, introducing new products and promotional strategies to capture consumer interest. |
Source: Insider Intelligence
Global Online Holiday Sales Poised to Hit $1.19 Trillion in 2023.
Important takeaway:
| | |
| --- | --- |
| Insight from Data | Rationale |
| E-commerce will play a dominant role in holiday spending | A projection of $1.19 trillion highlights the monumental shift of consumers gravitating towards online platforms for their festive shopping. |
| Global reach of online shopping is vast | This trillion-dollar figure underscores the borderless nature of e-commerce, suggesting a worldwide embrace of digital purchasing during the holiday season. |
| Businesses must optimize digital strategies | With such significant revenue at stake, retailers should focus on refining their online offerings, ensuring seamless user experiences, and deploying effective digital marketing campaigns. |
Source: Insider Intelligence
AI-Inspired Shopping: 17% Turn to Generative AI for Purchase Ideas.
Important takeaway:
| | |
| --- | --- |
| Insight from Data | Rationale |
| Emerging role of AI in consumer decision-making | The 17% statistic reflects an evolving trend where AI isn't just assisting, but actively inspiring purchase decisions among shoppers. |
| Early-stage AI integration offers competitive edge | While the percentage might seem nascent, early adoption of such technologies can provide retailers a distinctive advantage in the market. |
| Potential for deeper AI-driven personalized shopping | This inclination towards AI for inspiration signals an opportunity for businesses to further develop AI tools that cater to individual tastes and preferences. |
Source: Sales Force
Consumer Insight: Average Holiday Spend Per Person Exceeds $100, Numerator Reveals.
Important takeaway:
| | |
| --- | --- |
| Insight from Data | Rationale |
| Elevated spending trends are anticipated for the holidays | The projection that consumers will spend $100+ each highlights a robust purchasing intent during the festive season. |
| Retailers should strategize for higher ticket items | Given the anticipated spending, retailers should ensure they offer products and bundles that align with this higher expenditure bracket. |
| Opportunity for value-driven promotions and offers | The forecasted spending allows retailers to craft promotions that not only drive sales but also offer perceived value for consumers willing to spend at this level. |
Source: Numerator
Return Clampdown: 88% Retailers to Tighten Holiday Return Policies.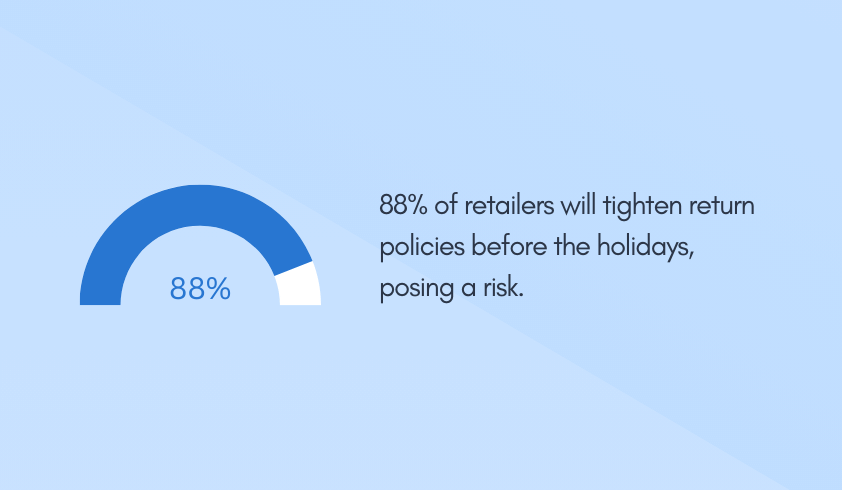 Important takeaway:
| | |
| --- | --- |
| Insight from Data | Rationale |
| Majority of retailers adopting a more stringent stance | An overwhelming 88% of retailers modifying their return policies indicates a significant industry-wide shift in handling returns during the festive season. |
| Consumer trust and satisfaction may be at stake | While tightening return policies may protect retailers from losses, it poses a risk of alienating customers and could negatively impact their shopping experience. |
| Necessity for clear communication and transparency | Retailers must ensure that any changes to return policies are communicated effectively and transparently to prevent potential disputes and maintain customer trust. |
Source: Sales Force
Digital Festive Spend: $211.7 Billion Online in 2022 Holidays.
Important takeaway:
| | |
| --- | --- |
| Insight from Data | Rationale |
| Digital platforms captured substantial holiday revenue | A total of $211.7 billion underscores the sheer magnitude of online shopping during the holiday season of 2022. |
| E-commerce continues to shape holiday retail trends | This substantial figure indicates a sustained trajectory where consumers increasingly prefer digital channels for their festive purchases. |
| Retailers must prioritize their online presence | With such immense revenue generated online, it is imperative for businesses to continually enhance their digital platforms and ensure they are poised to capture their share in future seasons. |
Source: Retail Dive
2022 Sees Near 7% Uptick in Holiday Expenditure.
Important takeaway:
| | |
| --- | --- |
| Insight from Data | Rationale |
| 2022 witnessed a significant uptick in festive expenditure | A nearly 7% increase emphasizes consumers' heightened willingness and capability to spend during the holiday season. |
| Economic vitality or consumer sentiment may be on the rise | Such a substantial increase suggests a positive economic environment or improved consumer sentiment, possibly both, during 2022. |
| Retailers should be proactive in catering to this momentum | The observed growth rate indicates a lucrative market. Retailers should strategize to maximize benefits from this positive trend in the subsequent holiday seasons. |
Source: Retail Dive
Staggering 13.5% Rise in 2021 Holiday Spending.
Important takeaway:
| | |
| --- | --- |
| Insight from Data | Rationale |
| Significant rise in holiday spending | The substantial 13.5% increase from the previous year indicates a strong uptick in consumer confidence and economic activity. |
| Potential economic recovery | This marked increase could be a sign that consumers had more disposable income in 2021, possibly due to economic recovery or improved financial circumstances. |
| Retailers benefited in 2021 | The surge in holiday spending means businesses in the retail sector likely experienced higher revenues, making it a profitable season for many. |
Source: NRF
2022 U.S. Holiday Sales Soar 5.3%, Totaling $936.3 Billion.
Important takeaway:
| | |
| --- | --- |
| Insight from Data | Rationale |
| Consistent growth in holiday spending | The 5.3% rise, although not as steep as in 2021, suggests continued confidence and purchasing power among consumers. |
| Nearing the trillion-dollar mark | Approaching $936.3 billion means the market is on the cusp of reaching the trillion-dollar threshold, underlining the significance and scale of holiday retail in the US. |
| Retail sector remains robust | Despite fluctuations in global economies, the US retail sector has demonstrated resilience and the capability to sustain growth, indicating a positive business environment. |
Source: Brand Innovators
Budgeting Trend: 63.1% U.S. Shoppers Set Financial Limits for 2022 Holidays.
Important takeaway:
| | |
| --- | --- |
| Insight from Data | Rationale |
| Majority of shoppers are financially prepared | The fact that 63.1% of shoppers budgeted reveals a trend of financial planning and foresight among consumers. |
| Potential for credit or non-budgeted spending | The remaining percentage not budgeting could suggest a segment relying on credit or making impromptu purchases, reflecting diverse spending habits. |
| Retailers can cater to both planned and spontaneous purchases | The split data underscores the importance for retailers to cater to both budgeted shoppers and those open to unplanned, spontaneous buying. |
Source: Retail Dive