The way Americans shop for groceries is changing rapidly. By 2030, the US online grocery market is projected to reach a value of $59.94 billion.
This growth won't slow down anytime soon, with online grocery sales predicted to rise at a 12% annual rate over the coming five years. Notably, 150 million people have already adopted online grocery shopping.
To offer a clearer picture of these shifts, I have put together some amazing US online grocery shopping statistics and facts about grocery shopping in stores to show how people shop for groceries now. 🛒📈🥦
US Online Grocery Shopping Statistics: The Key Data
Online grocery sales are expected to rise from 11.2% in 2022 to 13.6% in 2027 across the U.S.
The US online grocery market was valued at $29.40 billion in 2022 and is expected to grow to $59.94 billion by 2030.
Online grocery shoppers account for 150 million people, nearly half of the nation, and are expected to grow.
Online grocery sales will increase at 12% annual rate over the next 5 years.
In 2023, online grocery sales are expected to reach $146 billion.
The average US online grocery order is $113, 169% higher than the $42.07 in-store order.
54.3% of U.S. adults bought groceries online in 2022.
40% of consumers order groceries online weekly, and 30% do so monthly.
Millennials were the most likely to shop online, with 77% having done so.
Millennials were 15% more likely to buy groceries online than Baby Boomers.
The average American household spends $5,259 on groceries each year.
Sources: (NASDAQ, Statista, Coresight: U.S. Online Grocery Survey 2022, Grocery Dive, Creditdonkey, Statista, DriveResearch, CNBC )
Annual Grocery Expenditure of Average American Household Hits $5,259
Important takeaway:
| | |
| --- | --- |
| Significant spending on groceries | With high annual spend on groceries, supermarkets should focus on customer retention strategies. |
| Opportunity for personalized promotions | Retailers can leverage this data to provide personalized discounts and promotions. |
| Importance of value for money | Grocers must provide high-quality products at competitive prices to justify this significant expenditure. |
| Enhance shopping convenience | Supermarkets should offer convenient shopping experiences to justify regular, high-value purchases. |
Source: NASDAQ
150 Million Americans Turn to Online Grocery Shopping, with Growth Expected
Important takeaway:
| | |
| --- | --- |
| Digital transformation in grocery shopping | The large number of online grocery shoppers signifies an important shift towards e-grocery. |
| Enhancement of e-grocery platforms | Retailers should focus on improving their online shopping platforms to cater to this growing demographic. |
| Expansion of delivery options | Given the rise of online grocery shopping, grocers should offer a variety of delivery options. |
| Invest in digital marketing | The increasing number of online shoppers implies the need for more focused digital marketing strategies. |
Source: Statista
Over 54% of U.S. Adults Purchased Groceries Online in 2022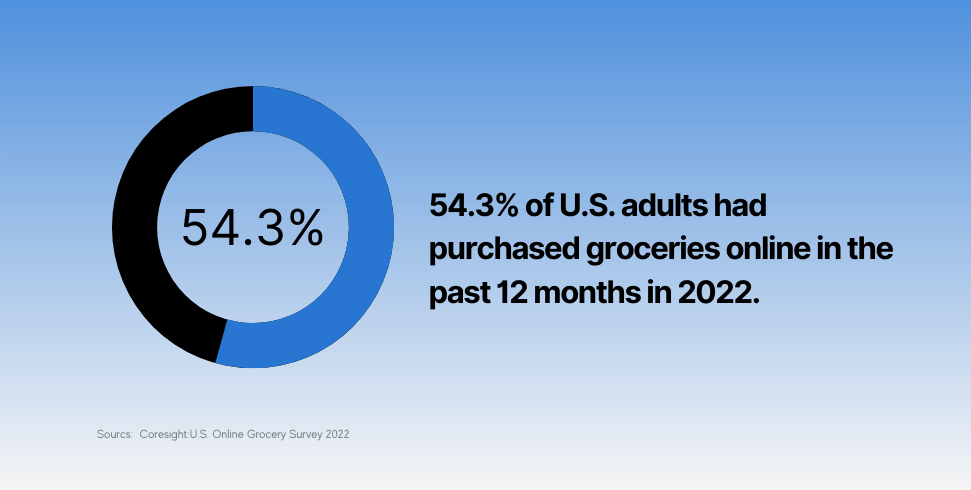 Important takeaway:
| | |
| --- | --- |
| Increasing online grocery shopping | Over half of U.S. adults shopping online indicates a major trend towards e-grocery. |
| Improvement of online platforms | The significant user base demands user-friendly, efficient online shopping platforms from retailers. |
| Need for seamless delivery | Efficient, reliable delivery services are necessary to accommodate this significant portion of online shoppers. |
| Enhancing online marketing | Retailers must enhance their online marketing strategies to reach and retain these consumers. |
Source: Coresight: U.S. Online Grocery Survey 2022
Online Grocery Sales Set to Hit $146 Billion in 2023, Claiming 15.3% Market Share
Important takeaway:
| | |
| --- | --- |
| E-grocery is a significant market segment | With 15.3% of the market, online grocery sales are a major revenue source that retailers should prioritize. |
| Investment in digital platforms | The projected online sales signify the importance of efficient, customer-friendly digital platforms. |
| Enhance delivery and logistics | The substantial online sales require optimized delivery and logistics operations. |
| Focus on digital marketing | With online grocery sales on the rise, a comprehensive digital marketing strategy is critical. |
Source: Grocery Dive
Everyday Sees 32 Million Americans Flock to Grocery Stores for Essentials
Important takeaway:
| | |
| --- | --- |
| High daily traffic in grocery stores | The significant number of daily shoppers implies a steady, strong demand for groceries. |
| Efficient inventory management | With constant high traffic, stores must ensure consistent stock availability of essential items. |
| Effective in-store experience | High daily visits require efficient store layout and fast checkout processes. |
| Importance of customer service | Retailers must provide excellent customer service to attract and retain these daily shoppers. |
Source: Creditdonkey
Americans Shop for Groceries 1.6 Times Weekly, On Average
Important takeaway:
| | |
| --- | --- |
| Regular customer visits | Frequent shopping trips indicate retailers need strategies to encourage loyalty and repeat purchases. |
| Streamlining in-store experience | The high frequency of visits necessitates efficient shopping experiences to accommodate repeat shoppers. |
| Personalized offers | Regular shoppers could benefit from personalized discounts or loyalty rewards to incentivize return visits. |
| Optimal inventory management | With frequent shopping, retailers must ensure regular stock replenishment to meet consistent demand. |
Source: Statista
The average Grocery Store Trip Costs $155.62 and Takes Under 44 Minutes
Important takeaway:
| | |
| --- | --- |
| Significant spending per grocery visit | High average spending per trip indicates the importance of providing value for money. |
| Efficient shopping experience | Limited shopping time suggests the need for easy-to-navigate store layouts and fast checkouts. |
| Upselling and cross-selling opportunities | Given the high average spend, retailers should explore opportunities for upselling and cross-selling. |
| Importance of product placement | Effective product placement can encourage higher spending within the short shopping timeframe. |
Source: DriveResearch
Millennials Outspend Other Generations on Groceries
Important takeaway:
| | |
| --- | --- |
| Prioritize Millennial-targeted grocery products | Millennials' higher grocery spending reflects a preference for fresh, organic, or specialty foods. |
| Enhance online grocery shopping experiences | Millennials exhibit digital savviness, implying they likely favor online grocery shopping. |
| Implement loyalty and reward programs | Millennials' high spending may indicate an openness to programs that offer savings. |
| Promote sustainable and ethical grocery options | The millennial demographic values sustainability and ethical sourcing, correlating with their spending habits. |
Source: CNBC