Gen Z, the group following the millennials, is quickly establishing its footprint in the digital shopping arena. With a purchasing power amounting to $360 billion, they're an influential segment in the retail market.
In the U.S., over half (52%) of Gen Z individuals show a preference for online shopping, and interestingly, 38% of them begin their product search on Google.
Let me begin with some interesting Gen Z online shopping statistics, including Gen Z spending habits, spending power, and more. 🌐🔍
Gen Z Online Shopping Statistics: The Key Data
Gen Z consumers have $360 billion in purchasing power.
52% of Gen Z in the US prefer to shop online, while 48% prefer to shop in-store.
32% of Gen Z consumers shop online at least once a day, compared to 25% of millennials, 15% of Gen X, and 7% of baby boomers.
Gen Z is 2X more likely to use an online-only store or brand website than any other generation.
96% of surveyed Gen Z consumers in the United States reported shopping online at least once a month in the first quarter of 2023.
58% of Gen Zers have increased their online grocery shopping.
51% of Gen Z cited price comparison as the leading advantage of online shopping.
54% of Generation Z say they will only shop online in the next decade.
43% of Gen Z consumers surveyed begin their online product searches on TikTok.
38% of Gen Z start their product searches on Google, compared to 36% on Amazon.
Sources: (GWI, Yahoo, SurveyMonkey, ICSC, The Influencer Marketing Factory, Food Institute)
Table of Contents
Digital Divide: 52% of US Gen Z Shop Online, 48% Still Prefer Physical Stores
Important takeaway:
| | |
| --- | --- |
| Maintain a balanced online and in-store presence | Gen Z's near-equal online and in-store preference calls for a hybrid approach. |
| Offer seamless online-to-offline shopping experiences | Catering to both shopping preferences can boost Gen Z engagement. |
| Continuously improve online and physical stores | The split preference highlights the need for excellence in both domains. |
| Employ omnichannel marketing strategies | Reaching Gen Z effectively requires diverse and integrated marketing channels. |
Source: GWI
Gen Z's Daily Digital Habit: 32% Shop Online At Least Once Daily
Important takeaway:
| | |
| --- | --- |
| Ensure website availability and stability | High frequency of online shopping among Gen Z demands reliable platforms. |
| Deploy daily online marketing strategies | Given Gen Z's daily online shopping habits, frequent marketing can maximize exposure. |
| Provide fresh, daily online content | Regular content updates can keep Gen Z consumers engaged and returning. |
| Implement robust data analytics | The daily online shopping trend suggests valuable data generation for market insights. |
Source: Yahoo
Influencer Power: 58% of Gen Z Buy Based on Social Media Recommendations
Important takeaway:
| | |
| --- | --- |
| Incorporate influencer marketing into strategies | Influencers' recommendations significantly drive consumer purchases. |
| Carefully select influencers who align with brand values | The right influencers can enhance brand credibility and reach. |
| Measure the impact of influencer marketing | Given its influence, its effectiveness should be regularly evaluated. |
| Develop partnerships with social media influencers | Establishing long-term collaborations can lead to sustained consumer interest. |
Source: SurveyMonkey
Social Media Sway: 85% of Gen Z Say It Impacts Purchase Decisions
Important takeaway:
| | |
| --- | --- |
| Enhance social media marketing strategies | Social media significantly influences Gen Z's buying decisions. |
| Utilize various social media platforms | The diversity of social media impacts indicates a need for a multi-platform approach. |
| Invest in social listening tools | Understanding Gen Z's social media discussions can guide marketing efforts. |
| Foster authentic social media interactions | Genuine engagement on social platforms can enhance brand reputation and trust. |
Source: ICSC
TikTok, Instagram Lead: 45% Gen Z Cite Them as Key Purchase Influencers
Important takeaway:
| | |
| --- | --- |
| Maximize marketing efforts on TikTok and Instagram | These platforms influence almost half of Generation Z's buying decisions, highlighting their importance for targeted advertising. |
| Utilize YouTube for additional outreach | Its significant influence on Generation Z's purchasing decisions makes it a valuable marketing tool. |
| Diversify social media marketing strategies | The varied influence of different platforms suggests the need for a multi-platform social media strategy. |
The data highlights the critical role of specific social media platforms, particularly TikTok and Instagram, in shaping Generation Z's purchasing decisions. A diversified social media strategy encompassing these platforms can effectively engage this demographic.
Source: ICSC
Inspiration Source: 97% of Gen Z Draw Shopping Ideas from Social Media
Important takeaway:
| | |
| --- | --- |
| Prioritize social media for product showcasing | With 97% of Gen Z getting shopping inspiration from social media, a strong presence is vital. |
| Leverage influencers and trendsetters | As social media is a key inspiration source, collaborations can boost product visibility. |
| Incorporate user-generated content in marketing | Authentic content on social media can motivate Gen Z purchases. |
| Monitor trending topics on social media | Keeping up with social media trends can provide fresh marketing insights. |
Source: The Influencer Marketing Factory
Convenience Crowns: 45% Gen Z Say It's the Top Reason for Online Shopping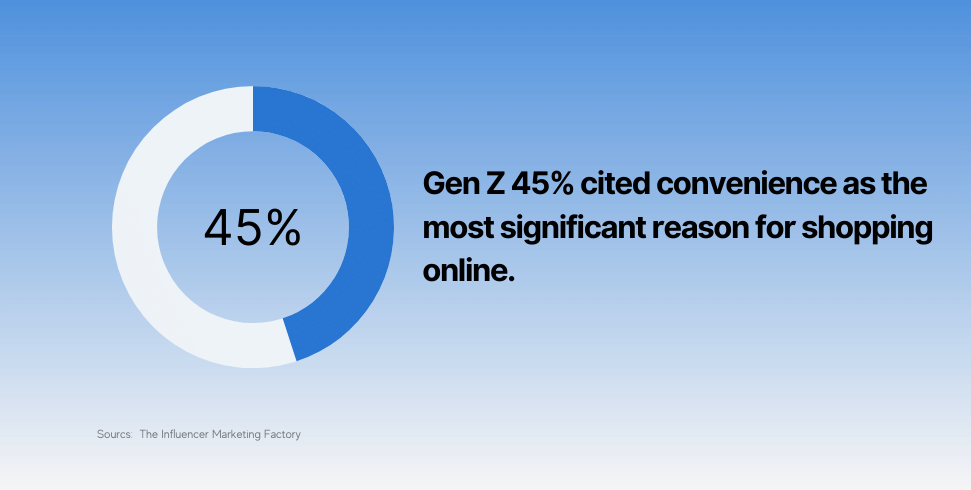 Important takeaway:
| | |
| --- | --- |
| Enhance e-commerce platform usability | As 45% of Gen Z values online shopping convenience, intuitive interfaces are essential. |
| Prioritize fast shipping and easy returns | These services contribute to the overall online shopping convenience. |
| Offer a wide range of products online | Convenience is boosted by extensive online product availability. |
| Provide efficient customer service online | Quick and effective support contributes to a convenient online shopping experience. |
Source: Food Institute
E-grocery Trend: 28% of Gen Z Now Opt for Online Grocery Shopping
Important takeaway:
| | |
| --- | --- |
| Expand online grocery offerings | With 28% of Gen Z buying groceries online, this sector holds potential for growth. |
| Implement user-friendly grocery shopping apps | Given the digital preference, easy-to-use apps can improve the shopping experience. |
| Ensure reliable delivery for online grocery orders | Timely and accurate delivery is crucial in maintaining customer satisfaction. |
| Offer promotions and discounts on online grocery purchases | Such incentives can boost online grocery sales among this demographic. |
Source: GWI