Gen X, often positioned between baby boomers and millennials, has its unique presence in the digital retail sphere. With a commendable purchasing power of $357 billion, they're far from being sideline spectators.
A notable 43% of Gen X consumers choose to shop online, and in just the past three months, 40% have stumbled upon new products through online searches.
Let me share the most crucial Gen X online shopping habits and statistics you should be aware of right away. 🔍📊
Gen X Online Shopping Habits: The Key Data
Gen X has a total purchasing power of $357 billion.
43% of Gen X consumers shop online.
51% of Gen Xers have purchased an item through social media.
Roughly, 66% of Gen Xers say they use their mobile phones most for online shopping.
40% of Gen X consumers discovered new products through online searches in the last three months.
Gen Xers make nearly 19 online purchases per year on average.
22% of Generation X shoppers purchase groceries online.
53% of Gen Xers prefer big-box retailers such as Amazon.
29% of Gen Xers buy beauty and electronics online.
On average, Gen Xers spend 37.4 hours per month online.
Sources: (Hubspot, Fisglobal, MarketingCharts, EMarketer, )
Table of Contents
27% Gen Xers Pivot Online; Overwhelming 73% Still Favor In-Store Shopping
Important takeaway:
| | |
| --- | --- |
| 1. Brick-and-mortar retail strategy remains crucial. | Majority of Gen Xers (73%) still prefer shopping in physical stores. |
| 2. E-commerce initiatives should be tailored for Gen X. | A significant portion (27%) of Gen X prefers online purchases. |
| 3. Gen X in-store experience needs enhancement. | Given their preference for in-store shopping, better experiences could solidify loyalty. |
| 4. Omnichannel strategy is essential. | Diverse preferences suggest the need for an integrated retail approach. |
Source: Hubspot
Social Media Shopping Climbs: 51% of Gen Xers Now Buying Online
Important takeaway:
| | |
| --- | --- |
| Gen Xers engage in social commerce | Over half of this demographic has utilized social media platforms for purchasing goods. |
| Invest in social media presence | A strong and strategic social media presence could potentially capture a significant share of this market. |
| Social media platforms can drive sales | Social media isn't just for interaction; it also serves as a powerful sales channel for Gen Xers. |
This statistic demonstrates that a considerable portion of Gen Xers have engaged in social commerce. Hence, brands targeting this demographic should invest in a robust social media presence and optimize their strategies to convert social interactions into sales.
Source: Fisglobal
66% Gen Xers Lean on Mobile Phones for Online Purchases
Important takeaway:
| | |
| --- | --- |
| Gen Xers prefer mobile shopping | Over two-thirds indicate a clear inclination for using mobile devices for their online purchases. |
| Prioritize mobile optimization | Ensuring smooth mobile shopping experiences would engage and retain a significant majority of this demographic. |
| Leverage mobile marketing strategies | Given Gen Xers' mobile usage, effective mobile ads could greatly increase reach and engagement. |
The statistic suggests a pivotal role of mobile phones in shaping the shopping behaviors of Gen Xers. Retailers should prioritize mobile optimization and leverage mobile marketing strategies to maximize reach and consumer engagement.
Source: Hubspot
Gen X Flexes Economic Muscle: Wields $357 Billion Annual Purchasing Power
Important takeaway:
| | |
| --- | --- |
| Gen Xers wield significant economic power | The combined annual purchasing power of this demographic is immense. |
| Important market segment | Their purchasing power makes Gen Xers a crucial target audience for businesses. |
| Need for targeted strategies | Effective marketing and sales strategies need to be designed to capture a portion of this expenditure. |
The statistic underscores the enormous annual purchasing power of Gen X, making them an extremely valuable demographic for businesses. Companies should craft precise strategies to appeal to and capture a portion of this considerable market segment.
Source: MarketingCharts
86% Gen Xers Willing to Switch Brands for Coupons, Discounts
Important takeaway:
| | |
| --- | --- |
| Gen Xers are price-sensitive | A vast majority would switch brands for a discount, indicating a strong focus on value-for-money. |
| Coupons are an effective tool | As a marketing strategy, coupons could significantly influence Gen Xers' brand choices. |
| Brand loyalty is flexible | The high percentage of brand switching implies that Gen Xers' brand loyalty may be swayed by better deals. |
The statistic demonstrates a strong price sensitivity among Gen Xers, with a large majority open to trying new brands if offered a coupon or discount. Brands should employ discount-driven strategies to attract this demographic and consider the fluidity of their brand loyalty.
Source: EMarketer
53% Gen Xers Loyal to Big-Box Retailers, Amazon Emerges as Favorite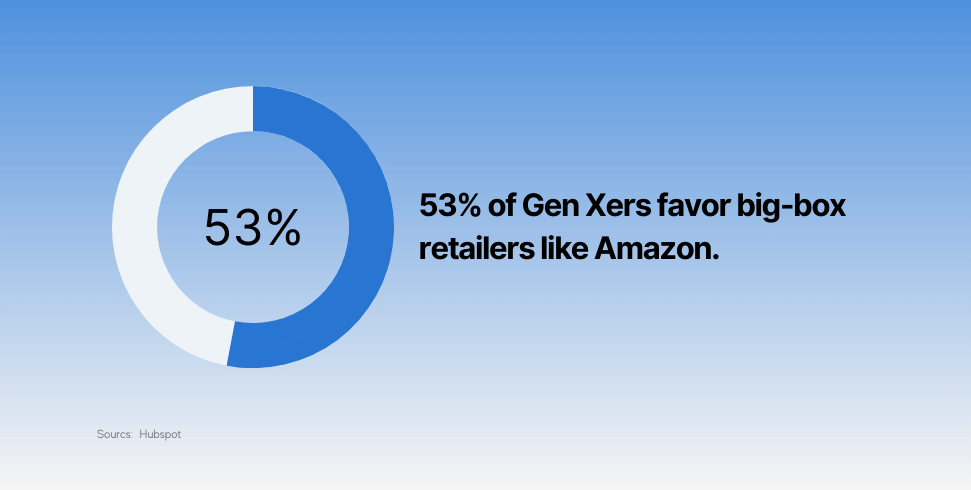 Important takeaway:
| | |
| --- | --- |
| Gen Xers prefer large retailers | A majority of this demographic is drawn to the vast product range and convenience offered by big-box retailers. |
| Need to match big-box offerings | Competing businesses must strive to match the convenience and product range of large retailers to retain Gen Xers' interest. |
| Opportunities for partnership | Smaller brands could benefit from partnerships or selling through these big-box retailers. |
The statistic indicates a significant preference among Gen Xers for shopping from big-box retailers, attracted by the convenience and wide product selection. Smaller retailers must either emulate these attributes or consider partnerships with these large platforms to appeal to this demographic.
Source: Hubspot