Fetch Rewards is making a big impression in the grocery savings app market.
With over 5 million daily active users and over 17 million monthly users, it is easy to see why customers keep coming back to the app to save money on groceries.
It is simple, quick, and always offers great deals. Fetch Rewards is quickly becoming one of the top grocery savings apps, with savings ranging from your favorite snacks to healthy produce.
Let us take a look at some key fetch rewards statistics to determine the true state of the fetch rewards app.
Fetch Rewards Statistics Overview
Fetch Rewards has an impressive 5 million daily active users.
Over 17 million people use Fetch Rewards on a monthly basis.
In May 2022, the Fetch Rewards app was downloaded over 1.3 million times by App and Play Store users in the United States.
Users submitted over 2 billion receipts, earning over $340 million in rewards points.
It has a valuation of $2.5 billion.
Fetch Rewards now has more than $100 billion in actionable GMV across US retail sales.
Fetch Rewards has a nearly evenly split population of 49.07% male and 50.93% female.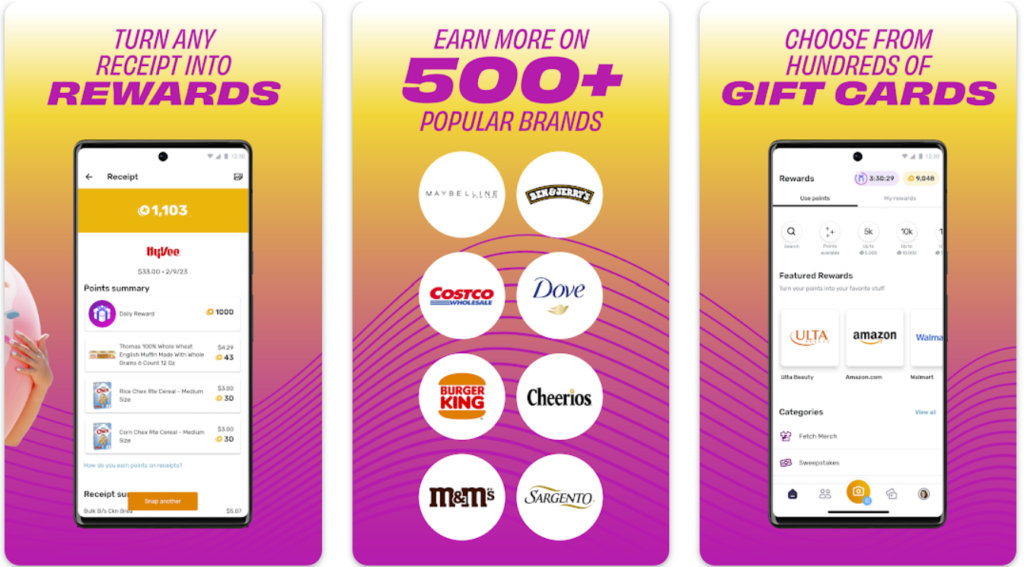 Fetch Rewards Daily Active Users
According to Fetch Rewards recent press release, they have an impressive 5 million daily active users. This is a huge milestone and a testament to their exceptional app and rewards program.
This loyalty program gives users the opportunity to save money on groceries and earn rewards every time they shop. It also makes shopping incredibly simple and convenient, which is what draws users from all over the world in record numbers.
With each passing day, Fetch Rewards continues to skyrocket, with more users coming back for its exclusive offers, discounts, and rewards.
Fetch Rewards Monthly Active Users
According to a recent press release from Fetch Rewards, the app is gaining traction, with an increase in monthly active users.
The loyalty rewards and savings platform now has more than 17 million people using it each month, which demonstrates just how widely accepted and popular their services have become.
Together with its easy-to-use interface, Fetch Rewards is a great option for anyone looking to save on their everyday purchases.
Fetch Rewards Valuation
CBinsights recently reported that Fetch Rewards, a mobile-first surprise savings platform, had achieved a valuation of $2.5 billion this April.
This is a major milestone in the company's history and shows how well they have been doing since launching in 2014. With their innovative offerings and dedicated customer base, Fetch Rewards is positioning itself as the go-to choice for those looking to save money while shopping.
Fetch Rewards Revenue
According to Growjo reported data, Fetch Rewards' annual revenue is a staggering $84.4M per year.
Fetch Rewards has gained positive attention and recognition as one of the most successful companies, through its innovative business model and commitment to delivering excellent services.
And considering their current success, they may still grow further.
Fetch Rewards Audience Demographics
Similarweb recently reported that the audience demographics of Fetch Rewards are a nearly even split of 49.07% male and 50.93% female.
Although this statistic may come as a surprise, the largest age group of visitors is, unsurprisingly, those between 25-34 years old.
Regardless, it's head-turning to see such an even split in gender representation among online shoppers, especially for such a specific demographic.
Is Fetch Rewards Publicly traded?
Although Fetch Rewards is a leader in providing rewards for shoppers around the world, it is not publicly traded. This means that although individuals cannot buy shares of Fetch Rewards, the company still offers great incentives for shoppers who love to save.
For example, you can search through the shop's massive inventory selection and use their rewards program to earn gifts and points for free items.
Familiarizing yourself with Fetch Rewards and their various benefits is well worth your time.
FAQs
What are some of the brand partners of the Fetch Rewards app?
The Fetch Rewards app has hundreds of brand partners in various categories, such as groceries, beauty, restaurants, and snacks. Some of the popular brand partners include:
Pepsi
Kraft
Heinz
Dove
Taco Bell
Starbucks
Doritos
M&M'S®
SNICKERS®
SKITTLES®
You can earn points on your purchases from these brands and redeem them for gift cards.
How does the Fetch Rewards app work?
How can I redeem points on the Fetch Rewards app?
What are some of the gift cards available on the Fetch Rewards app?
How can I contact Fetch Rewards customer service?
Is the Fetch Rewards app safe and secure?
What are some of the benefits of using the Fetch Rewards app?