The question many EBT users are asking is, Does Amazon take EBT?
Yes, Amazon does take EBT. If you have an EBT card, you can use it to buy groceries on Amazon, Amazon Fresh, and even at Whole Foods Market.
To start using your EBT card on Amazon, follow these three quick steps:
Visit the Amazon SNAP EBT page. (Link will take you directly to EBT add page.)
Create an Amazon account or sign in if you already have one.
Add your SNAP EBT card to your Amazon account by entering your card number and following the on-screen instructions.
Start shopping for eligible groceries online using Amazon Grocery, Amazon Fresh, or Amazon Pantry
So, you can get your bread, fruits, veggies, meat, and dairy using your EBT, as long as they follow the government's SNAP guidelines.
And guess what? Amazon is working with the U.S. government to make this available to almost everyone on SNAP in 48 states and Washington, D.C. So, that's over 99% of SNAP households.
Unfortunately, if you're in Alaska, it's not available yet.
Also, if you add your EBT card to your Amazon account, you can get free delivery on orders over $25 and some cool discounts on Amazon Prime membership.
But remember, EBT is for eligible groceries only. For non-grocery items, delivery fees, tips, or stuff sold by other sellers on Amazon, you'll need to use another way to pay.
To find some alternative Amazon grocery delivery options, check out this post: Grocery Stores that Accept EBT Online Delivery or Pickup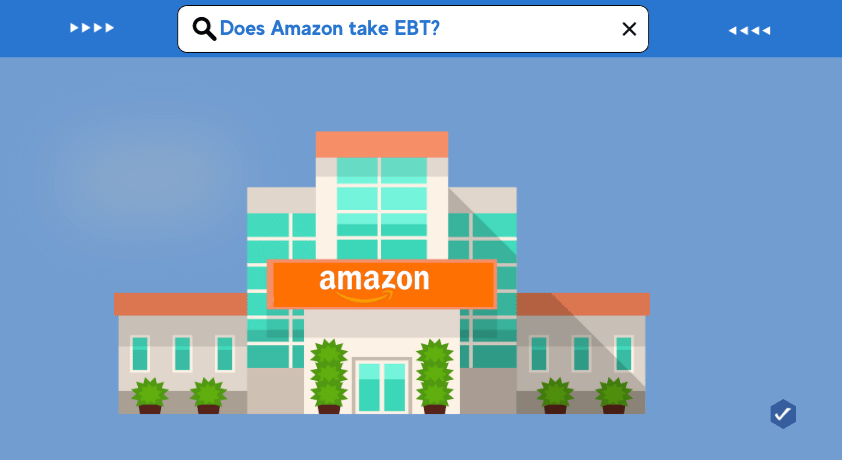 Does Amazon Take WIC?
Amazon doesn't directly accept WIC, which stands for Women, Infants, and Children, for payments on their website or app.
Why, you ask? Well, WIC is a special program run by the federal government, but each state has its own rules about where you can use WIC benefits. Because every state has different rules, it's pretty tricky for a big company like Amazon to accept WIC payments.
Plus, WIC is loaded on EBT cards, but these can only be used to buy approved food items at real-life, brick-and-mortar stores. So, buying stuff online or getting deliveries with WIC benefits is a no-go.
Also, Amazon sells all sorts of groceries, but not all of them match the specific types of food you can buy with WIC. And getting all the different state WIC programs to work with their payment systems? That's a huge challenge for Amazon.
But here's a little good news.
If you're a WIC recipient, you can still get a discounted Amazon Prime membership for $6.99 per month. So, you can enjoy free shipping and other cool perks, even though you can't use WIC benefits directly on Amazon.
And if you have SNAP EBT benefits, you do have the option to order groceries through Amazon Fresh and Amazon.com in many states.
I hope this clears up any questions you had about using WIC on Amazon.
How do I add my EBT card to my Amazon account?
If you need a step-by-step guide on how to add an EBT card to Amazon, then please check out this blog post, where I have provided instructions on adding an EBT card with an image.
Can I use my healthy food card at Amazon?
In some states, you can use your FSA/EBT card for eligible food purchases on Amazon.
Amazon has partnered with several states to accept EBT/SNAP payments for online food purchases. However, it's important to note that not all items may be eligible for EBT payment, and the availability of this service depends on your location.
Can you buy Prime Energy Drink with EBT?
Prime Energy Drink may be eligible for EBT if it has a "Nutrition Facts" label on it. Energy drinks with "Supplement Facts" labels are not eligible for EBT.
However, it's essential to check the specific product's eligibility before making a purchase with your EBT card.
Can you use EBT at Amazon Whole Foods?
You can use EBT at Amazon Whole Foods. Customers with a valid SNAP EBT card can use their SNAP benefits to purchase eligible groceries online from Amazon, including items from Whole Foods.
Keep in mind that not all items at Whole Foods may be eligible for purchase with EBT, so make sure to check the product details before placing your order.
What states can use EBT on Amazon?
Amazon accepts SNAP EBT in all states except Alaska. You can use your SNAP EBT card to purchase eligible grocery items on Amazon.com, including free access to AmazonFresh and Prime Pantry.
To shop on Amazon with your SNAP EBT card, you must first add your card to your Amazon account and then shop for items that are eligible for purchase with your card by adding them to your shopping cart.
When you go to check out, you will need to make sure you have your personal identification number (PIN) ready because you will need it to pay.
Keep in mind that delivery or service fees (if applicable), tips, and items sold by third-party sellers require other forms of payment.
What items can be purchased with EBT on Amazon?
You can use your EBT card on Amazon to purchase a variety of eligible food items across different categories. Based on your selected categories, here are some examples of items you can buy with EBT on Amazon:
Fruits, vegetables, meat, poultry, fish, and dairy products: Fresh fruits and vegetables, canned fruits and vegetables, frozen meats, poultry, fish, and dairy products like milk, cheese, and yogurt.
Breads, cereals, canned vegetables, and pantry staples: Whole grain breads, cereals, pasta, rice, canned vegetables, canned beans, and other non-perishable pantry items.
Snacks, seeds, and non-food items: Snack foods like chips, crackers, and granola bars, seeds for planting, and some non-food items such as coffee pods, plant kits, tea, and protein powder.
When shopping on Amazon, look for the "SNAP EBT Eligible" label below the price to ensure that you can use your EBT card to purchase the item. Keep in mind that delivery or service fees (if applicable), tips, and items sold by third-party sellers require additional payment.