Aldi is well-known for offering a range of affordable and high-quality grocery items, making it a popular choice for many shoppers. For EBT cardholders, shopping can be quite convenient, but the question often arises, "Does Aldi take EBT?"
So, let's dive a bit deeper, shall I? I'm here to help you explore your EBT option and answer some questions, ensuring you have all the information you need for your next shopping trip.
Does Aldi take EBT?
Yes, Aldi does take EBT.
Whether you're shopping in-store or online, you can use your EBT card at all Aldi stores. When you're in the store, using EBT is super easy. You just swipe it at checkout like any other card.
If you have items that aren't EBT-eligible, no worries—you can pay for those separately with another payment method.
And if you prefer shopping online, Aldi's got you covered there too. You can use EBT for your grocery delivery and pickup orders on their website or app. So, whether you're buying online or in-store, Aldi makes it convenient for EBT users to grab their groceries.
Does Aldi take WIC?
So, you're wondering if Aldi takes WIC? Well, unfortunately, they don't.
WIC is super important—it helps a lot of moms, babies, and little kids get the food and care they need.
But Aldi can't take WIC right now because they like to sell their own brands, and WIC needs stores to have certain brand-name items.
I know it might be a letdown, but the good news is that there are other big stores like Walmart, Amazon, and Kroger that do accept WIC.
So, you might want to check out those stores or ask your local WIC office where you can use your benefits nearby.
Does Aldi take EBT online?
Yep, they sure do.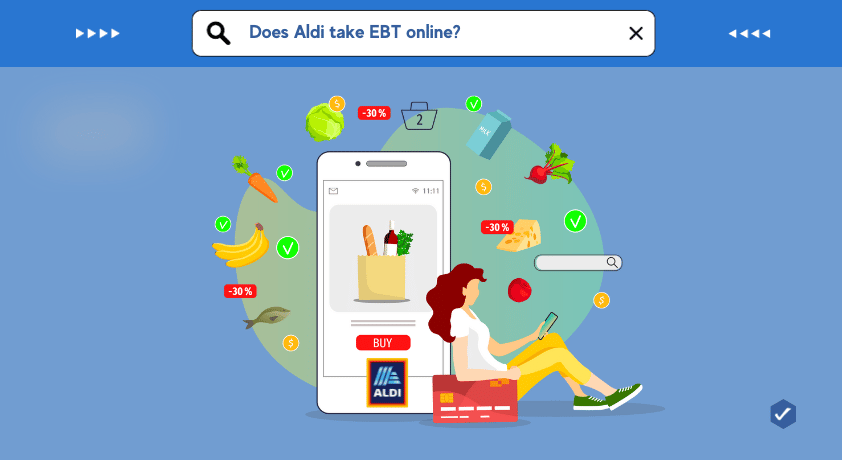 If you have an EBT card, you can use it to pay for groceries that you order online from Aldi, whether you want them delivered or picked up. It's pretty cool for folks using SNAP benefits.
As of now, in 2023, you can use EBT for online orders in 37 states and even in Washington, D.C.
When you're checking out, just choose EBT to pay for the food items. If you have non-food items, you'll have to use a different way to pay for them.
How do I use my EBT card at Aldi?
To use the EBT card at Aldi, follow these steps below.
In-Store
Bring your EBT card to any Aldi location. All stores accept EBT.
When checking out, separate EBT-eligible items from non-eligible items.
Swipe your EBT card first for the eligible groceries. Enter your PIN.
Pay for any non-food items using another payment method.
Online Orders
Add your EBT card as a payment method in your Aldi online account.
When shopping, eligible EBT items are marked. Select EBT as payment at checkout.
EBT can cover delivery fees if the order contains EBT-eligible items. Otherwise, you'll need another payment method for the fees.
Key Points to Note About Aldi and EBT
| | |
| --- | --- |
| Key Points | Details |
| Product Categories | At Aldi, you can find a plethora of items ranging from fresh produce, meat, and seafood, to dairy, bakery, and pantry items. They also offer frozen foods and household essentials. |
| Online and Delivery Options | Aldi accepts EBT for online grocery orders. This includes both delivery and pickup services, making it super convenient for EBT users. |
| Store Hours | Typically, Aldi stores operate from 9 am to 8 pm. But do check your local store's hours using their store locator to be sure! |
| Area Served | Aldi has a broad reach, with over 2,000 stores across 39 states in the United States. |
| Return/Refund Policy | Aldi has a "Twice as Nice Guarantee". They'll replace the product and refund your money if you're not 100% satisfied. Just keep your receipt handy for a refund in the original form of payment! |
| Payment Options | They accept EBT, credit cards, debit cards, and cash. So, you have a variety of options to choose from! |
Frequently Asked Questions:
What Items Can You Purchase With EBT At Aldi?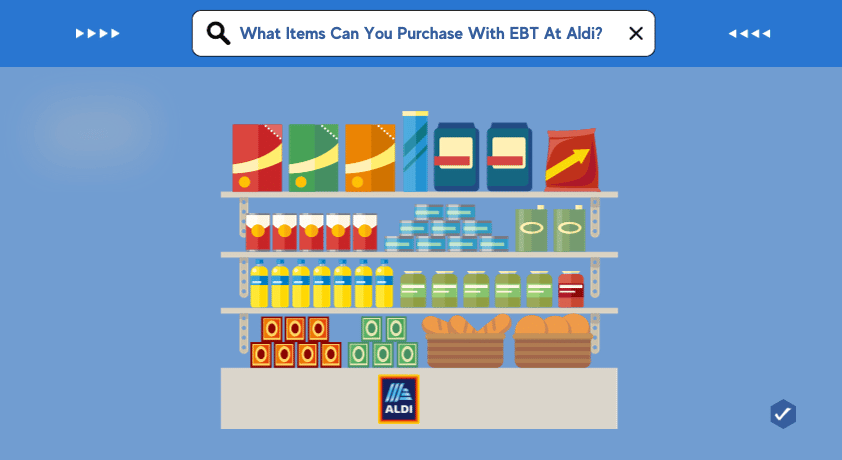 Here are the key details on which Aldi items can be purchased with EBT:
Fruits and vegetables
Meat, poultry, and fish
Dairy products like milk, cheese, and yogurt
Breads and cereals
Snack foods
Non-alcoholic beverages
Seeds and plants to grow food at home
More