Curbside pickup has quickly become a preferred shopping method for many consumers. Over half of large retail chains now offer this convenient service.
What's more, there was a significant 66% increase in online shoppers using curbside pickup in 2022. Interestingly, 43.5% of online shoppers chose curbside pickup for their most recent purchase that same year.
Let me share the most crucial curbside pickup statistics and curbside pickup trends you should be aware of right away. 🚗🛍️📈
Curbside Pickup Statistics And Trends: The Key Data
There was a 66% increase in online shoppers using curbside pickup in 2022.
On average, 43.5% of online shoppers used curbside pickup for their most recent purchase in 2022.
Curbside pickup has an additional buy-rate of up to 45%.
Over 50% of large retail chains offer curbside pickup.
85% of shoppers have increased curbside pick-up since covid-19.
61.9% of millennials, 54.2% of Gen Z, and 32% of Gen X consumers used curbside pickup for online purchases.
52% of digital grocery sales in 2022 were picked up rather than delivered.
42% of consumers prefer curbside pickup over in-store purchases.
47.4% opt for curbside pickup to avoid paying shipping fees.
According to a recent study, 33% of young adults who began curbside pickup during the pandemic intend to continue.
Sources: (Pymnts, Statista, Digital Commerce360, Incisiv, National Association of Convenience Stores, Insider Intelligence)
Restaurant Curbside Pickup Statistics
67% of restaurants said they added curbside delivery after March 2020.
41% of US consumers say curbside pickup is their preferred method when ordering takeout, ahead of drive-thru (36%) and ordering on foot (15%).
37% of US consumers say the availability of curbside pickup influences their restaurant choice.
30% of mobile-order customers prefer restaurants with curbside pickup.
Curbside pickup orders reached $71.9 billion in restaurant revenue in the US in 2021.
For restaurants, curbside pickup represents about 7% of the total purchases made in a consumer's average day.
Nearly 70% of respondents described takeout/curbside pickup as either "very" or "extremely profitable.
Nearly 50% of Gen Z are willing to try out a new restaurant if curbside pickup is an option.
About 40% of the Americans who've purchased takeout from a restaurant during the pandemic opted for curbside delivery.
Sources: (Doordash, Pymnts, National Restaurant Association, Bluedot)
Curbside Pickup Usage Spikes 66% in 2022, Engaging 17.9% of Online Shoppers
Important takeaway:
| | |
| --- | --- |
| Expand Curbside Pickup Options | A significant (17.9%) and growing subset of consumers use curbside pickup, implying an increased convenience factor. |
| Continual Monitoring of Trends | A 66% rise within a year indicates a strong and possibly enduring trend towards curbside pickup services. |
| Adapt Business Operations | Given the surge, businesses should adjust their logistics to cater to this emerging consumer preference. |
Source: Pymnts
66% of Millennial Consumers Favor Curbside Pickup for Online Purchases
Important takeaway:
| | |
| --- | --- |
| Prioritize Curbside Pickup for Millennials | Majority (66%) of millennial consumers prefer curbside pickup, demonstrating an important demographic trend. |
| Tailor Marketing to Millennials | Leverage this data to appeal to millennial consumers, emphasizing curbside pickup in marketing efforts. |
| Evolve eCommerce Strategies | High curbside pickup preference among millennials signals a shift in traditional eCommerce delivery models. |
Source: Statista
Over 50% of Large Retail Chains Now Offer Curbside Pickup
Important takeaway:
| | |
| --- | --- |
| Curbside Pickup is Essential | With over 50% of large retailers offering curbside pickup, it's a crucial aspect of competitive retail strategy. |
| Smaller Retailers Should Adapt | Smaller chains can take a cue from larger ones to meet evolving consumer expectations. |
| Consumers Expect Convenience | The popularity of curbside pickup among large retailers reflects a strong demand for shopping convenience. |
Source: Digital Commerce360
Digital Grocery Sales See 52% Opt for Pickup Over Delivery in 2022
Important takeaway:
| | |
| --- | --- |
| Pickup Services for Digital Groceries | Over half (52%) of digital grocery sales involve pickup, implying high consumer preference. |
| Retail Grocery Strategy Evolution | The retail grocery industry should adapt to this shift from delivery to pickup models. |
| Investment in Pickup Infrastructure | Given the data, businesses should focus on strengthening pickup facilities and operations. |
Source: Incisiv
33% of Young Adults Plan to Continue Curbside Pickup Post-Pandemic
Important takeaway:
| | |
| --- | --- |
| Curbside Pickup is Here to Stay | A third (33%) of young adults plan to maintain curbside pickup post-pandemic, indicating an enduring trend. |
| Target Young Adults for Growth | Businesses can tap into this demographic for sustained growth by continuing curbside services. |
| Reconsider Post-Pandemic Strategies | This trend reveals the need for businesses to retain pandemic-induced practices for long-term success. |
Source: National Association of Convenience Stores
In-Store or Curbside Pickup Utilized by 33% of Recent Online Shoppers
Important takeaway:
| | |
| --- | --- |
| Curbside and In-Store Pickup are Popular | One third (33%) of recent online shoppers prefer pickup options, denoting a strong consumer trend. |
| Enhance Pickup Service | Businesses should prioritize improving their in-store and curbside pickup experiences to cater to this demand. |
| Emphasize Pickup in Marketing | Given the data, businesses could benefit from promoting their pickup services to attract more online shoppers. |
Source: Pymnts
85% of Shoppers Boosted Curbside Pick-up Usage Since COVID-19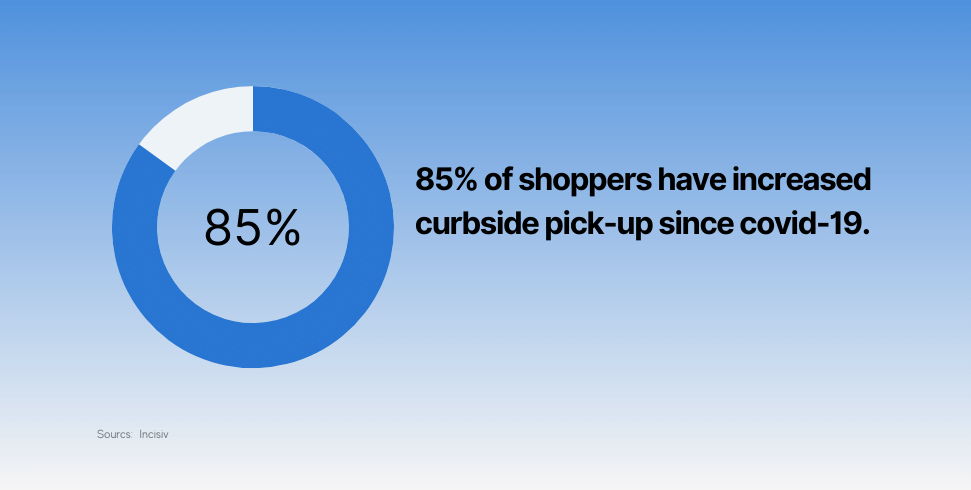 Important takeaway:
| | |
| --- | --- |
| Curbside Pickup is a Pandemic Trend | A vast majority (85%) of shoppers have turned to curbside pickup during COVID-19, indicating its essential role. |
| Maintain and Expand Pickup Services | The data justifies the need for businesses to prioritize curbside pickup even in post-pandemic times. |
| Monitor Changing Consumer Habits | A significant shift like this underlines the importance of monitoring consumer behavior changes amid crises. |
Source: Incisiv
47.4% of Consumers Use Curbside Pickup to Skip Shipping Charges
Important takeaway:
| | |
| --- | --- |
| Curbside Pickup as Cost-Saving Option | Nearly half (47.4%) of consumers use curbside pickup to avoid extra costs, highlighting its economic appeal. |
| Retailers to Reconsider Shipping Charges | The data suggests businesses might gain customer loyalty by re-evaluating their shipping fees structure. |
| Marketing Curbside Pickup's Benefits | Promoting the cost-saving aspect of curbside pickup could attract more consumers to this service. |
Source: Statista
Click-and-Collect Sales Poised to Grow 18.1% YoY to $113.19B
Important takeaway:
| | |
| --- | --- |
| Click and Collect is Growing | An 18.1% YoY increase in spending signifies rapid growth and consumer adoption of click and collect. |
| Retail Investment in Click and Collect | Retailers should invest in robust click and collect infrastructure given its evident commercial success. |
| Monitor Consumer Spending Trends | The substantial monetary value and growth rate underscore the importance of tracking this trend. |
Source: Insider Intelligence