Shopping for food online? Did you think that the giant retailer Amazon was all about gadgets, books, and fashion?
Think again.
Amazon offers an array of edible delights that not only cater to your palate but are also friendly to your EBT card. Let me dive into Amazon to find some cool things you can buy there.
Note: To add your EBT card to Amazon, visit this page to find a step-by-step guide.
11 Cool Things You Can Buy on Amazon With EBT
Here is a list of cool things you can buy on Amazon with EBT.
1. KIND Healthy Grains Bars, Dark Chocolate Chunk:
For those looking for a wholesome snack on the go, KIND bars are an absolute treat. These bars contain a blend of super grains and are drenched in delectable dark chocolate chunks.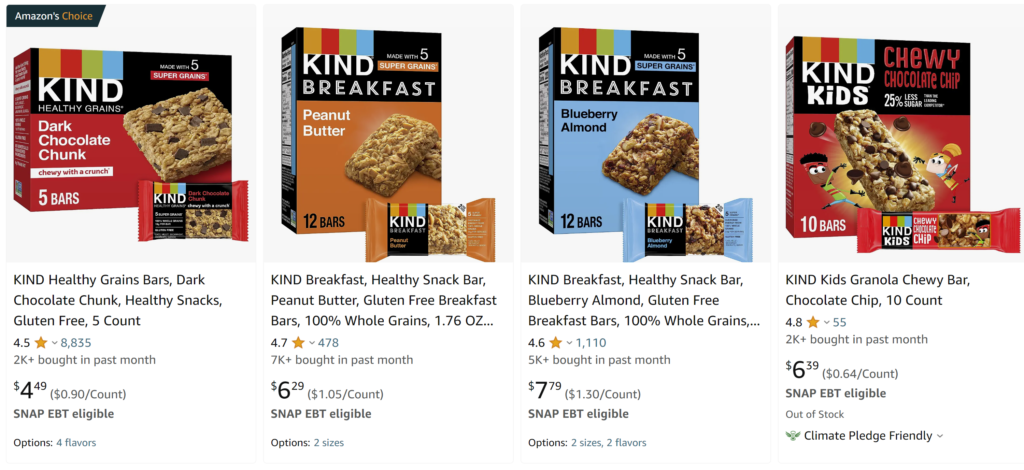 Not only are they satisfyingly crunchy, but they're also a good source of fiber, making them an ideal midday pick-me-up or a pre-workout snack.
2. Popchips Potato Chips, Variety Pack:
Gone are the days when chips were associated with guilt. With Popchips, you get all the crunchy satisfaction without the calories of traditional chips.
Made through a unique popping process, these chips contain no artificial ingredients or preservatives, making them a healthier alternative to traditional fried chips.
The variety pack offers an assortment of flavors to cater to every craving.
3. RXBAR, Chocolate Sea Salt, Protein Bar:
Protein bars can sometimes taste artificial or overly sweet. Not RXBARs.
Boasting ingredients you can see and pronounce, the Chocolate Sea Salt variant is a harmonious blend of egg whites, dates, and nuts, with a sprinkle of sea salt and a generous helping of chocolate.
It's a great post-workout snack or a convenient breakfast option.
4. Blue Diamond Almonds, Bold Wasabi & Soy Sauce:

Almonds are a powerhouse of nutrients and are known for their health benefits. Blue Diamond takes these nutritious nuts and adds a bold twist with the fiery punch of wasabi and the savory depth of soy sauce.
They're perfect for snacking, adding to your salad, or even as a zesty topping on your favorite Asian dishes.
5. Nature's Bakery Whole Wheat Fig Bars, Raspberry:

If nostalgia had a taste, it would be Nature's Bakery's Fig Bars. Made with whole wheat, these bars are soft, chewy, and filled with delicious raspberry jam.
They're a healthy alternative to conventional pastries and are perfect with your morning coffee or as a mid-afternoon treat.
6. Orgain Organic Plant-Based Protein Powder, Chocolate:
Seeking a protein boost in your diet? Look no further. Orgain's plant-based protein powder is organic, vegan, and gluten-free. With a rich chocolate flavor, it's perfect for those post-workout shakes or can be incorporated into baked goods for an added protein punch.
7. Bob's Red Mill Old Country Style Muesli:
A bowl of muesli is like a hug for your insides. Bob's Red Mill offers a blend of whole grain wheat, barley, oats, and a medley of dried fruits and nuts.
It's an ideal breakfast option, served with cold milk or yogurt, or even soaked overnight for a creamy, delectable treat.
8. Justin's Classic Almond Butter Squeeze Packs:

For those moments when you need a quick energy boost, Justin's almond butter packs come to the rescue. Made from just two ingredients: dry roasted almonds and palm fruit oil, they're a clean, delicious treat.
The squeeze packs are perfect for on-the-go snacking or as a spread on your favorite bread.
9. Yogi Tea, Green Tea Super Antioxidant:

Tea is not just a beverage; it's an experience. Yogi's Green Tea is a blend that promotes vitality and is rich in antioxidants. With hints of lemongrass and licorice, every cup offers a refreshing and rejuvenating experience, making it an ideal companion for those reflective evening moments.
10. Triscuit Original Whole Grain Wheat Crackers:

Triscuit crackers, with their woven texture and whole grain goodness, are versatile. Pair them with cheese, hummus, or your favorite spread. Their robust flavor and crispy texture make them an essential in any pantry.
11. GoGo squeeZ Applesauce on the Go, Variety Pack:

Children and adults alike rejoice! This portable pouch of applesauce is the epitome of convenience. Made with 100% fruit and free from artificial ingredients, GoGo squeeZ is perfect for lunchboxes, road trips, or any time you fancy a fruity treat.
Finally,
As I wrap this up, I'm genuinely amazed at the cool stuff Amazon offers for EBT users. I've always believed that you should get to enjoy a touch of excitement in your shopping, regardless of your budget.
While I have only scratched the surface of what's available, I encourage you to dive in and explore for yourself. It's more than just essentials; it's about the joy of discovering that special item. So, if you're an EBT user like many of us, take a moment to treat yourself.
Happy shopping!