Black Friday has consistently been a major shopping event, but the way people shop has been evolving. In 2022, it was observed that a dominant 69% of consumers chose to shop online during Black Friday, leaving just 32% to enjoy the traditional in-store experience.
As we approach 2023, there's an anticipated growth in spending habits. US consumers are expected to spend 7.46% more on Black Friday than they did the previous year. This upward trend translates to projected spending of approximately $9.8 billion in 2023.
Let me share the most crucial Black Friday shopping statistics and Black Friday spending data and facts you should be aware of right away. 📅🛍️💸
Black Friday Statistics: The Key Data
Black Friday US consumer spending is expected to reach $9.8 billion in 2023.
US Consumer spending is predicted to rise 7.46% in 2023 on Black Friday compared to last year. 
In 2022, approximately 125 million people in the United States shopped on Black Friday, accounting for 37% of the total population.
The average Black Friday shopper spends $430.
69% of people shop online for Black Friday, compared to 32% in-store in 2022.
On average, Americans saved 24% during Black Friday.
On Black Friday 2022, Americans spent a record $9.2 billion online, an increase of 2.3% over the previous year.
In 2021, mobile phones accounted for 43 percent of Black Friday sales.
In 2022, Black Friday was the most popular day for in-store shopping in the United States, with 72.9 million people shopping.
13% of US retail sales occur between Black Friday and Christmas.
Sources: (Statista, Duncan Financial Group, Adobe, Glopal, Zippa)
Table of Contents
How many Americans typically shop on Black Friday?
Important takeaway:
| | |
| --- | --- |
| Black Friday remains a significant event | With 37% of US population partaking, it demonstrates a major consumer participation |
| Targeted marketing efforts for Black Friday can yield positive returns | 125 million potential customers represent a huge market opportunity |
| Market segmentation could be beneficial | A considerable number of consumers not shopping suggests untapped potential |
The data suggests that Black Friday is a massive consumer event in the United States. Businesses should focus on targeted marketing for this occasion and explore segmentation strategies to engage the 63% of the population not currently participating.
Source: Statista
What is the average savings on Black Friday?
Important takeaway:
| | |
| --- | --- |
| Implement deep discounts for Black Friday online sales | This average discount rate sets a clear customer expectation |
| Consider differential pricing strategies | Some goods may still attract buyers without reaching this high discount level |
| Evaluate profitability carefully | High discount levels could potentially impact overall profit margins |
The data indicates that online Black Friday sales typically offer substantial discounts. To compete effectively, retailers should offer similar reductions but also consider the profitability and demand elasticity of their product range.
Source: Duncan Financial Group
What percentage of people shop online for Black Friday?
Important takeaway:
| | |
| --- | --- |
| E-commerce is the dominant channel | The clear majority, 69%, of consumers prefer online shopping, emphasizing the importance of robust digital platforms. |
| Physical stores are becoming secondary | A mere 31% shop in-store, implying diminishing relevance of physical retail outlets. |
| Retailers need to optimize online strategies | Given the vast online preference, businesses must enhance their online presence to stay competitive. |
The 2022 data strongly indicates a dominant preference for e-commerce over in-store shopping during Black Friday. This trend signals the increasing importance of digital platforms and the need for retailers to optimize their online strategies.
US Shatters Record with $9.2bn Online Spend on Black Friday 2022
Important takeaway:
| | |
| --- | --- |
| Increasing reliance on e-commerce | The record-breaking online spending indicates a growing consumer preference for online shopping. |
| Positive growth in consumer spending | The year-over-year increase suggests a healthy economy, with consumers willing and able to spend more. |
| The significance of Black Friday | Black Friday remains a critical retail event, demonstrated by the high volume of sales. |
Source: Adobe
43% of 2021 Black Friday Sales Made via Mobile Phones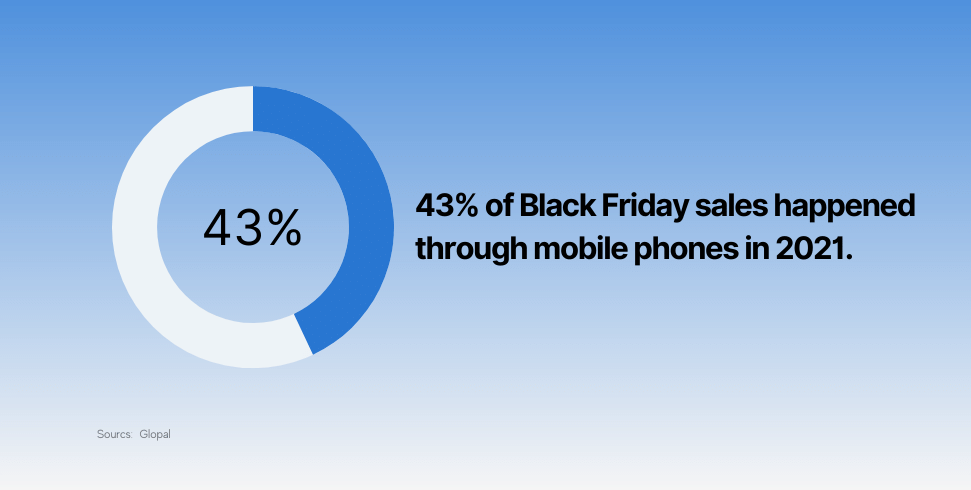 Important takeaway:
| | |
| --- | --- |
| Emphasis on mobile optimization | Mobile devices are increasingly becoming the primary channel for sales. |
| Develop a mobile-centric marketing strategy | The potential to tap into a larger audience and boost sales is significant. |
| Investment in mobile payment systems | Enhanced mobile payment solutions will streamline transactions and improve customer experience. |
| Prioritize mobile app development and user interface | A seamless app experience can improve customer retention and boost conversion rates. |
Source: Glopal
Average Adult Spends $430 in Black Friday Shopping Bonanza
Important takeaway:
| | |
| --- | --- |
| High consumer spending power | Significant resources should be allocated to capitalize on consumer willingness to spend. |
| Importance of competitive pricing | To attract these high-spending customers, businesses must offer competitive pricing. |
| Develop enticing bundled deals | Bundle offers can encourage larger purchases, increasing overall sales. |
| Prioritize customer value propositions | High spending indicates customers value quality and are willing to pay for it. |
Source: Zippa
Holiday Season Cornerstone: 13% of US Retail Sales Occur Post-Black Friday
Important takeaway:
| | |
| --- | --- |
| Focus on holiday season sales strategies | A substantial part of annual revenue is generated during this period. |
| Enhance inventory management | Efficient inventory management ensures demand is met during the peak season. |
| Intensify marketing efforts during this period | Attention should be paid to advertising and promotions during these weeks. |
| Offer seasonal products or services | Catering to the seasonal demand can help in increasing sales volume. |