The economic influence of black consumers is steadily growing in the U.S. market. Over the span from 2021 to 2024, spending by black consumers is forecast to increase by a substantial 12.5%.
Moreover, by 2024, the spending power of black individuals in the U.S. is set to touch an impressive $1.8 trillion.
Let me share the most crucial black consumer spending statistics you should be aware of right away. 💵📈🛍️.
Black Consumer Spending Statistics: The Key Data
Spending by black consumers is expected to rise by 12.5% over the next three years (2021-2024).
Black consumer spending is growing at a rate of 5% per year, faster than overall US consumer spending growth of 3%.
Black spending power reached a record $1.6 trillion in 2021, as per latest data.
By 2024, black people's spending power in the U.S. is expected to reach $1.8 trillion.
In 2019, black households accounted for just under 10% of total national spending on goods and services.
The average Black family spent 91.1% of their income on consumption in 2018–2019.
The average Black household spends $36,149 on goods and services, more than other minority groups and the national median.
Black consumers spend 9 times more on hair and beauty products.
Sources: (Frank Holland, Nielseniq, McKinsey & Company, Wharton School of the University of Pennsylvania)
Black Consumers Pump $1.17 Trillion Annually into Economy, Studies Show
Important takeaway:
| | |
| --- | --- |
| Target black consumers with tailored strategies | This demographic represents a significant portion of spending power. |
| Understand unique needs of black consumers | Customer-centric approach improves service delivery and satisfaction. |
| Diversify marketing strategies | Inclusion and diversity can significantly impact market share. |
| Incorporate cultural relevance in advertising | Cultural resonance can drive brand preference and loyalty. |
Record-Breaking $1.6 Trillion: The 2021 Milestone of Black Spending Power
Important takeaway:
| | |
| --- | --- |
| Develop products/services for black consumers | Record spending power indicates a lucrative market. |
| Create inclusive marketing campaigns | Culturally sensitive campaigns can effectively engage this demographic. |
| Foster partnerships with black-owned businesses | Collaboration can enhance reach and brand perception. |
| Advocate for diversity and inclusion | Demonstrating social responsibility can drive consumer affinity. |
Source: Frank Holland
Forecast: Black Spending Power in U.S. to Hit $1.8 Trillion by 2024
Important takeaway:
| | |
| --- | --- |
| Anticipate growth in black consumer market | Projected spending power rise indicates future opportunities. |
| Strategize for long-term engagement | Sustainable relationships can tap into this growing economic force. |
| Invest in understanding black consumer trends | Deep consumer insights aid in planning for the future. |
| Prioritize diversity in product/service development | Catering to a diverse demographic can ensure business sustainability. |
Source: Nielseniq
Over Two Decades, Black Household Spending Increases 5% Annually
Important takeaway:
| | |
| --- | --- |
| Acknowledge the growing spending power of black households | Consistent growth underscores their increasing economic significance. |
| Keep abreast of black consumer preferences | Adapting to evolving tastes can optimize business outcomes. |
| Ensure diversity in product offerings | Varied product lines cater to this demographic's growing purchasing power. |
| Align business growth strategy with this trend | Strategically tapping into this growth can ensure long-term success. |
Source: McKinsey & Company
Black Consumers Contribute 11.1% of Total Beauty Spending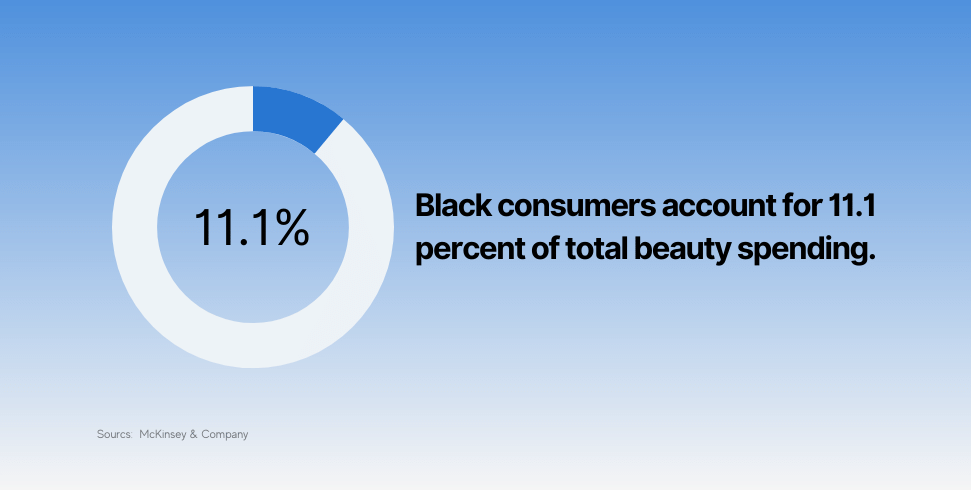 Important takeaway:
| | |
| --- | --- |
| Focus on beauty products for black consumers | This demographic contributes significantly to the overall beauty spend. |
| Develop inclusive beauty marketing campaigns | Tailored marketing can effectively engage this important segment. |
| Prioritize diversity in beauty product development | Varied offerings can better cater to black consumers' needs. |
| Understand specific beauty needs of black consumers | Insights into unique requirements can optimize product alignment. |
Source: McKinsey & Company
Blacks, Hispanics Outspend Whites by 30% on Clothing, Cars, Jewelry
Important takeaway:
| | |
| --- | --- |
| Racial disparity in spending habits | Higher expenditure by Blacks and Hispanics indicates different priorities or socio-cultural pressures. |
| Whites might value savings more | Lower spending could indicate a greater emphasis on savings or investments. |
| Racial groups react differently to income | Comparable income does not necessarily lead to similar spending habits across races. |
The data suggests distinct spending habits across racial lines. Despite having comparable income, Blacks and Hispanics spend more on clothing, cars, and jewelry than Whites, possibly indicating different socio-cultural pressures or value systems.
Source: Wharton School of the University of Pennsylvania
Black Households Prioritize Necessities Over Luxury, Despite Lower Overall Spending
Important takeaway:
| | |
| --- | --- |
| Higher proportion of Black household income goes to necessities | Despite lower total expenditure, Black households might face higher basic living costs. |
| Lower discretionary spending in Black households | This implies limited funds for non-essential items due to larger portion spent on necessities. |
| Potential socio-economic disparities | The data could point to systemic socio-economic factors affecting spending habits. |
The statistics indicate that Black households, despite spending less overall than White households, allocate more towards necessities. This suggests higher basic living costs for Black families, leaving less for discretionary spending, possibly highlighting wider socio-economic disparities.
Source: McKinsey & Compan