Online shopping has become increasingly popular, and many consumers are constantly on the lookout for affordable and convenient alternatives to popular platforms like Wish.
In this guide, I will explore the top 5 best sites and apps like Wish, which offer a diverse range of products, competitive prices, and user-friendly interfaces.
Discover new shopping destinations that cater to your needs and preferences, and learn how these alternatives can enhance your online shopping experience. Stay tuned as I unveil the best options for savvy shoppers seeking variety, value, and convenience.
#1. Temu
Deals: Download the app through this link to receive a $100 coupon bundle and a 50% discount on your purchase.
Link: Install the Temu App. It received a 4.6 rating on the App Store and a 4.6 rating on Google Play.
OR Use Code: afr53649
Shipping options: Offer free shipping on all orders.
Temu is an online marketplace app that connects consumers with millions of sellers, offering a wide range of products at competitive prices.
It has been referred to as the "TikTok of shopping" due to its interactive and engaging experience designed to keep consumers coming back.
Note: Learn more about the Temu referral bonus.
Temu has gained popularity as the #1 alternative to the Wish app for several reasons:
User experience: Temu provides an interactive and engaging shopping experience, making it more enjoyable for users to browse and shop.
Product variety: Temu offers a vast selection of products, similar to Wish, giving consumers plenty of options to choose from.
Competitive pricing: Both Temu and Wish are known for their low prices, making them attractive options for budget-conscious shoppers.
Coupons and promotions: Temu frequently offers coupon bundles and promotions to its users, making it even more appealing for those looking to save money.
#2. Joom
Shipping options: Offer free shipping on all orders.
Google Play rating: 4.4/5
App store rating: 4.7/5
Joom is a discount shopping app that offers a wide range of products at affordable prices. It is often compared to the Wish app, as both platforms provide users with access to low-cost items from various sellers.
Some features of the Joom app include:
A user-friendly interface that makes browsing and shopping easy.
A variety of products, including clothing, accessories, electronics, and home goods.
Free shipping is available on most items, which can make it more cost-effective for users.
Joom can be considered a good alternative to the Wish app for several reasons:
Free shipping: Joom offers free shipping on most items, which can save users money compared to other platforms that charge shipping fees.
Price: Joom and Wish both offer competitive prices, but some users have found that Joom can be cheaper in certain cases.
User experience: Some users have reported a better shopping experience on Joom compared to Wish, although this can be subjective and may vary depending on individual preferences.
While both Joom and Wish have their advantages, it ultimately depends on your preferences and needs when choosing between the two platforms.
It's worth trying both apps to determine which one best suits your shopping needs.
#3. Five Below
Five Below is a retail chain that offers a wide variety of products at prices up to $5. The store's inventory includes items from categories such as toys, games, fashion accessories, bath and body, home decor, tech, and more.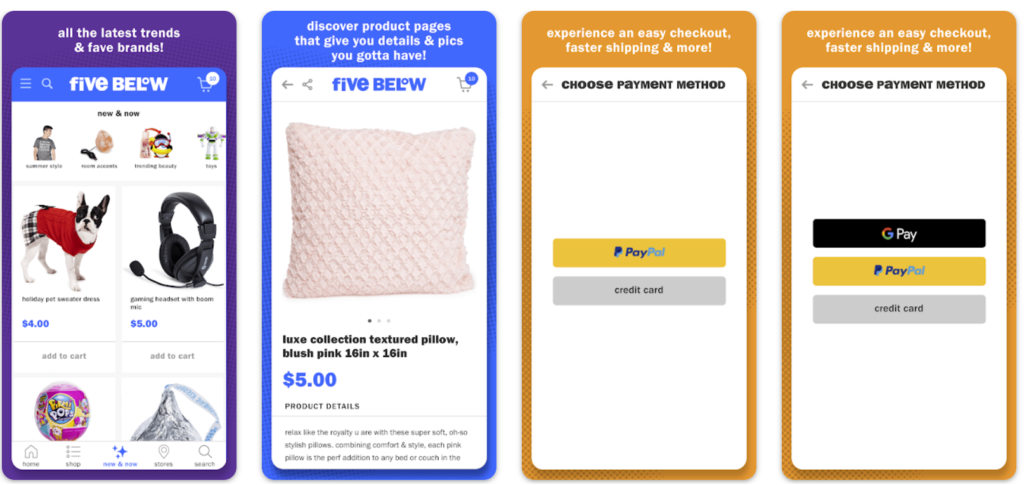 It is known for its affordable prices and trendy products, making it a popular shopping destination for budget-conscious consumers.
When comparing Five Below to the Wish app, there are several reasons why Five Below can be considered a good alternative:
Physical stores: Five Below has brick-and-mortar stores, allowing customers to see and touch products before purchasing them. This can help avoid disappointment with the quality or size of items, which can be an issue when shopping on Wish.
Faster shipping: Since Five Below has physical stores, customers can purchase items and take them home immediately. In contrast, Wish is an online platform where items are shipped from various locations, often resulting in longer shipping times.
Product variety: Five Below offers a wide range of products, from tech gadgets to home decor, making it a one-stop-shop for various needs. While Wish also offers a diverse selection of products, the quality and reliability of items can be inconsistent due to the platform's reliance on third-party sellers.
Ease of returns: Returning items to a physical store like Five Below is generally easier than returning items purchased through the Wish app. Customers can simply bring the item back to the store, whereas returning items to Wish may involve shipping the item back to the seller and dealing with potential communication issues.
Overall, Five Below offers a convenient and affordable shopping experience with the added benefits of physical stores, faster shipping, and easier returns.
While the Wish app also provides low-cost products, the quality and shipping times can be less reliable, making Five Below a preferable alternative for many shoppers.