So you already save money with Ibotta and are looking for more ways to save money on your shopping with apps like Ibotta? 
Well, there are plenty of other apps and online rebates that you can use to save more money. Apps like Dosh, Fetch Rewards, and TopCashBack offer great deals on groceries and other everyday items.
These apps give you cashback on your purchases, so you can save money on things you buy every day.
In this post, I will talk about nine apps that are similar to Ibotta and help you decide which one is best for you.
Dosh
Fetch Rewards
Rakuten
Fluz
Upside
Upromise
Shopkick
TopCashBack
Drop
1.Dosh
Dosh is an app that grants you cashback when you shop, dine, or book lodging at more than 600,000 places. Plus, you can use the Dosh referral code to earn a sign up bonus once you link your debit or credit card.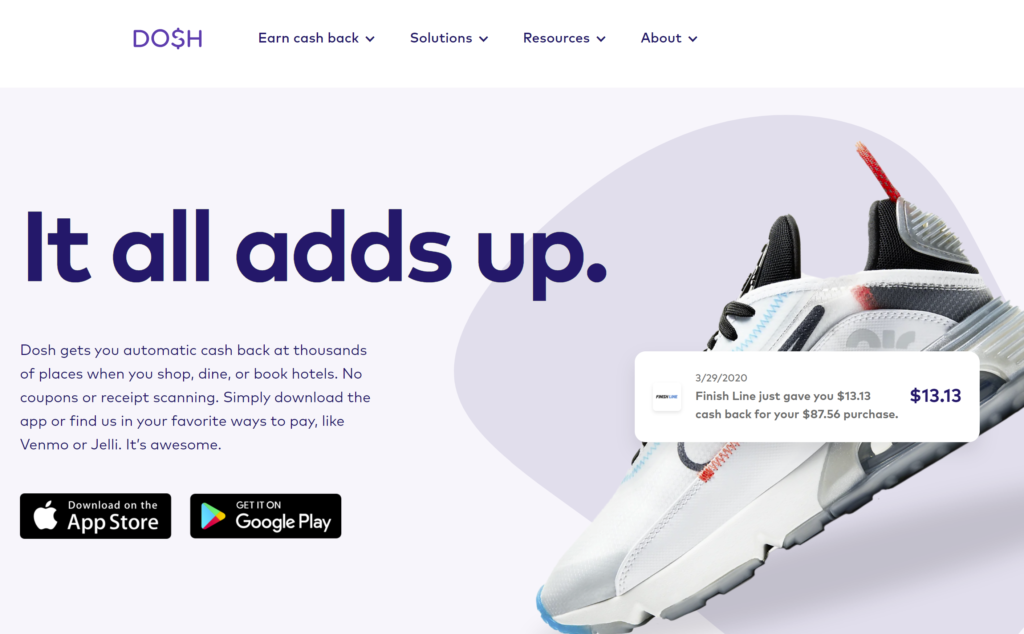 This cashback feature is automatic once you link their card(s) with the app. Upon accruing $15, you can either donate the funds to charity, transfer them to your bank account, or use their PayPal or Venmo accounts.
The app offers curated offers from brands such as Nike, Walmart, Sephora, Dunkin Donuts, GNC, Backcountry, and many more.
Dosh's customized offers cater to each user's preferences, ensuring maximum utility. Dosh prioritizes consumer privacy and refrains from selling user information to third-party businesses.
Braintree handles all debit and credit card information and secures it using their tokenization and vaulting systems.
The app guarantees the safety and security of users' information with 256-bit encryption, the same level of security as banks use.
2. Fetch Rewards
Fetch Rewards is a rewards app that allows users to earn points by snapping photos of their receipts from grocery stores, restaurants, gas stations, and more.
Note: You can use the Fetch Rewards referral code to earn a 2000 point sign up bonus, which helps you meet the minimum payout requirement quickly.
Users can redeem their points for gift cards from over 500 brands, including Amazon, Dove, General Mills, GoodRx, Huggies, Pull-ups, Kleenex, Suave, Viva, Starbucks, Target, and many more. Fetch Rewards is available on both the App Store and the Google Play Store.
Fetch Rewards offers several ways to earn points. Users can earn at least 25 points on every brand, like Huggies and General Mills. Fetch Rewards introduced its Daily Reward feature in December 2022. It's a new way to earn bonus points when users submit physical receipts.
To get started with Fetch Rewards, users need to download the app from the App Store or Google Play Store. New users typically receive at least 2,000 points ($2 value) when they sign up with a referral code. Once signed up, users can start snapping photos of their receipts to earn points towards gift cards from their favorite brands.
3.Rakuten
Hiroshi Mikitani established the Japanese technology conglomerate Rakuten Group, Inc. in Tokyo in 1997. Rakuten has more than 70 services operating via the three segments: Internet Services, FinTech, and Mobile.
Rakuten is a shopping app that offers cash back from over 3,500 partner stores to its members. To use the app, you simply select a store, and Cash Back is automatically activated.
You can receive their earnings through PayPal or a physical check every three months. Rakuten has over 15 million members who have earned $3.5 billion in rewards so far and has a rating of 4.8 with 190,000 reviews in the App Store.
Stores pay Rakuten for sending them shoppers, and Rakuten passes some of that money on to its members. Members can choose to receive their Cash Back as a Paypal payment or a check. The app has been trusted by over 15 million people. Members have reported high dollar referrals and awesome cash back bonuses.
Rakuten has a referral program where members can earn $30 for every friend they refer to the platform. Members are assigned a unique link that they can share with their friends. The referral program is available to members in the United States, District of Columbia, or Canada.
To learn more about earning the referral bonus, members can check out Rakuten Help.
4.Fluz
Fluz is a mobile app that offers cash back rewards for purchases made with a Fluz 1-time card, which works online and in-store wherever Mastercard is accepted. It is a collaborative earnings app that rewards users for their everyday purchases with no minimum spends, minimum balances, or limits on earnings.
You can earn additional rewards by referring friends to the app. Fluz also allows users to send and receive money from friends, split bills, and deposit and withdraw cash without fees.
The app generates a new one-time Mastercard for each transaction, adding an extra layer of security. Users can choose who they share their transactions with, giving them control over their privacy.
Fluz works with your bank or credit card to make earning money easy. Users can share the app with friends to earn more rewards. Fluz harnesses social networks to help members earn cash back on their shopping, according to Linkedin.
To sign up for Fluz, you can download the app from the App Store or Google Play Store.
After downloading the app, you need to sign up and connect your credit card. You can also enter a referral code during sign-up to get additional benefits.
Once you have signed up and connected your credit card, you can invite your friends to join Fluz and start earning cashback on purchases.
The app offers a minimum of 1.5% cashback on everything, up to 10% at retail stores, and 25% to 50% at special moments.