Apple stands as a beacon of brand loyalty, operating over 2 billion active devices globally and securing a 92% retention rate among iPhone users, eclipsing Samsung's 77%.
Additionally, loyalty is more pronounced among iPhone users, who are 18% more devoted to their brand compared to Android users.
To delve deeper into this phenomenon, I'd like to share the most important Apple brand loyalty statistics that are crucial to note immediately. 🍏📱
Apple Brand Loyalty Statistics: The Key Data
Apple has a 92 percent retention rate among iPhone users, while Samsung has a 77 percent retention rate.
Apple has maintained a customer retention rate of over 90 percent for the past three years.
iPhone users were 18% more loyal to the brand of their device than Android users.
84% of iPhone owners plan to purchase another Apple device to replace their current one.
Apple had 74.6% trade-in brand loyalty.
48% of iPhone users polled said they were unlikely to switch brands.
Apple has over 2 billion active devices around the world.
There will be more than 1.46 billion active iPhone users worldwide in 2023.
The number of iPhone users in the United States has increased from 45 million in 2012 to 124.7 million in 2022.
Apple has 57.4% of the US smartphone market as of June 2023.
Sources: (CNET, Apple Insider, Patently Apple, Bank My Cell, Statista, Mac Rumors, Canalys.)
Apple Boasts 92% iPhone Retention; Samsung at 77%.
Important takeaway:
| | |
| --- | --- |
| Insight from Data | Rationale |
| Apple dominates in user loyalty | With a retention rate of 92%, Apple demonstrates unparalleled allegiance from iPhone users, solidifying its market leadership. |
| Samsung remains a strong contender | Despite trailing Apple, Samsung's 77% retention rate reveals its formidable position in establishing user trust and satisfaction. |
| A high-stakes battle for the remaining share | Given the competitive landscape, both companies should strategize on how to attract and retain the fluid segment of users switching brands. |
Source: CNET
Apple Sustains Over 90% Customer Retention for Third Year.
Important takeaway:
| | |
| --- | --- |
| Insight from Data | Rationale |
| Apple's consistency in customer loyalty is unmatched | A retention rate above 90% for three consecutive years showcases Apple's consistent excellence in meeting user expectations and ensuring brand loyalty. |
| Stability in Apple's user base | Such a steady rate implies that the majority of Apple's customer base remains unwavering, reinforcing its dominant market position. |
| Opportunity amidst the challenge | Even with such impressive figures, Apple should remain vigilant and innovative to address the needs of the remaining 10% and uphold its retention streak. |
Source: Apple Insider
iPhone Users 18% More Loyal Than Android Counterparts.
Important takeaway:
| | |
| --- | --- |
| Insight from Data | Rationale |
| iPhone users showcase superior brand fidelity | The 18% loyalty differential underscores that iPhone users exhibit a deeper attachment and commitment to their device brand compared to Android users. |
| A divided ecosystem loyalty landscape | This statistic accentuates the divergence in loyalty sentiments between iPhone and Android ecosystems, leading to distinct market strategies for each. |
| Android faces a greater brand-switching challenge | Android manufacturers might need to intensify their efforts to bolster brand loyalty and reduce the propensity of users to switch brands. |
Source: Patently Apple
84% of iPhone Owners Commit to Future Apple Purchases.
Important takeaway:
| | |
| --- | --- |
| Insight from Data | Rationale |
| Overwhelming commitment to the Apple ecosystem | With 84% of iPhone owners inclined towards another Apple device, it is evident that Apple's ecosystem has engendered profound brand loyalty. |
| A minimal drift from brand allegiance | A substantial majority planning to stay with Apple suggests minimal brand attrition and hints at the consistent satisfaction levels among users. |
| Focused opportunity for retention and outreach | While the loyalty figure is laudable, the remaining 16% represents a niche segment Apple should strategically engage to ensure they remain within the brand's fold. |
Source: Apple Insider
Apple Sees 74.6% Loyalty in Trade-ins.
Important takeaway:
| | |
| --- | --- |
| Insight from Data | Rationale |
| Dominant adherence in the trade-in sphere | The 74.6% trade-in loyalty rate underscores Apple's ability to retain users even when trading devices, highlighting consistent user satisfaction. |
| Reflective of the brand's resilience | This data further solidifies Apple's reputation as a brand that not only attracts but effectively retains its customer base over multiple device cycles. |
| A segment still open to brand transition | While Apple enjoys significant trade-in loyalty, there remains a 25.4% portion that's susceptible to brand transition, signaling an area for strategic attention. |
Source: Bank My Cell
48% of iPhone Users Resolute Against Brand Switch.
Important takeaway:
| | |
| --- | --- |
| Insight from Data | Rationale |
| Sturdy allegiance amidst competitive pressures | With 48% of iPhone users expressing reluctance to switch brands, it emphasizes the enduring bond between users and the Apple brand in a fiercely competitive market. |
| A balanced field of brand loyalty and exploration | The statistic suggests a balanced landscape where half the users are committed, while the other half might entertain alternative options. |
| Potential vulnerabilities in brand attachment | The fact that over half might consider switching presents a pivotal challenge and opportunity for Apple to further solidify its brand positioning and address potential pain points. |
Source: Statista
Apple Milestone: Over 2 Billion Active Devices Globally.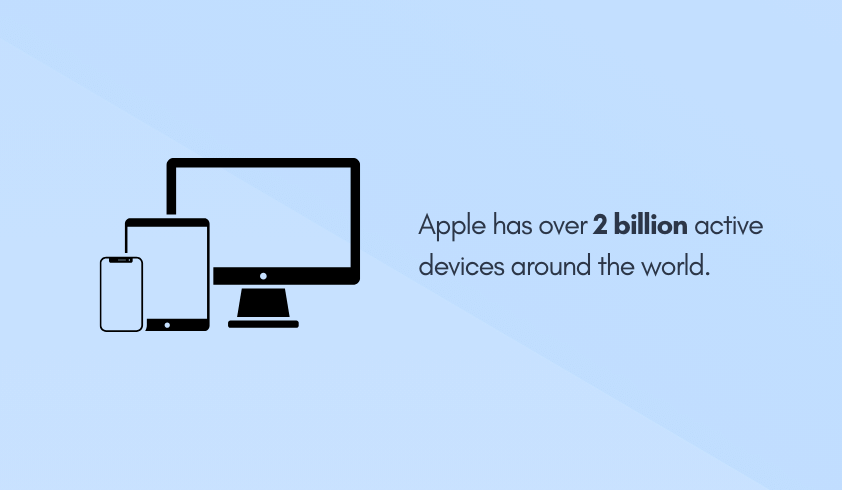 Important takeaway:
| | |
| --- | --- |
| Insight from Data | Rationale |
| Monumental global presence | Surpassing the 2 billion mark showcases Apple's pervasive reach and its role as a dominant player in the tech landscape. |
| An unparalleled ecosystem engagement | Such a vast number of active devices hints at a deeply interconnected and reliant user base, ensuring continuous engagement within Apple's ecosystem. |
| A massive responsibility and opportunity | Catering to over 2 billion devices underscores Apple's responsibility to deliver excellence and security, while also presenting vast opportunities for innovation and expansion. |
Source: Mac Rumors
1.46 Billion Active iPhone Users Predicted for 2023.
Important takeaway:
| | |
| --- | --- |
| Insight from Data | Rationale |
| iPhone's sustained global dominance | Surpassing 1.46 billion active users accentuates the iPhone's entrenched position in the global smartphone arena, reflecting its enduring appeal. |
| A testament to consistent user satisfaction | Such impressive user numbers are indicative of Apple's ability to persistently meet or exceed consumer expectations, driving continued adoption and loyalty. |
| Crucial insights for market strategies | With these projections, it's clear that Apple will continue to have a vast user base to cater to, informing its innovations, services, and user engagement approaches. |
Source: Bank My Cell
US iPhone Users Surge: 45M in 2012 to 124.7M in 2022.
Important takeaway:
| | |
| --- | --- |
| Insight from Data | Rationale |
| A dramatic surge in a decade | The jump from 45 million to 124.7 million in ten years showcases the iPhone's escalating grip on the U.S. market, marking a remarkable growth trajectory. |
| Strong resonance with American consumers | The consistent rise in user numbers over a decade underscores the iPhone's capacity to resonate with, and retain, American users amidst evolving technological landscapes. |
| Setting the pace for tech trends and market shifts | As these figures continue to climb, it signifies Apple's leading role in setting tech trends and influencing smartphone adoption patterns in the U.S. |
Source: Statista
Apple Dominates with 57.4% of US Smartphone Market, June 2023.
Important takeaway:
| | |
| --- | --- |
| Insight from Data | Rationale |
| Dominant stake in the U.S. market | With 57.4% of the market, Apple holds a commanding position, showcasing its preeminence in the U.S. smartphone landscape. |
| A reflection of brand trust and consumer preference | This majority share is not just indicative of sales, but also a testament to the deep-rooted trust and preference American consumers have for the Apple brand. |
| Imperative for competitors and industry evolution | Apple's sizable market share underscores the benchmarks and standards it sets, guiding industry evolution and shaping competitive strategies. |
Source: Canalys
More Data: https://www.onlinedasher.com/loyalty-program-statistics/